In the pursuit of optimizing production, reducing overhead costs and executing efficient operations management, manufacturing enterprises are vouching for technology solutions that have largely contributed to industrial revolutions over the years. The most reliable tech solution of the current times being MES, majority of SMEs, as well as large enterprises, are seeking to benefit from the potential of MES software.
The Globe newswire by notified reports that the global market for manufacturing execution systems (MES) is projected to reach US$22.9 billion by 2025. Given this projection, a clear reflection of the spike in MES software implementation can be noted. Recognizing the best MES software providers is crucial in the success of implementation and workability thereafter. But before listing the 5 best MES software providers, let's briefly explore MES.
What is MES Software?
As defined by the Manufacturing Enterprise Solution Association (MESA), "A Manufacturing Execution System (MES) is a dynamic information system that drives effective execution of manufacturing operations. Using current and accurate data, MES guides, triggers and reports on plant activities as events occur. The MES set of functions manages production operations from point of order release into manufacturing to point of product delivery into finished goods. MES provides mission-critical information about production activities to others across the organization and supply chain via bi-directional communication." Without delay, let's jump into exploring the 5 Best MES software providers.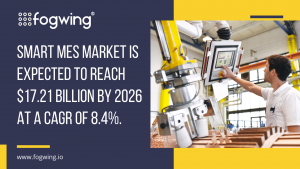 5 Best MES Software Providers
Having briefly explored MES as a step toward achieving industry 4.0, assessing the many MES software in the market can seem a daunting task. To save you the trouble of funneling the best MES software providers, the article further exclusively points at 5 of the best MES software providers on the basis on reviewing product capabilities and feedbacks. The scope of finding MES Software providers is flexible and stands open to further exploring.
SFactrix is a premier manufacturing execution system that enables digital operations management for smart manufacturing at your fingertips. Ensure agile operational execution, high-quality production and maximum ROI with SFactrix. SFactrix MES/MOM Software provides all features required to run lean manufacturing operations. The inbuilt AI-based Manufacturing Intelligence module provides Performance KPIs, Downtime Alerts, Loss based Metrics, Scrap Trends, MTTR and MTBF etc. Additionally, SFactrix.ai is available as Software Subscription with Mobility and Industrial IoT Integration. As an added value, SFactrix offers a mobile app for operators and tablet app for management on the shop floor to track all operator actions, job accomplishments and reviews to monitor operator performance.
SFactrix.ai - MES Software
Kick start your Smart Factory transformation from the production floor by implementing SFactrix.ai Manufacturing Execution Software . Trash your paper based job card and process monitoring approach. Get ready for Industry 4.0!
Try it for free . No Credit Card Required. 
Distinguished features of SFactrix:
i) Work order Management – Digital Tracking management of customer orders to enable real-time monitoring of production progress.
ii) Job Management – Assign jobs to the workforce and estimate overall delivery guarantee.
iii) Real-Time Operational Visibility – Real-time performance analytics and OEE reporting helps to act faster on production optimization.
iv) Asset Performance Monitoring – Keep track of machine efficiency at real-time to drive better production.
v)  Downtime Notification – Set auto-detection alerts for assets and receive alerts via SMS Email.
vi) Maintenance Registry – Machine maintenance is the key to protect asset lifetime and continuous productions. Automate maintenance actions.
vii) Personalized Dashboard – Personalized dashboard setups from plant managers to workers.
viii) Parts Management – Keep Track of Part Production and Cost of Goods based on lead time performance and metrics.
ix) Operators Mobile App – Keep track of all operator actions, job accomplishments and reviews to monitor the operator's performance.

Prodsmart, an Autodesk company offers connected manufacturing with seamless integrations across factory shop floor. Prosmart enables industries go paperless by easily replicating production and operations on manufacturing software. Prodsmart as an MES begins to solve industry challenges by day one of implementation, focuses on building a route map that works well in the progress of businesses. Prodsmart helps plan, assign, manage, track and analyze fabricating and manufacturing shop floor production like never before. There are so many features, below is a list of few!
Features of Prodsmart:
i) Data in Real-time – Track and analyze various components of your factory operations from procurement of raw materials to supply chain management at real-time.
ii) Real-time Dashboard for Connected Manufacturing – Cost-effective solution with required features accessible even when off-site via mobile app. Stay connected with your team using team chats and recognize performance of factory operations on a single screen.
iii) Effective scheduling and MRP – Schedule operations and plan production to meet targets. Sustain effective execution and balance workload inline with orders.
iv) Inventory Management – Add Bill of Materials and product tress to track associated operations and raw materials consumed. Manage warehouse space.
v) Workflow Visualization – Continuous improve production systems by identifying bottlenecks and setting priorities to avoid overload. Visualize overall workflow for better management.
vi) Easy Worker Scheduling and Performance Tracking – Track worker's performance, individually. Align shift management with shop floor activity. Learn how worker productivity affects product cost.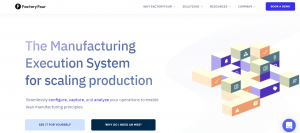 FactoryFour is hailed as the manufacturing execution system for scaling production. FactoryFour helps boost factory predictability, productivity and profit. One of the distinguished components of FactoryFour is its industrial grade data security and compliance. As a purpose-built, cloud-based MES, FactoryFloor significantly enables finance teams to optimize cost and relieve various departments of their perils associated to manual operations management and lack of sufficient data at real-time for effective production and machinery management. Below is a list of features of FactoryFour.
Features of FactoryFour:
i) Plan – production planning simplified with capacity plan, prioritize and monitor production orders. Automate scheduling with highly configurable logic tailored to suit your operations and distribution schedule changes in real-time.
ii) Control – Ensure multimedia data capture through enforced adherence with standard operating procedures and prompts. Track all production events, and unexpected incidents with full traceability to simply audits.
iii) Execute – optimize order production with tools to digitally track and monitor production KPIs and progress of orders. Enhance operator productivity with on-screen work instructions and an easy-to-use interface to log data without throughput disruptions.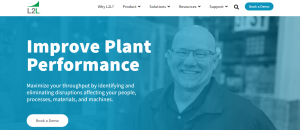 L2L smart manufacturing platform aims at offering maximized throughput and reduced downtime through optimizing people, processes, materials and machines. The modular approach of L2L enables the achievement of global standards without ripping or replacing legacy systems on your factory floor. L2L offers continuous sustainable improvement, streamlined processes with less waste, one dashboard for an all-encompassing view, identify performance gaps and so on.
Some of the features of L2L smart manufacturing platform:
i) Cloud Dispatch – Root-cause problem solving is promoted with the L2L disruption management software that acts as the manufacturing hub.
ii) L2L Maintenance – Prevents unplanned downtime by coordinating work orders, parts manufacturing and personnel.
iii) L2L Production – Production module identifies inefficiencies in manufacturing processes and proposes solutions to maximize throughput.
iv) An All-in-one Solution – Provides off the self and custom integrations with one central problem-solving hub enabling access to real-time data for your team.
v) No Replace Needed – Easy configuration of L2L manufacturing platform as it is a no-code configuration platform with REST based web service API.

Obtain unmatched visibility, quality and control of factory shop floor and operations with Plex smart manufacturing platform. Plex connects, collects, automates, tracks and analyzes processes and machine performance at real-time.
Some of the features of the Plex smart manufacturing platform:
i) Production Finite Scheduling – Use finite scheduling of production (which jobs to which work centers) while being mindful of resource availability.
ii) Closed-Loop Quality Management – Maintain quality procedures directly from the control plan for increased process repeatability and predictability.
iii) Inventory Management – Achieve end-to-end traceability of in the process of tracking and managing inventory at real-time.
iv) Production Management – Stay on top of plant floor operations—making the right quantity of the right product at the right time for improved OEE (overall equipment effectiveness).
Why you should adopt SFactrix MES?
a) Subscription Software – Opting for a solution is a huge investment, we understand. So, it's not the case here. We offer SFactrix.ai solution with NO upfront investment and Low operational expenses.
b) Mobility Interface – Accessible on Desktop and Mobile from anywhere. No installation or configuration is required. No HMI is required.
c) Industrial IoT Integration – Advance SFactrix.ai capabilities. We offer prebuilt integration with Fogwing IIoT Platform. Just connect any equipment and start tracking the performance.
d) Customer Support – We provide personalized Demo, Documentation and Training programs to support and empower your experience with SFactrix.ai. In addition, we 12×5 operational support services.
With all these features of SFactrix.ai put to play, it's a hassle-free path to achieve Smart operations management for the automotive industry.
SFactrix.ai - The Smart Factory Software
Kick start your Smart Factory transformation from the production floor by implementing SFactrix.ai Manufacturing Execution Software . Trash your paper based job card and process monitoring approach. Get ready for Industry 4.0!
Try it for free . No Credit Card Required. 
Conclusion
Implementation of MES is inevitably one of the crucial steps to achieving industry 4.0. After careful examination of the MES and its impact in transforming legendary manufacturing to smart manufacturing, it can be concluded that it is a wise choice to initiate the implementation of an MES software at your industry.
The assessment of the 5 best MES software providers further eases the process of researching for the best services and capabilities offered. This article establishes popular MES providers among the many in the market and the scope of research and comparison of other MES providers remains open.