What is Industrial Cloud?
The Industrial Cloud is a cloud computing system that provides specialized business services for specific industries to accommodate the business, operations, legal, regulatory, security, and other considerations.
In general, Cloud Computing is a vast network of computing servers available around the globe, together operating as a single ecosystem. Cloud computing services have gone a step ahead and provide business support functions in various industry domains. Every industry is in the process to leverage cloud computing services in recent times.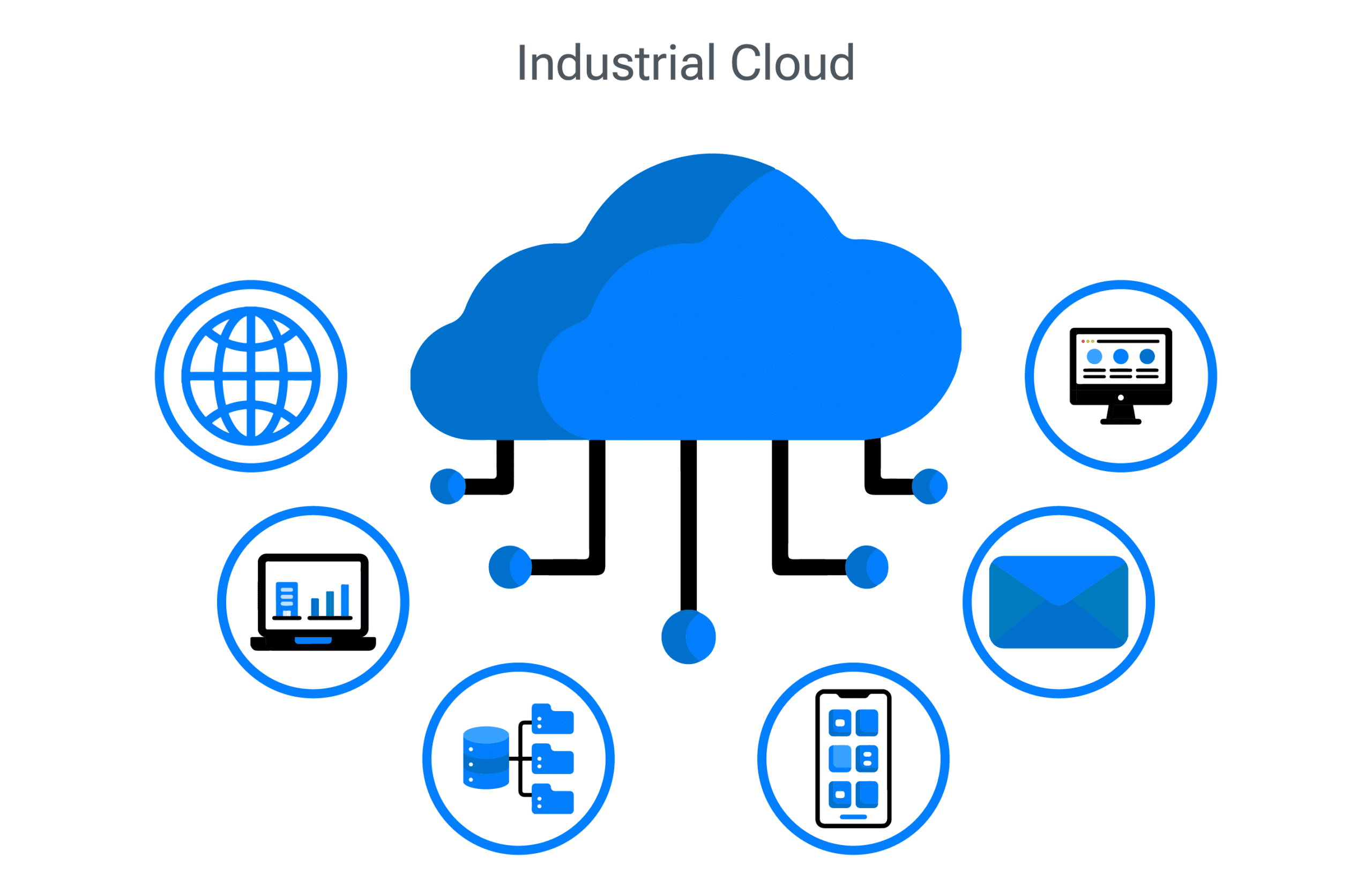 What is Industrial Cloud Computing?
Industrial Cloud Services focuses on the vertical application and vertical solutions rather than horizontal technology services. Cloud computing services are not a new type of cloud offering from conventional cloud computing, it is simply a specific industrial solution created as cloud services for Industries. This method is a vertical movement, giving more precise and custom solutions or products that are very specific to the industry.
Industrial Cloud offers a system that gathers data, processes, and provides insights for applications and solutions. Further, Business users can access the applications and insights to automate industrial processes. As a result, business owners can implement better strategies, manage assets efficiently, and enhance operational productivity. Hence, Cloud Computing enhances Industrial operations by working with data and making decisions based on its insights.
Types of cloud computing services
There are basically three layers of cloud computing services –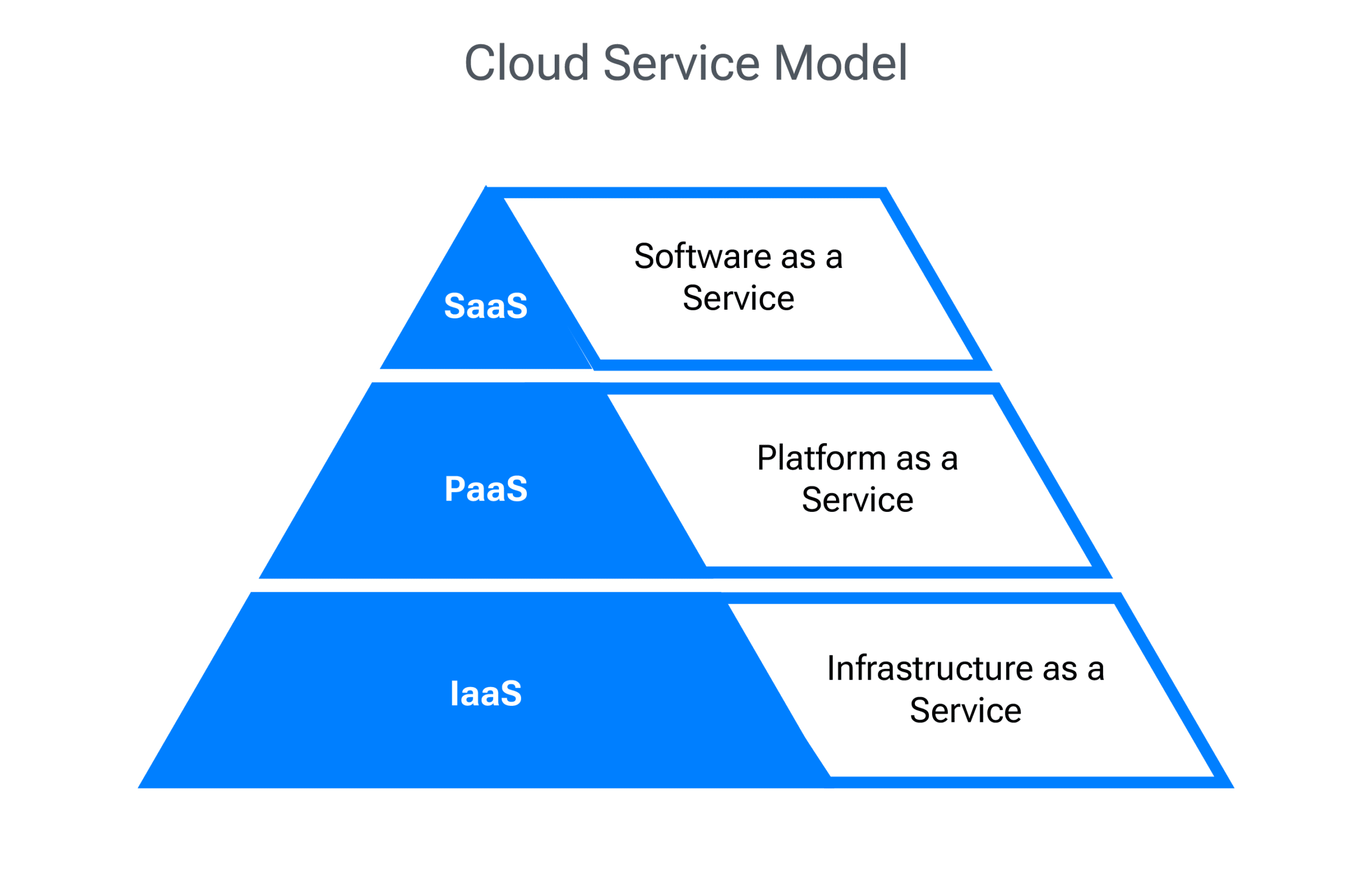 Infrastructure as a Service
Infrastructure as a Service (IaaS) is a foundational layer of cloud computing service. It is a basic building block of computing services that provide access to computing features such as virtual servers, operating systems, networks, and data storage. IaaS is suitable for small to large companies/organizations due to its cost-effective IT infrastructure hosting solutions. IaaS is offered as a private, public, or hybrid infrastructure. Amazon Web Services (AWS), Microsoft Azure, and Google Compute Engine (GCE) are a few examples of IaaS cloud service providers.
Platform as a Service
Platform as a Service known as PaaS, provides an on-demand environment to develop, test, deliver, and manage software applications. It manages the underlying application-specific servers, network, storage, and databases, while organizations focus on managing and deploying applications.
Software as a Service
Software as a Service caters to diverse business functions, such as business analytics, automation, customer management, etc. SaaS also offers user-friendly, reducing the need for IT specialists, strenuous set-up, and maintenance. This is the most common cloud computing service, in which people often use SaaS apps, like Gmail and Slack.
Role of Industrial Cloud in managing IIoT :
Industries across the globe increasingly rely on cloud computing services to manage their Industrial IoT technology. The Industrial Internet of Things is the connection of industrial machines over a network for communications. It's also referred to as the Industrial Internet. The Industrial IoT cloud enables to control machines and manufacturing processes remotely. Cloud computing provides a secure platform for Industrial data sharing between organizations. Many businesses use IIoT to collect machines' data and store it in cloud storage for later processing. Industrial Cloud computing offers different types of application services which can be used by businesses according to their needs.
Role of Cloud Computing in Industry 4.0
Cloud Computing is crucial to Industry 4.0 transformation for digitalizing industrial operations. Industry 4.0 cloud technology helps to centralize all the operational data for business. It also offers a platform for industrial collaboration and refines research for entire industry improvements. Industry 4.0 is driven by the integration of digital resources and new technology for transformation.
Industry 4.0 enables businesses with collaborative supply chains to benefit from using cloud computing in many ways. The real-time visibility of centralized data by multiple parties involved supply chain, allows management to take a more proactive approach. With real-time data, If conditions change or a problem arises, organizations can easily react to ensure and tweak efficiencies while reducing the risk of reoccurring issues.
On an industry-wide scale, companies need to adopt cloud computing as it is the foundation for Industry 4.0-driven innovation. The combination of Industrial Cloud and Industry 4.0 is a powerful tool that enables industries to access the heavy computing power required for the implementation of modern digitalization solutions.
The Benefits of Cloud Computing
Cloud computing has gained widespread use over the last few years. It has enabled incredible innovation across the consumer world. Manufacturers are now set to utilize Industrial cloud computing to deliver a new level of service and results across the industrial world. Cloud computing vendors are increasing the scope and number of services they provide via the cloud.
Popular public cloud environments like Microsoft Azure, Amazon Web Services, and Google Cloud Platform are becoming more affordable than ever. Irrespective of the size, most industries today have adopted cloud technology in some shape or form.
Although the cloud adoption strategy is primarily used by enterprises to improve the scalability of their Internet-based database capabilities while reducing risk and cost, there are several other benefits of this technology.
The list of Cloud computing benefits for the industry is as follows: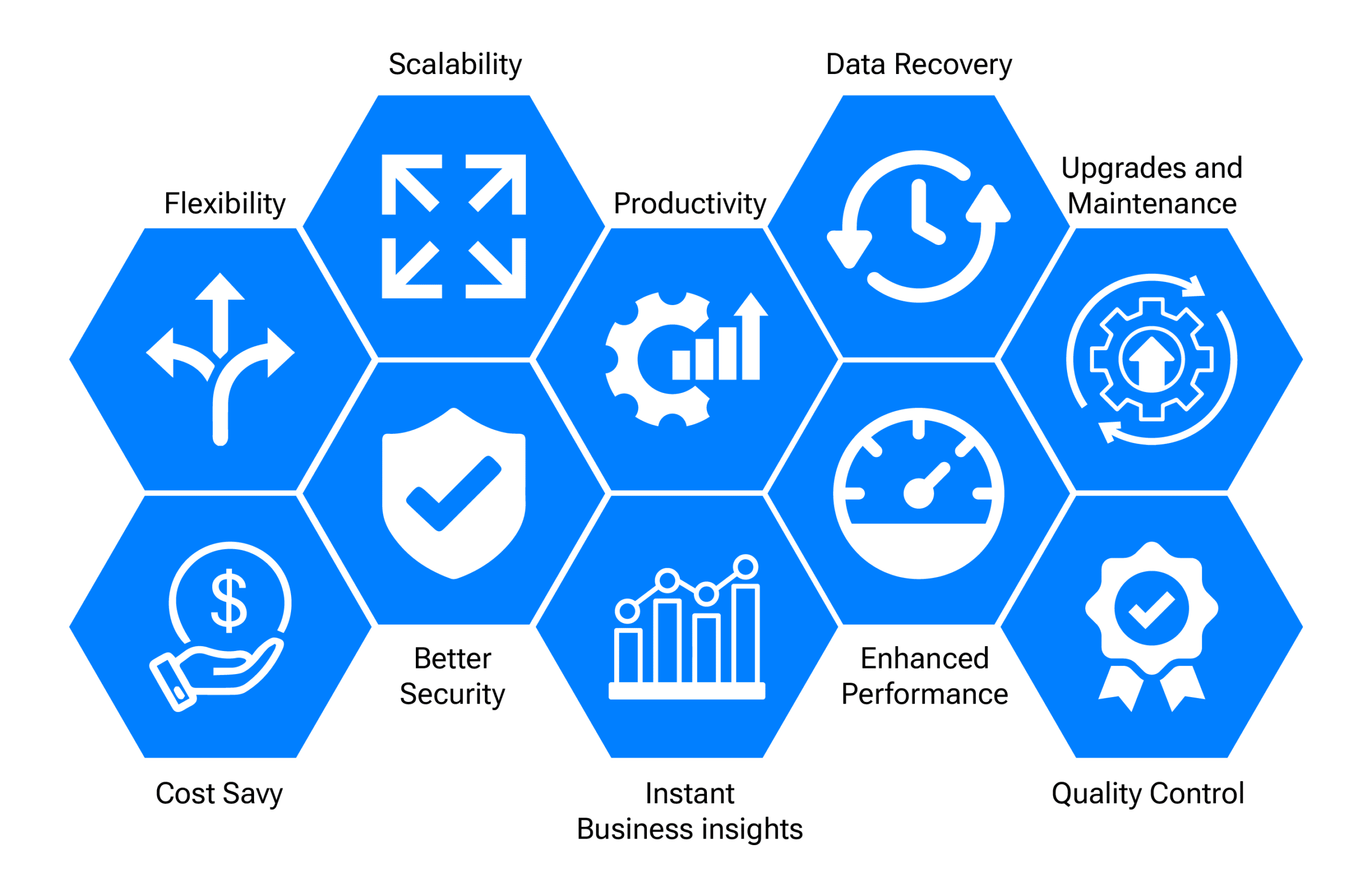 Cost Savvy
Adoption of Cloud computing services gives organizations the benefits of eliminating the high cost of hardware and installation as it allows them to opt for pay per usage subscription-based model that suits their budget. According to The Cloud for Manufacturing, ''cloud-based manufacturing solutions can reduce up to 54% of the costs relating to IT infrastructure, maintenance, and lifecycle for both new and existing operational or process improvement projects.'' (Beukelaer 2021).
Security
The Industrial cloud is generally safer and more secure as compared to on-premises infrastructure due to the high adoption of advanced technology services. Moving from on-premises to cloud services makes sure centralized data management and security.
Flexibility
Cloud computing offers businesses more operational flexibility overall than hosting on a local server. And, if you need extra bandwidth, cloud-based service providers can meet that demand instantly, rather than undergoing a complex update to your IT infrastructure. This improved freedom and flexibility can make a significant difference to the overall efficiency of a business organization.
Upgrades and Maintenance
The upgrades and maintenance in the case of cloud computing are more seamless and frequent than in that of on-premises software. Customers using cloud-based software always enjoy the advantage of being on the latest version. Unlike on-premises infrastructure, which requires an IT team to perform a company-wide update, cloud computing applications automatically update and refresh themselves. This allows you to save a lot of time, effort, and IT costs as well.
Quick Access to Business Insights
Cloud-based platforms provide a unique opportunity to access data as soon as it's collected. This facilitates better decision-making as well as deep insight into what the future may hold for your organization based on predictions made from historical data.
Productivity
Cloud Computing helps in improving the productivity of an organization in many ways. First, eliminating the need for infrastructure maintenance allows your IT staff to focus on business-related tasks. Secondly, It makes software development, testing, and deployment quicker and easier. It also provides a worldwide network of services that can be easily accessed by remote employees.
Performance
As providing modern IT infrastructure is their prime focus, Industrial cloud providers keep data centers updated with the latest high-performance hardware and technologies. This in turn enables better connectivity and performance.
Recovery
Losing data can be just as bad for a business as having a data breach. Storing data in the cloud ensures that it's always available, even if a hardware device gets lost or damaged. Cloud providers also provide backup systems for files, databases, source code, and more.
Scalability
Every organization/business has its own IT infrastructure requirements— a large enterprise of 1000+ employees won't have the same IT requirements as a small start-up. Cloud service provides a great solution as it enables enterprises to efficiently — and quickly — scale up/down their IT departments, according to business requirements.
Quality
Poor quality and inconsistent reporting are detrimental to the success of a business. The cloud – service helps store all documents in one centralized location and in a single format. With everyone accessing the same information, you can maintain consistency in data, avoid human error, and have a clear record of any revisions or updates.
Industries Response to Industrial Cloud
Different Industries or Business enterprises across the globe are leveraging cloud computing for meeting their various needs and reinventing business processes to align with current market trends efficiently. Cloud computing has changed the way many sectors operate, accelerating the creation and ensuring businesses' survival. The global cloud computing industry is predicted to increase at a 16.3 percent compound annual growth rate (CAGR) from USD 445.3 billion in 2021 to USD 947.3 billion in 2026, indicating mass adoption of cloud computing by corporate giants to small-scale start-ups. (ReportLinker 2021). But have you wondered which industry is the biggest user of cloud computing? It is undoubtedly the Automotive Industry.
Cloud computing in Automotive Industry
With the advent of technological innovations and advancements, the automotive industry is undergoing exceptional changes. One such revolutionary change is in the way IT assets held by these companies are transforming data recording, storage, processing, and costs associated with Industrial Cloud computing. It is expected that by the end of 2022, the demand for automotive cloud-based systems is expected to reach USD 66.95 billion in sales, with an annual growth of 19.88%. Cloud computing will continue to provide automotive operation solutions.
''The largest contributor to the Global Cloud Computing Market is the North America region with a market share of 35.22% in 2020 owing to the early implementation of cloud computing solutions. United States (US) was the largest contributing country in the region with 67.48% market share in 2020 owing to its predominance in IT sector, followed by Canada and Mexico. The Asia-Pacific region is the fastest growing with a CAGR of 20.25% in the forecast period due to its increasing digitalization and technological advancements with the launch of new in-house services in the region.'' (ICT 2021)
Cloud computing in the automotive industry in particular is evolving very fast ever since the introduction of connected vehicles, autonomous cars, and smart automotive features. Cloud-based transformation is a key part of the solution for automotive Original Equipment Manufacturers (OEMs) as they look to simultaneously reduce costs, increase agility in how they do business, and enhance scalability for the vehicles of the future. Automotive manufacturers across the world are now adopting cloud technology to improve the driving experience as well. The idea of Cloud computing in the automotive industry is that it can help save lives by preventing accidents, and it allows cars to communicate with each other. Additionally, smart vehicles can quickly adapt to changing road conditions and route the passage more quickly to the destination with vehicle cloud technology.
Some of the key cloud computing applications in the automotive industry include: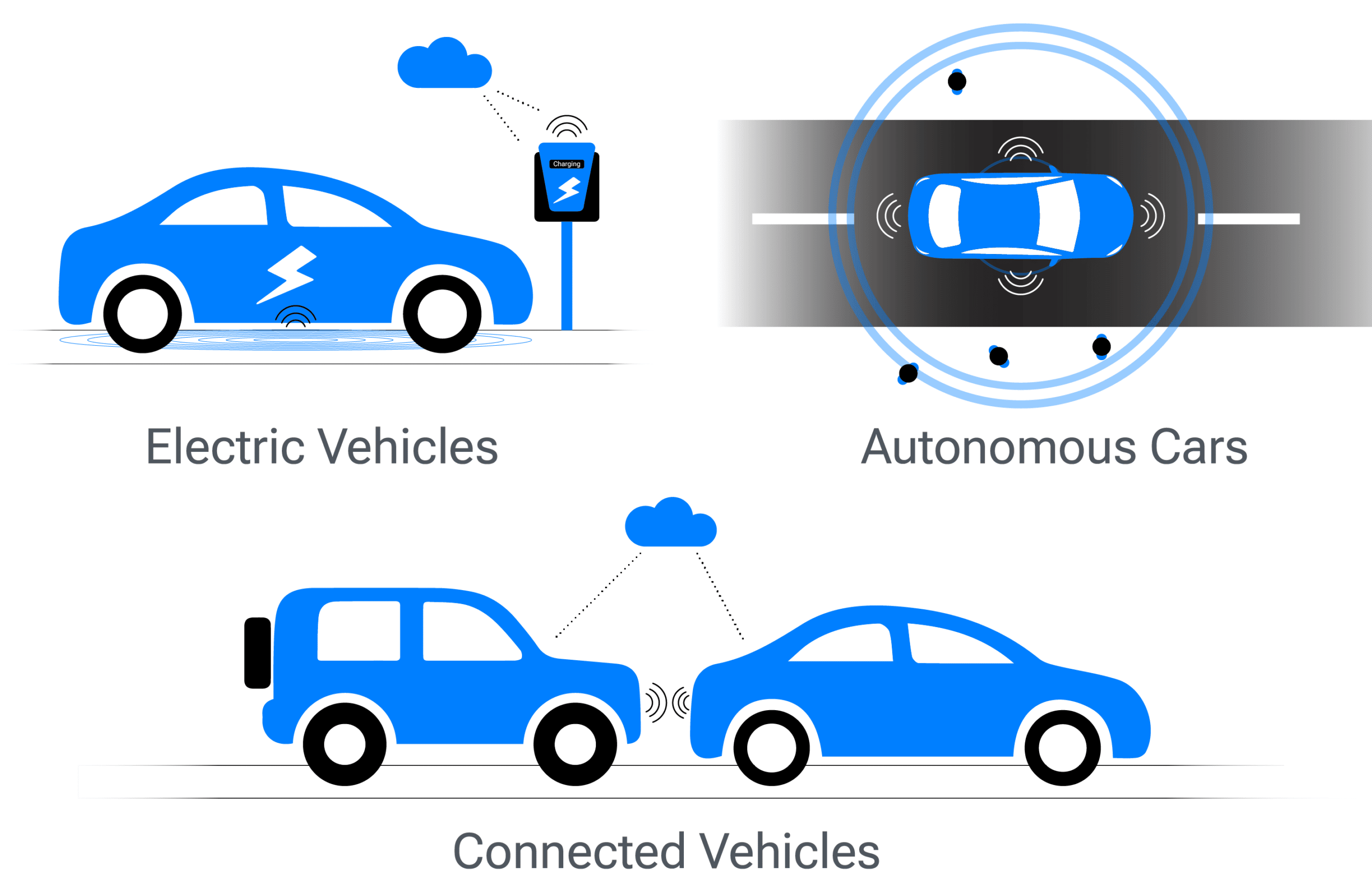 Connected Vehicles
Connected vehicle technology allows cars, buses, and other vehicles to communicate with each other and share key information regarding safety and mobility. As connected vehicles involve storing and sharing lots of data, such as data about the vehicle itself, the surroundings, and other vehicles, they require a large data storage space— and here the Industrial cloud comes as a savior. With connected vehicle cloud platforms, Chauffeurs can get instant valuable insights into the vehicle status, safe driving distances, real-time traffic conditions, usage patterns, and more.
Autonomous Vehicle
An autonomous or self-driving car that drives on its own by sensing its environment. Human intervention is not required in driving an autonomous car. It uses technologies such as 360-degree cameras, sensors, and complex algorithms to drive. Cloud computing is now widely used in autonomous cars for better functionality. In fact, without automotive cloud solutions, autonomous car technology might not have been possible. Automotive cloud solutions support the continuous data flow of self-driving cars and provide uninterrupted network service. Hence, cloud platforms can improve the safety, efficiency, and security of self-driving cars.
Electrical Vehicles
EVs require smart charging stations to replenish batteries. These stations include cloud-connected sensors and computer processors that collect data to optimize energy distribution and consumption. Only Cloud computing can store such a large amount of data.
Cloud computing is critical to the automotive industry's transformation. Industrial Cloud computing and its benefits for the automotive industry are abundant and to mention a few here—improved cost-efficiency, better scalability, faster time to market, and increased reliability, as well as access to new and innovative technology as a readily available service.
Cloud computing for the manufacturing industry
Manufacturing has entered into a new era marked by digital transformation, known as Industry 4.0 or the fourth Industrial Revolution. The introduction of Industry 4.0 technologies including AI (artificial intelligence), ML (machine learning), and IIoT (Industrial Internet of Things) connectivity relies on the data storage and information processing enabled by cloud computing.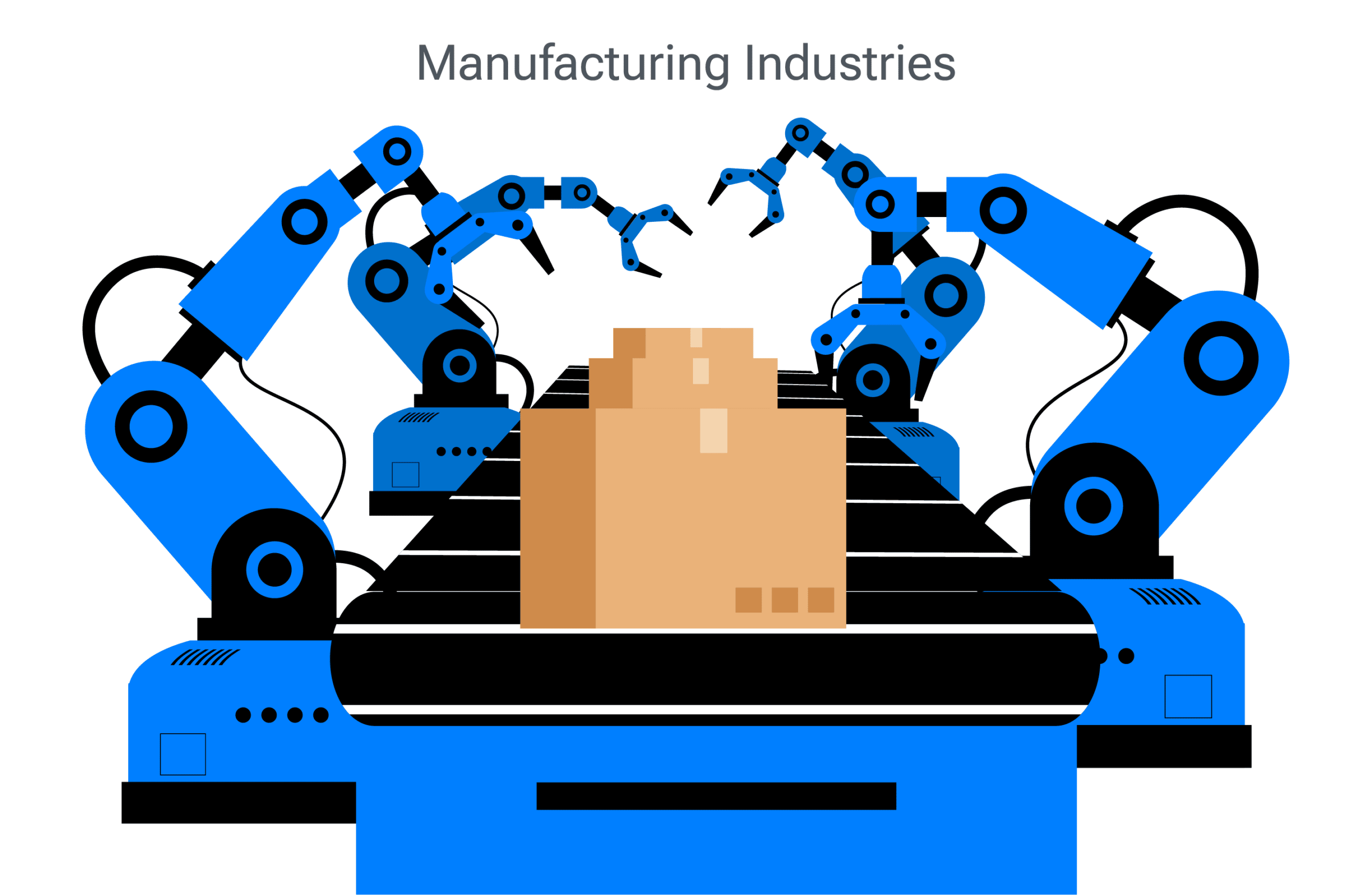 Cloud computing has the potential to be a game-changing technology in manufacturing industries from small enterprises to extremely large manufacturing plants. Cloud computing plays a significant role in manufacturing as it allows companies to avoid the countless lists of business and technical issues associated with running their own data centers.
It also saves costs by only paying for the computing resources when they need them on a "pay-as-you-go" model. The fast-growing business environment and the need to keep up with the demands of the diverse customer base, present a huge set of challenges and opportunities to the manufacturing industry. To tackle these, many manufacturers are leveraging Industrial cloud computing technology to monitor and improve their overall process.
Cloud-computing solutions offer manufacturers a wide range of benefits, among the most significant of which are: scalability, operational efficiency, application, and partner integration, data storage, supply chain management, analytics, and enhanced security.
In particular, cloud computing facilitates research, design, and development of new products, which powers innovation, reduces product development costs, and speeds time to market. AI (Artificial Intelligence) technology powered by cloud computing solutions enables manufacturers to conceive solutions by comparing and analyzing vast data sets quickly.
In fact, the cloud has become the central venue for data storage, analytics, and intelligence for most manufacturers. With the help of cloud computing, manufacturers can merge product planning and development information into supply chain data and communications.
Fogwing Industrial Cloud
Fogwing Industrial Cloud offers horizontal and vertical solutions together to solve the Industrial Transformation. The primary goal of Fogwing is to provide the technologies required to connect to industrial assets, gather insights, and present it as both data and process aspects.
Fogwing Industrial Cloud offers the following cloud services as specialized :
Fogwing Industrial IoT Platform
Fogwing Asset Performance Management
Fogwing Smart MES Software
Fogwing Tools Management Software
Fogwing Industrial IoT Platform
Fogwing IIoT platform is integrated with inbuilt cloud storage and database that allows aggregate data from devices/machines in real-time. It comes as an all-in-one platform that is available as (SaaS) Software as a Service. Fogwing IoT platform has cloud integration with AWS, Azure, and GCP. Fogwing helps small, medium, and large enterprises insight into the processes, enhance process improvements and increase automation and digitalization to become agile and efficient.
To know more about the Fogwing IoT platform, please visit FREE Industrial IoT Platform for IoT Solutions | Fogwing Industrial IoT
Fogwing Asset+ – ACM Software
It's the key asset performance management tool that helps industries to manage asset health and maintenance in real-time. Fogwing Asset+ provides automated Asset Health and Performance Management capability to connect, collect usage data, detect condition data and energy consumption from machines. It provides solutions to monitor asset performance, analyze performance trends, detect asset downgrading, and more. Preventive maintenance of Fogwing asset+ helps manufacturers to reduce the overall maintenance cost and achieve higher ROI on Industrial assets.
To know more about Fogwing Asset+ or Fogwing asset performance management, please visit Best Asset Performance Management | Fogwing Asset+
SFactrix.ai Smart MES Solution
SFactrix is an Industrial cloud-based Manufacturing Execution System (MES) solution that provides functions and processes to prepare, plan and execute the entire factory floor operations. SFactrix MES / MOM Software provides all the functionalities that are required to run lean manufacturing operations. SFactrix.ai is a complete digitalized solution that enables all operational management capabilities into digital factory operations.
Cloud connectivity is the foundation of a smart factory, allowing advanced manufacturing systems and capabilities. To explore the cloud-based SFactrix MES application, explore on SFactrix.ai.
Fogwing IIoT Platform + IoT Analytics Studio
Fogwing Industrial Cloud offering Industrial IoT Platform as a No-Code Device Management Solution for rapid IoT deployment.  Just start your IoT project with no major investment.
Try it for free . No Credit Card Required. 
Fogwing Tools Management
Tools management is one such feature that makes it simple for the industries to validate the various tools requirements and life cycle management. Tools management module provides various functions like tools renting, recovery, refurbishment, recycling, usage metrics, and more. SFactrix.ai comes with an inbuilt AI-based tools management feature that helps Tools Department to manage Industry tools to complete a manufacturing order.
Conclusion
This is to conclude here that; the industrial cloud is a natural progression of cloud computing to meet the various and highly specialized solutions for industry requirements. As cloud solutions continue to mature, major public cloud providers are investing in solutions to meet specialized industry needs. Cloud capabilities have transformed the way technology is leveraged by organizations and individuals across all industries.