Any revolution drives new level of capabilities and culture. The skills which will drive the 4th industrial revolution involves deeper understanding in industrial processes, deep technologies, regulation, compliance and more. In essence, 4th revolution is the new industrial practice, which facilitates intelligence driven automation and data exchange in manufacturing practices. The revolution offers industry digitalization which drives advanced in automation and efficiency.
The new 4th Industrial Revolution demands an upgrade in people skill sets while implementing it, due to the advent of digitalization. This blog aims to describe the skills you require to thrive in the 4th industrial revolution.
What capabilities required for 4th Industrial Revolution?
Revolution 4.0 is not just about implementing advanced technologies like IoT connectivity, machine performance, Insight and intelligence, Digital Execution, and data drive automation. It requires greater knowledge of best processes, understanding in technologies and people skills.
The Industrial Revolution 4.0 practice requires staff skill development, common vision, technical expertise, training, management leads, governance, auditing, SOP practice, Investment, and multiple advanced technologies solutions.
The key pillars of the 4th industrial revolution are Process understanding, and Technology, Regulation and Compliance, which are briefly explained below: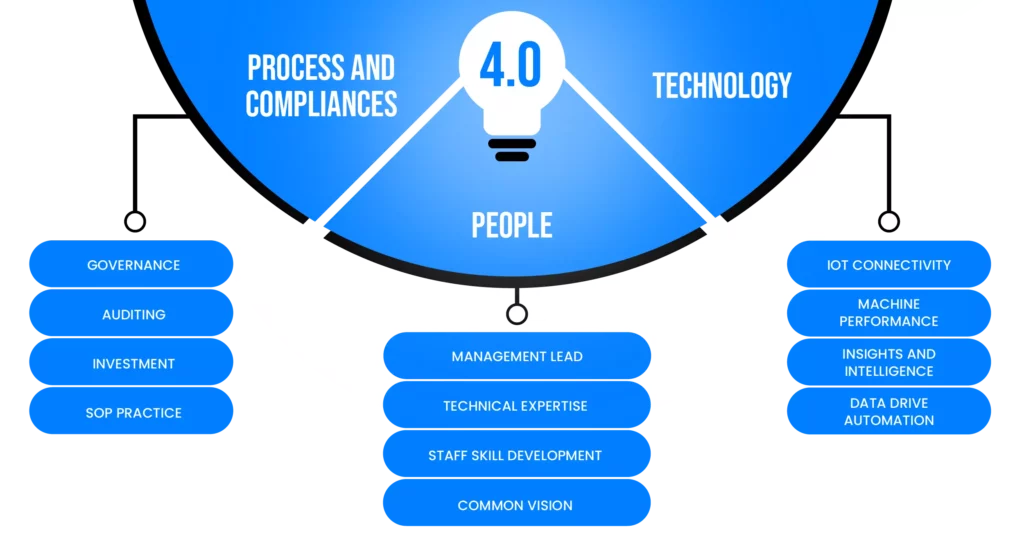 Processes and Compliance
Knowledge in industrial processes and compliance requirements is extremely essential while implementing smart industry, as it describes how things are done and provides an idea for making them better, to provide accurate results for the 4th revolution. It involves management lead, governance, SOP practices, auditing, and investments.
Governance
Governance let organization manage complex data sets and improve their decision making through the insights collected from data. It provides more clarity on data availability, data storage, quality of data, and if any outliers or unnecessary sets.
SOP Practice
Standard Operating Procedures (SOP) are employed for automated tasks and serve as a guide for accurate work practices. SOPs boost production efficiency, promote operation stability, eliminate quality defects, and ensure advanced development in revolution 4.0.
Auditing
As organizations start to implement smart technologies in their systems and processes, the audit becomes a vital process that needs to be followed across organization. However, it can only be accomplished by people with the appropriate skill to manage the compliances. There is the risk of failing the audits when the people are not adequately skilled which might result in poor performance optimization.
Investment
Investing in 4IR technologies is essential to attain transformation in manufacturing productivity. Being innovative with technology is noticed by manufacturers as one of the essential factors to boost productivity. Without proper financial support, adopting any newer Technologies will lead into failure. Better plan and ensure enough financial support available before start.
Advance Technologies
Technical skills are considered specialized knowledge. Technical Expertise is required to perform digitalization using technically advanced systems and tools. Technical skills are required in every field and the 4th industrial revolution demands the expertise in IoT connectivity, machine performance, data drive automation, insight, and intelligence.
IoT connectivity
The Internet of things is essential while implementing industry 4.0, as it enhances smart automation in industries. IoT connectivity should be selected carefully based on each deployment's characteristics. For example, very high-speed, ultra-low latency connectivity might be required by some of the machine integration while others prefer simpler deployments and low-speed connections.
Machine Performance
Machine performance monitoring is essential to determine whether the machines meet all the operational requirements and quality standards to provide their best productivity, allowing the users to make informed decisions on the utilization of resources.
Insight and Intelligence
This skill is important as it connects knowledge, information and inspiration together. The insights reveal the device's performance and point to the solutions or ideas which will benefit revolution 4.0.
Data Drive Automation
The 4th industrial revolution improves the quality of delivery, by automating human tasks, to provide stable automation of machines, which reduces human error. The insightful industrial data drives a way to automate the production, use, and management of the input data.
People Capabilities
To adopt digital technology and automation processes, workforces within the organization must go through skill development in newer technologies, staff development, documentation and a common vision to implement the 4th revolution.
Management Lead
A management lead is a dynamic disciple who possesses skills and abilities for general problem-solving and decision-making. It focuses on the ability to make business decisions and lead sub-ordinates within a company, and negotiation tactics.
Technical Expertise
Deep technical expertise enables industrial professionals to manage advanced technical programs and products to operate them in the real world.
Skill Development Program
Staffs skill development programs helps the operators to understand the technology, vision and meet organizational standards, improves workplace performance and expands the organization to the broader level.
Common Vision
The common vision of this revolution is to make manufacturing and industries work faster and more efficiently. The fourth industrial revolution is going beyond automation and optimization to detect business opportunities and models.
Conclusion
People, Practice and Technologies are together required to be successful in the the 4th revolution. Hence, organizations are fully capable of adapting smart technologies and leveraging them to transform a traditional organization into Smart Factory would grow further. Undoubtedly, there are numerous changes required in this era, leveraging technology for innovation. For many organizations, the 4IR will provide excellent opportunity to build sustainable business.