One of the earliest revolutions in the automotive industry dates back to 1913, when Henry Ford, founder of Ford Motor Company, introduced the assembly line technique in mass production/manufacturing. Since then, the automotive industry has been keen on revolutionizing technology for manufacturing processes to curb quality and innovation challenges to transform to become of practical conveyance.
Today, the automotive industry witnessed a massive transformation. The transformation is pervasive across the automotive manufacturing value chain and much of it is driven by the potentials of industry 4.0.
Industry 4.0 in Automotive Industry
Primarily, the goal of industry 4.0 in automotive industry is to go beyond optimization and automation by transforming the overall production process to become customer-centric along with efficiency in logistics management.
The harnessing of powers of connected digital and physical technologies, along with the cognitive potentials of artificial intelligence, digital twin, robotics and cloud computing technologies; businesses across the automotive manufacturing and OEMs value chain are becoming efficient in production, flexible in business operations and responsive to customer engagement.
As stated in a market research report, by the end of 2022, automotive manufacturers expect that 24% of their plants will be smart factories. The report also mentions that 49% of automakers have already invested more than 250 million dollars in smart manufacturing. This data clearly implies that the automotive industry is keen on transforming to Industry 4.0.
Benefits of Industry 4.0 to the Automotive Industry
The automotive industry can benefit in many ways from the adoption of Industry 4.0. From process innovation and value creation to risk mitigation and cost optimization, the automotive industry is reaping benefits seamlessly.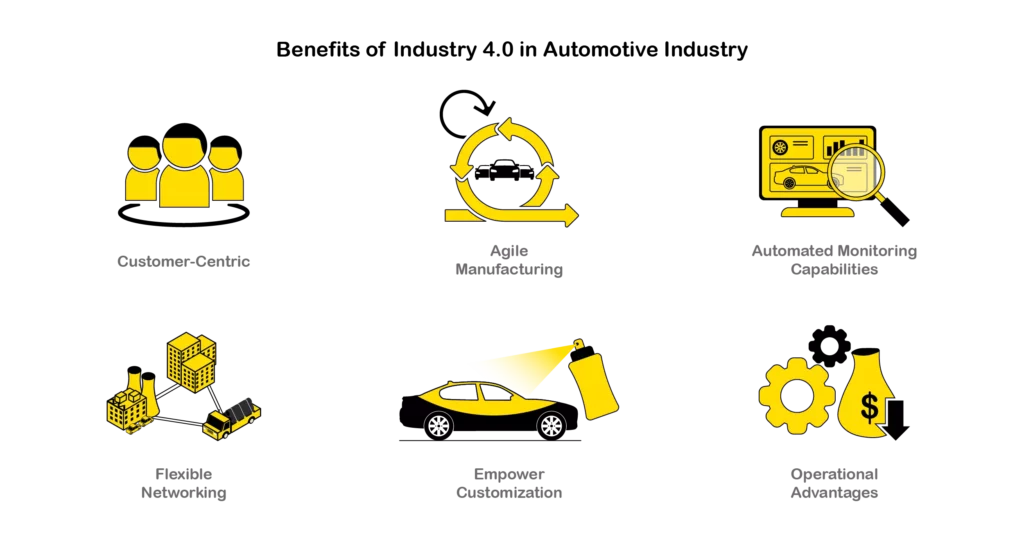 a) Customer-Centric – Evolving customer behaviour and demands is the biggest driving component for technology adoption within the automotive sector to increase vehicle sales. Industry 4.0 creates connected ecosystems that facilitate factory floor operations visibility and allow OEMs to interact with customers, directly. The OEMs ability to interact with customers, increases opportunities to better gauge customer preferences and market demand to enhance customer experience while mitigating production and innovation inefficiencies.
b) Agile Manufacturing – In response to the dynamic market for OEMs and changing customer priorities, industry 4.0 enables automotive industry to adopt rapidly the effective and flexible methods and techniques of manufacturing without the lack of real-time data, restricted product customization, struggles with using upgraded machinery that poses serious challenges as part of traditional manufacturing.
c) Automated Monitoring Capabilities – The manufacturing ecosystem transforms auto manufacturers to adopt a proactive approach to manufacturing operations management powered by automated monitoring capabilities. Automated monitoring is made possible with advanced connected systems and sensors that help predict, prevent and mitigate potential maintenance issues, downtime in production and isolated logistics.
d) Flexible Networking – Industry 4.0 induces tight collaboration among automotive innovation centres, production plants and supply chain and overall business operations via real-time data and cognitive intelligence. Interaction between various plant locations and other departments within the factory floor enable efficient operations management.
e) Empower Customization – Modern customers prefer vehicles to be personalized which cannot be accommodated with traditional auto manufacturing processes. Adopting industry 4.0 will enable auto manufacturers to customize processes rapidly for personalized vehicles and achieve speed-to-market with other mass-manufactured automobiles.
f) Operational Advantages – Industry 4.0 in the automotive sector can significantly bring operational benefits that optimize operations management and in turn profits from smart utility of resources and systems. Some of the notable operational advantages are; operations cost reduction, advanced business intelligence, mitigation of human errors, effective customer support through bots, efficient and targeted marketing, increased work accountability and transparency and lower risk factors with real-time data-driven assessments.
Challenges for the Automotive Industry
At the wake of leveraging the potentials and benefits of industry 4.0, automotive company stakeholders and executives are bound to face challenges. One of the biggest challenges is to have the right skilled people in place to effectively plan, execute, measure and optimize technologies and digital systems. Another challenge is to opt for a suitable approach. The transformation is viable provided the whole organization is aligned with a specific digital strategy rather than an individual isolated strategy for each department. In other words, a holistic approach to digital transformation in the automotive industry witnesses greater success as opposed to an isolated approach.
Another approach that has been adopted by auto manufacturers in the process of digital transformation is by starting to solve small problems. When small challenges are resolved right, it sets precedence for stakeholders, executives and technical expertise to delve into implementing industry 4.0 on the same page whilst focusing on the core value propositions of the company.
Specific to the automotive industry, supply chain integration can seem challenging in initiating a transformation to industry 4.0. Auto manufacturers rely on external partners and contractors for supplies and logistics which often becomes a challenge in integrating all stakeholders into one ecosystem. Initially, the process might seem daunting, but eventually with the right choice and use of industry 4.0 technologies, smart factories can be achieved.
Vulnerable to cybersecurity threats with industry 4.0 in automotive manufacturing is another challenge. In order to eradicate this threat, stringent mechanisms and policies are to be put in place to ensure data security.
Achieve Holistic Manufacturing Operations Management with SFactrix
SFactrix.ai is an intelligent manufacturing software, engineered to facilitate smart operations management across your factory floor. SFactrix.ai is an AI-powered user-friendly solution to manage the business and operations of your factory. From optimized resources utilization to timely product delivery, SFactrix.ai is enabled to offer real-time data and analytics that drives crucial decision making effectively.
Some of the distinguished features of SFactrix:
i) Work order Management – Digital Tracking management of customer orders to enable real-time monitoring of production progress.
ii) Job Management – Assign jobs to the workforce and estimate overall delivery guarantee.
iii) Real-Time Operational Visibility – Real-time performance analytics and OEE reporting helps to act faster on production optimization.
iv) Asset Performance Monitoring – Keep track of machine efficiency in real-time to drive better production.
v) Downtime Notification – Set auto-detection alerts for assets and receives alerts via SMS Email.
vi) Maintenance Registry – Machine maintenance is the key to protecting asset lifetime and continuous production. Automate maintenance actions.
vii) Personalized Dashboard – Personalized dashboard setups from plant managers to workers.
viii) Parts Management – Keep Track of Part Production and Cost of Goods based on lead time performance and metrics.
ix) Operators Mobile App – Keep track of all operator actions, job accomplishments and reviews to monitor the operator performance.
Why Choose SFactrix?
– Subscription Software – Opting a solution is a huge investment, we understand. So, it's not that case here. We offer SFactrix.ai solution with NO upfront investment and Low operational expenses.
– Mobility Interface – Accessible in Desktop and Mobile from anywhere. No installation or configuration is required. No HMI is required.
– Industrial IoT Integration – Advance SFactrix.ai capabilities. We offer prebuilt integration with the Fogwing IIoT Platform. Just connect any equipment and start tracking the performance.
– Customer Support – We provide personalized Demo, Documentation and Training programs to support and empower your experience with SFactrix.ai. In addition, we have 12×7 operational support services.
With all these features of SFactrix put to play, it's a hassle-free path to achieve Smart operations management for the automotive industry.
Conclusion
The impact of industry 4.0 in the automotive industry has been one that is promising. It is steps ahead to just automation and optimization of production. Industry 4.0 is set to revolutionize the auto manufacturing industry with the potential of a comprehensive and holistic smart manufacturing operations management transformation.