Transforming traditional factories into Smart factories requires well-planned investments in advanced technologies such as IoT, AI and Digital Twin. Digital Twin Technology can help you achieve Smart Factory by accelerating smarter decision making and autonomous operations, which reduces the time and cost associated with assembling, installing, and validating the factory's newer production process.
Digital Twin technology provides tools for the virtual representation of the potential new product design or production process. It plays a vital role in evaluating the product ideas before invest and adoption. A Digital Twin based Software Platform facilitates factories with digital footprints of physical products, which empowers organizations to predict outcomes precisely, detect physical issues, and develop efficient products.
The Emergence and Evolution of Digital Twin
History of Digital Twin Technologies
David Gelernter was the first to mention the idea of digital twins in his book "Mirror Words" in 1991. But the concept and model of digital twin technology were first introduced publicly at a Society of Manufacturing Engineers conference by Dr. Michael Grieves in 2002.
The Digital Twin platforms mirror the physical system, keep track of the real-time status, and keeps a complete record of the evolution a physical entity goes through.
What is Digital Twin?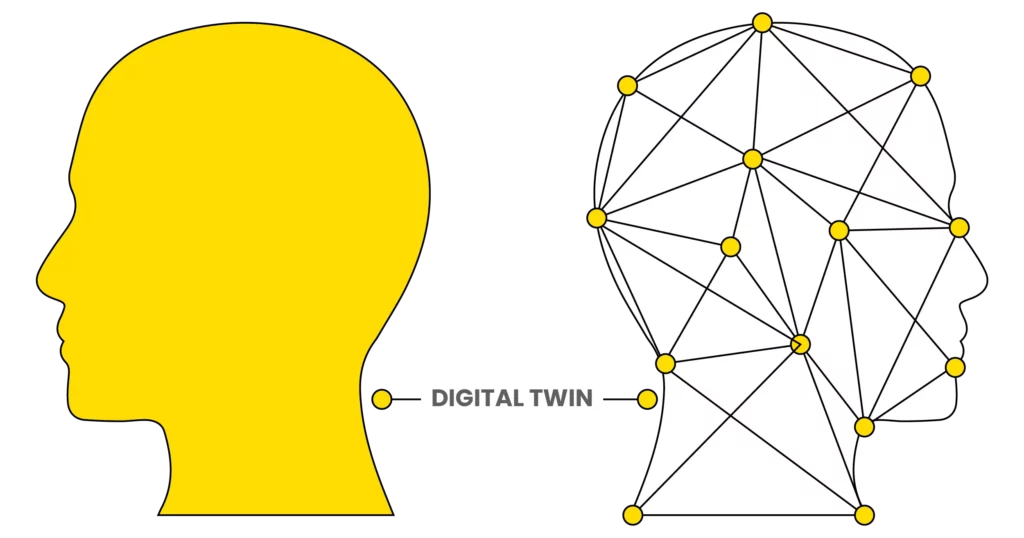 Digital Twin is a counterpart/Twin of the physical product/service that is represented virtually with high complexity. It can also be known as the virtual replica of the physical product. Digital Twin technology utilizes the historic product data to create futuristic simulations that further predict the capabilities of the Potential product or service. Digital Twin platforms incorporate multiple advanced technologies such as Artificial Intelligence, the Internet of Things, machine learning, and many more.
There are Four types of Digital Twins.
Parts Twining
Product Twining
System Twining
and Process Twining
To comprehend more about the types of Digital Twin Technologies, click here.
What is Smart Factory?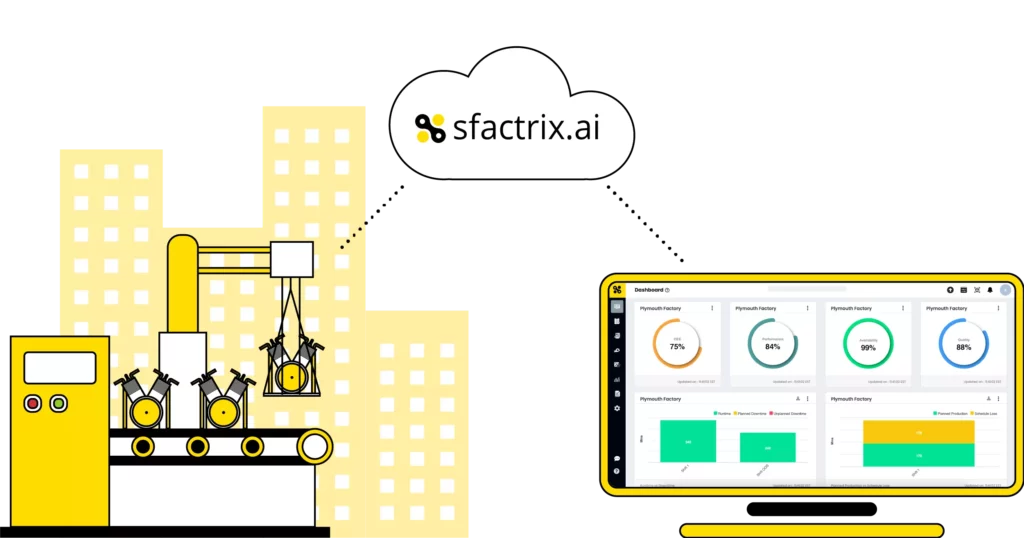 The concept of a Smart Factory arises from the IIoT (Industrial Internet of Things), which visualizes the fully automated and intelligent network of systems in the production environment. The idea of Smart factory facilitates automation of logistic chains and machines by eliminating human intervention.
Smart Factories are digitally enabled factories, that conduct functions in an automated manner. It combines the physical process and operations with digital technology. The Smart factory is a vital aspect of Industry 4.0 that focuses on real-time data, embedded sensors, connectivity, machine learning, and automation.
What is Digital Twin in Manufacturing?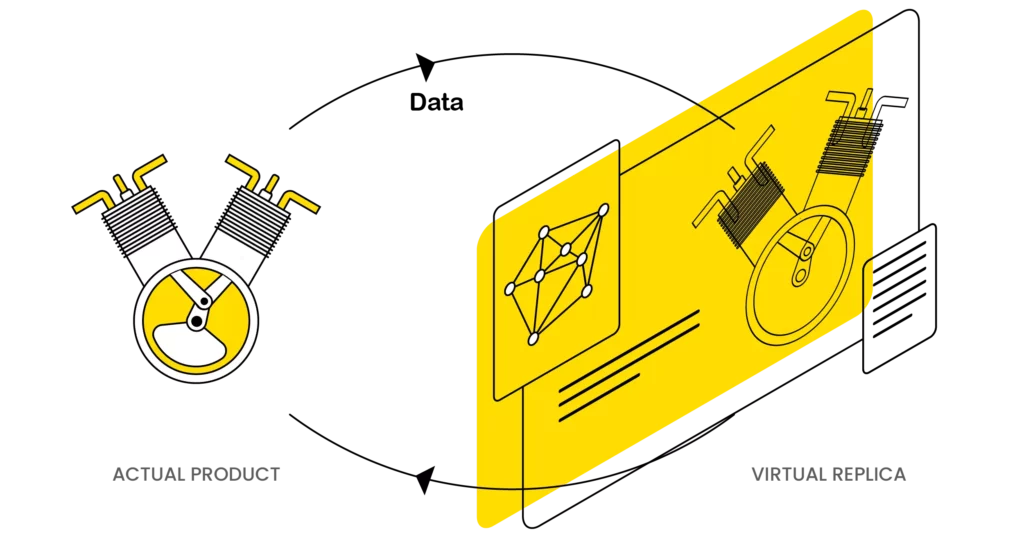 Industry 4.0 journey has experienced growth in various advanced digitalization technologies with the involvement of topics like Smart Manufacturing digital Twin, Smart Factories, and the Industrial Internet of Things. All these adequate technologies change the outlook of traditional factories. These technologies significantly impact organizations that wish to implement smart manufacturing.
How do Digital Twins optimize manufacturing efficiency?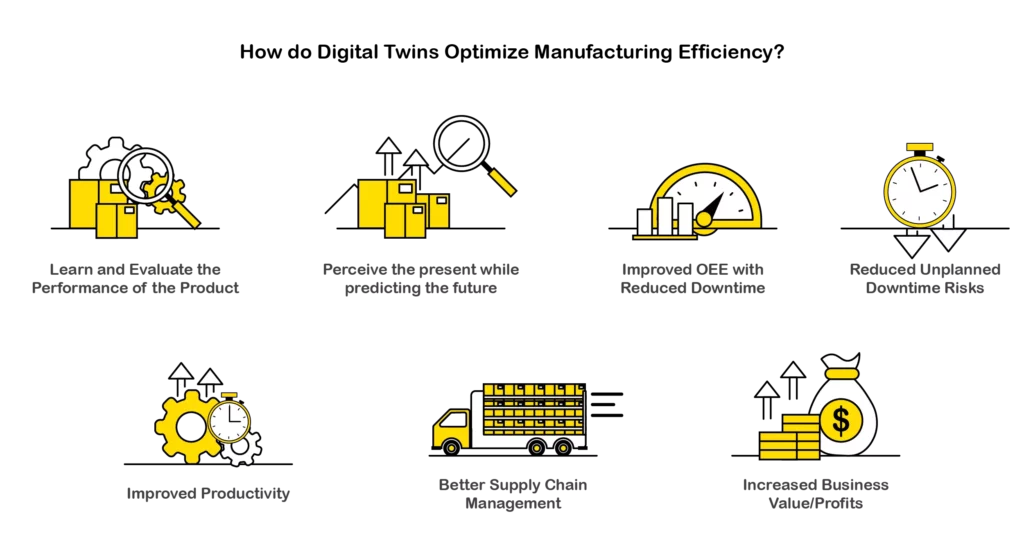 Digital Twin plays a critical role in the transformation of traditional factories into Smart Factories. Let us explore the essential aspects of how Digital twin software optimizes manufacturing efficiency.
Learn and evaluate the performance of the product
The Digital twin platforms in Smart Manufacturing enable the creation of Digital Twins even before the development of the actual product, which enhances the learning and evaluation of the product. It facilitates Smart Factory or industry 4.0 by understanding product or systems performance and downtime. Digital twin technologies built with advanced algorithms and software program capture, utilizes real-world data and simulates it to generate valuable visible insights into a product in Smart manufacturing. It is an ideal tool for engineers and developers to evaluate the product performance ahead of an actual investment in Smart Factories.
Perceive the present while predicting the future
One of the key features of Digital twin software in the Smart Factory is, its ability to predict and prevent asset failures/downtimes and low production. Digital twin technologies with virtual flexibility facilitate Smart Factories. It can simulate the entire working procedures of the physical product or system even before its development. The data provided by the Digital Twin technology defines the machine conditions and educates about the downtime a machine might face in the future.
Improved OEE with reduced downtime
Digital twin enables connectivity of the Smart factory floor operations prior to the actual deployment of physical assets and enables capturing of data in real time and is further filtered and produced as analytics for customers. Analytics Data can be used to develop strategic production time, schedule downtime, and improve maintenance. The data accuracy provided with digital twin software will boost operational and production potential to its optimum levels. This process improves the OEE and reduces downtime.
Reduced unplanned downtime risks
Digital Twin Technologies have led traditional factories towards achieving smart factories and significantly reduced the risks of unplanned downtime. As machine monitoring in the manufacturing onsite is constant with digital twins of the relevant IIoT technology, automated digital checks of assets strongarm the strategic usage and downtime schedule for maintenance. With strategic maintenance and continuous machine monitoring in practice with different types of Digital Twin Software, there remains less scope for unplanned downtime risks.
Improved productivity
The overall potential of the assets can be utilized when an organization is associated with digital twin technologies. These advanced technologies help organizations build the foundation to monitor and evaluate the machine performance in Smart manufacturing. It improves productivity with machine production analytics that facilitates planned maintenance and Root Cause Analysis (RCA) of machines and assets.
Better supply chain management
Logistics and supply chain management is crucial in the manufacturing sector. Digital twin offers tracking of logistics that enables accurate supply chain management with operational transparency. As digital twins facilitate access to supply chain data, planned inventory management and supply chain can become successful.
Increased business value/profits
As a crucial tool to evaluate the implementation of Smart Factory technology, digital twin software helps the transition from traditional factory to Smart factory. Therefore, it serves as an ideal method for adding business value and stabilizing profits. All operations from factory onsite to transportation and supply chain are monitored in real time, leaving no scope for uninformed failures that lead to losses.
What is a Metaverse and why Digital Twin Technology is an integral part of Metaverse?
Metaverse is a virtual world that utilizes the internet as its primary network. It is a shared online 3D space where users can interact with each other and with computer-generated avatars and objects. It creates an entirely different imaginary world and virtual environments that mirror the real world. Social networking, education, training, and online games utilize Metaverse to enhance their work or functionality.
Metaverse and digital twin can facilitate realistic functions in the virtual world. It enables the creation of physical replications of reality. Just Imagine you want to manufacture a piece of a complex machine and want to know whether the part prepared fits the asset well and works according to your requirements. It would be preferred if you let the asset's digital avatar try the piece first to match your necessities. Digital Twin technologies allow organizations to create a metaverse more intervened into reality.
Digital Twin Application in Manufacturing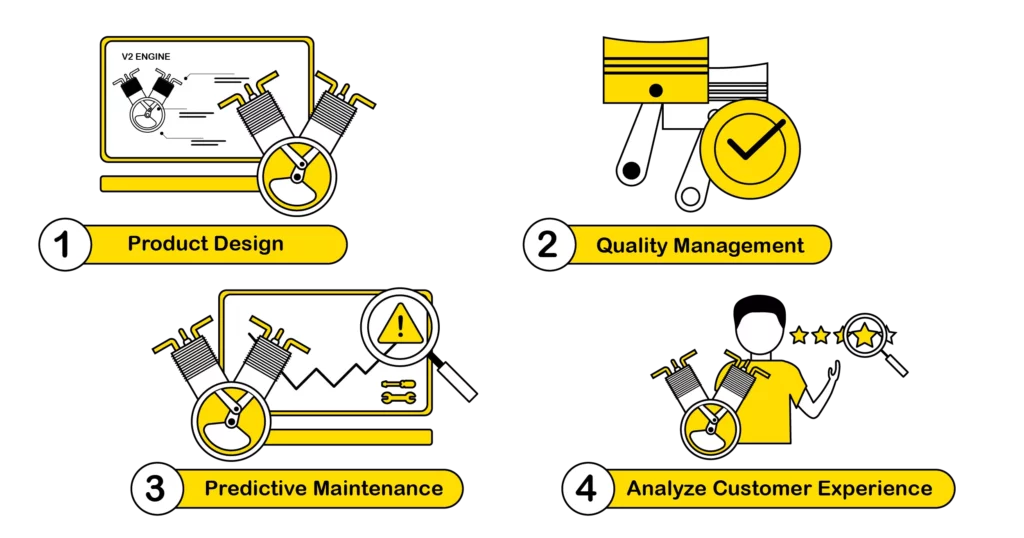 Product design
Digital twins are the virtual prototype of the real-world product during the product design phase, which might be of great help before investing in a solid prototype. The involvement of digital twins in the product design part saves time and cost.
Quality Controls
Digital Twin platform can help smart factory to model every part of the production process, which permits digital twins to identify where variation occurs and what needs to be changed to improve the quality of the assets.
Predictive Maintenance
Digital Twin platforms in Smart Factories identifies individual equipment or manufacturing processes variance, which implies the need for preventive maintenance or repair before the occurrence of any profound fault. It optimizes the cycle time, load levels, and tool calibration.
Customer Experience
The data collected by digital twin software can be utilized over time to provide insights into product performance and end-user experience. The designers and engineers employ this data to improve the customer response towards the products by analyzing the customers previews of the products.
Conclusion
Digital Twins is a technology that can synchronize digital environments with physical environments and reflects any changes that happen with actual products. The blend of Smart Manufacturing and Digital Twin Technologies can radically revise product designs, product manufacturing, usability, maintenance, and other aspects of manufacturing. Digital Twin Platforms enable factories to achieve Smart Factories with enhanced manufacturing planning and detailed production. In conclusion, the digital twin boosts the achievement of the Smart factory. In line with the digital twin and smart manufacturing propels easy and accurate transformation of the traditional factory to the Smart Factory.