Pharma 4.0, hailed as a notable initiative from the International Society for Pharmaceutical Engineering (ISPE) aims to transform pharmaceutical manufacturing by adopting and exploiting the potential of smart factories. The ISPE offers guidance on regulatory practices for pharmaceutical manufacturing to the speed-up transformation of existing facilities to accommodate Pharma 4.0.
In the tenor of industry 4.0, the entire operations, production and management undergo transformation with an aim to achieve enhanced accuracy and speeding of production processes alongside the integration of intelligence within machines and technologies that automate procedures in the workflow. Workflows of the pharmaceutical industry share similarities with other industries yet are accountable for complex product portfolios and critical product life cycles. Exploring the workflow of the pharmaceutical industry is critical in evaluating the transformation to Pharma 4.0. Here is a brief to help you understand the working of the pharmaceutical industry.
How does Pharmaceutical Manufacturing Work?
The drug manufacturing process is one that can be procedurally long and complex, simultaneously. A series of steps accompany, holding each step responsible for the efficacy and uniformity of the final deliverables/product.
Identification of a drug and its further research-development is an initial step in the many processes of pharmaceutical manufacturing. The primary step involves the critical development of an active pharmaceutical ingredient (API) that goes through a series of clinical trials ahead of being approved for safe consumption. The API once approved will proceed with the manufacturing and commercialization of the drug. Other accompanied processes include; patenting, optimized production, quality control, packaging, logistics and marketing.
The main objective of pharmaceutical manufacturing is to be able to identify and supply active pharmaceutical ingredients (API) of high quality suitable for the demands of the medical industry. The development of an active pharmaceutical ingredient involves many stages specifically the purification that may require intermediates of different types, and unit operations that run at timed limits to help accomplish the production of an API.
Compound drug-making involves the mixing of various chemicals/ingredients in perfect proportions for the ideal product to be produced. The mixing is often of powdered substances that are pressed to a tablet/capsule, suitable for consumption. Some of the crucial steps in unit operations in the production of API include:
Pre-formulation and formulation development
Powder feeding for continued manufacturing
Mixing active pharmaceutical ingredients with chemicals/excipients
Granulating
Hot melting
Compress the powder to form tablets/capsules
Packaging and labelling for distribution
Having mentioned briefly the process of pharmaceutical manufacturing, the article further briefs on Pharma 4.0 and the many potentials that industry 4.0 assures to bring with a 4th revolution in the drug production industry.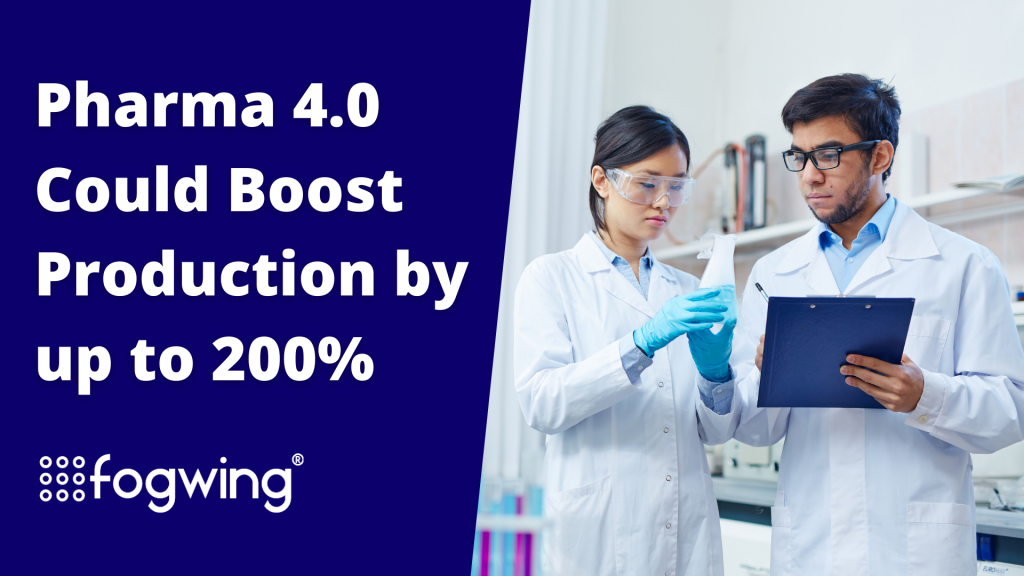 What is Pharma 4.0?
In a simplified manner, the updating/upgrading of the pharmaceutical manufacturing processes to accommodate the adoption of digital technologies and enablers into pharmaceutical quality systems is identified as Pharma 4.0. Opportunities to ensure high quality throughout the product life-cycle along with improved process management are accessible with pharma 4.0.
Pharma 4.0 brings a greater degree of connectivity that allows transparency in the monitoring of operations through each unit in the drug-making process allowing the regulatory norms to be assessed and adhered to at all times.
What does Pharma 4.0 offer?
Pharma 4.0 is set to establish the smart manufacturing and management of the many processes in the pharmaceutical industry. Some of the distinguishing features that are inherent to pharma 4.0 are listed below.
a) Real-time Data – With the power of cyber-physical systems, pharma 4.0 primarily involves the connecting, collecting and analyzing of all operations and procedures in pharmaceutical manufacturing. Intelligence enabled IIoT software to empower pharma industries to connect each unit's operations; from identification and development of active pharmaceutical ingredients to commercializing an approved drug, data pertaining to an array of parameters helpful for assessment of production and quality is made accessible.
b) Predictive Analytics to improve Optimized Production – Pharma 4.0 is equipped with digital information and cognitive technology systems that help to predict the optimal production schedules for any specific drug based on market demand, inventory stocks and factory capacity. Transfer of data at real-time from each operating unit is analyzed to establish prediction of resource requirement, machine usage, drug quality, and plant safety and translated to readable formats/analytics to help managers take note of factory operations. Pharma 4.0 ensures to offer the best manufacturing pipeline configuration with an aim to reduce waste and optimize resources in the process of pharmaceutical manufacturing. This set-up allows adequate supply of drugs at all times.
c) Improved Quality Assurance and Regulatory Compliances – Regulatory authorities have increased scrutiny of pharmaceutical manufacturing for quality assurance. Breaches in compliances and issues with quality can be detected in case of any deviation with the company-wide monitoring of all drug production operations and processes. Pharma 4.0 is equipped to assist quality assurance and engage in active process improvements with the help of artificial intelligence and internet-enabled process management.
d) Reduced Risk – With optimized production, access to predictive analytics and real-time data; risks associated to pharmaceutical manufacturing is significantly reduced. Risks of process/machine deterioration in each unit operations to overall product quality control, mapped events that are digitally recorded provide ample insights for manufacturers to take action and save resources prior to process failure and unplanned production downtimes.
e) Enhanced Business – The power of cyber-physical systems, connecting the entire factory floor, enables the capturing of data at real-time. This real-time data is contextualized and made accessible as meaning insights on various operations of pharmaceutical manufacturing. These insights provide a strong foundation to strategize and enhance businesses aligning with the ongoing manufacturing capacity and market demand. The connecting of all operations establishes a stronger interaction with the global market and gauge requirements on real-time basis to produce likewise, that proves to become the strength of any pharmaceutical industry.
SFactrix.ai - The Smart Factory Software
Kick start your Smart Factory transformation from the production floor by implementing SFactrix.ai Manufacturing Execution Software . Trash your paper based job card and process monitoring approach. Get ready for Industry 4.0!
Try it for free . No Credit Card Required. 
How MES helps achieve Pharma 4.0?
Having analyzed the process of pharmaceutical manufacturing along with the benefits of pharma 4.0, naturally the question on how and what solution will help adopt pharma 4.0 and reflect outcomes of exemplary stature for innovation in the realm of drug manufacturing and medical sphere is inevitable. Let's first explore MES in brief.
MES is identified as an information software, that monitors and tracks production processes and factory operations at real-time. Effective execution of manufacturing processes and optimized factory operations are the primary goals of MES. MES as a comprehensive system executes control over all shop floor activities with the ability to track and gather real-time data of complete production lifecycle. Below is a brief list of how MES helps achieve Pharma 4.0
i) Improved Scheduling and Recourse Utilization – Adopting MES facilitates improved scheduling and utilization of resources as procurement of raw materials to logistics of finished goods remain connected and monitored at real-time. With an active MES software in the pharma industry, inventory will be maintained adequately while preventing over and under stocking of resources. MES as a digital medium effectively sustains ongoing resource management whilst saving costs associated to resource replacement and wastage.
ii) Increased Plant Reliability – MES as a pathway to achieve Pharma 4.0 archetypically in accordance with its primary feature enables integration of connectivity and artificial intelligence (AI) to enable systems to operate with little or no human interaction. Integrated autonomous systems fuse real-time and expected data with regard to industrial production processes to generate metrics/analytics that indicate performance, machine health, production product quality, inventory management, logistics and so on. It therefore inevitably increases plant visibility and reliability given the ongoing AI monitoring and indication.
iii) Support Knowledge Management – MES supports knowledge management in the pharma industries. With the ability to retain and manage critical data regarding active pharmaceutical ingredient and other excipients in the making of a medical drug, knowledge of research, development and process of manufacturing are recorded for further reference, technical certification and research purposes. MES also facilitates to retrieve information faster and it helps in financial costing and auditing.
iv) Extended Support to Supply Chain Management – MES typically integrates with ERP systems and strategies in operation. This integration enables the refining of scheduling and planning at real-time to reduce supply chain mismanagement and improve efficiency.
The above-mentioned pointers are just few parameters through which MES helps achieve Pharma 4.0. The scope of MES in achieving pharma 4.0 is vast and can open to more inclusion.
SFactrix, MES Software
SFactrix is a manufacturing execution system powered with intelligence to enable smart manufacturing. With the futuristic capabilities of SFactrix, pharmaceutical industries can adopt digital transformation to eventually achieve pharma 4.0. SFactrix.ai empowers Digital management of all factory floor operations at real-time. Elevate business revenues with hassle-free access to insightful data generated by assets, processes and procedures. Design policies and plan management schedules in advance with flexibility at work.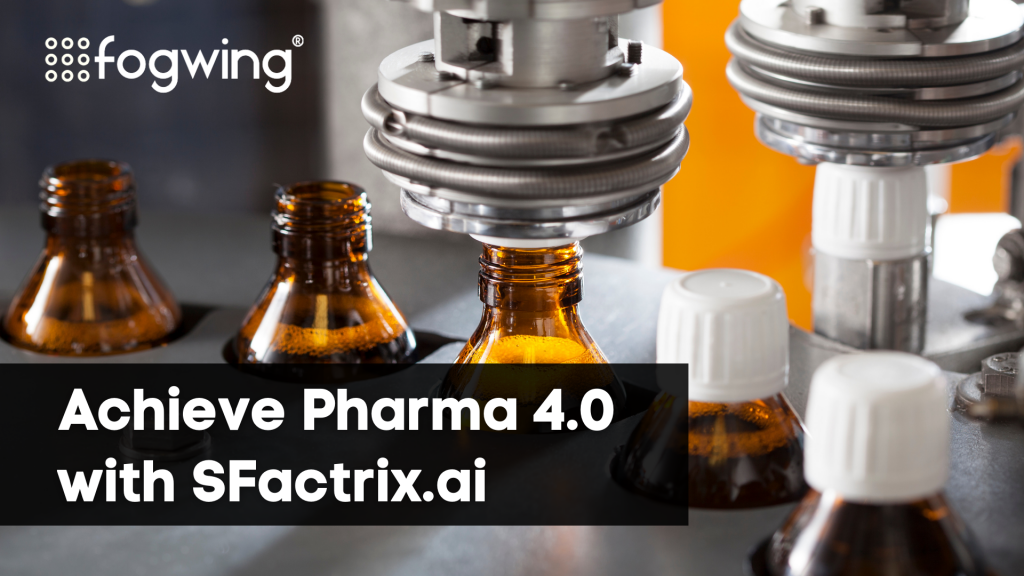 Some Notable Features of SFactrix:
a) Workorder Management – Digital Tracking management of customer orders to enable real-time monitoring of production progress.
b) Job Management – Assign jobs to workforce and estimate overall delivery guarantee.
c) Real-Time Operational Visibility – Realtime performance analytics and OEE reporting helps to act faster on production optimization.
d) Asset Performance Monitoring – Keep track of machine efficiency at real-time to drive better production.
e) Downtime Notification – Set auto detection alerts for assets and receive alerts via SMS Email.
f) Maintenance Registry – Machine maintenance is the key to protect asset lifetime and continuous productions. Automate maintenance actions.
g) Personalized Dashboard – Personalized dashboard setups from plant managers to workers.
h) Parts Management – Keep Track of Part Production and Cost of Goods based on lead time performance and metrics.
i) Operators Mobile App – Keep track of all operator actions, job accomplishments and reviews to monitor the operator's performance.
Conclusion:
The future of pharmaceutical manufacturing rests with the adoption of industry 4.0 which translates to pharma 4.0 powered by digital transformation and intelligent automation. Pharmaceutical manufacturing is the most regulated industry can undoubtedly benefit from the many facets of pharma 4.0 by adopting tools and technologies of industry 4.0. Pharma 4.0 lets pharmaceutical manufacturing embark a journey of digital transformation.