Introduction
Industries are depending on heavy machineries on a regular basis for manufacturing at different units in the production cycle. Operational Management of such vast units of production with many machines is a strenuous task. As a result, Plant Managers and industry owners seek to employ an efficient and simplified machine monitoring solution to perform timely maintenance to prevent machine failure during peak production. Answering below questions become critical in understanding and implementing machine monitoring for your smart factory initiatives.
i) What is proactive machine monitoring?
ii) What is predictive machine maintenance?
iii) Why machine monitoring is critical for Smart Factory?
What is proactive machine monitoring?
Machine monitoring principally aims at connecting machines by deploying IoT-enabled sensor devices that facilitate data collection and transfer of machine health parameters to the centralized service for historic data. This data is further analyzed by advanced analytics tools to monitor, detect issues ahead and schedule maintenance.
Machine monitoring system facilitates understanding of asset performance at real-time. It is ideal for driving crucial decisions in factory and machine operability. Machine monitoring accelerates preventive and predictive maintenance of factories transforming to smart operations management.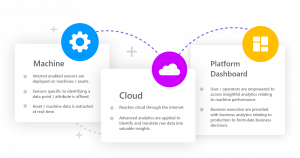 What is predictive machine maintenance?
The process of performing upkeep on machinery to ensure continued working order translates to efficient machine maintenance. Machine monitoring is a technique that keeps factory floor operators and industry managers informed of asset health and performance. It is essential in optimizing production performance with precision perfect machine operations and return higher on capital investment. To keep the machines in higher performance, maintenance can be performed using different methods.
The notable machine maintenance strategies are:
i) Reactive Maintenance – execute the maintenance when machine about to fails
ii) Condition-based Maintenance – execute the maintenance based on machine condition such as noise
iii) Usage-based Maintenance – execute the maintenance based on the machine running time
iv) Preventive Maintenance – execute the maintenance to regular scheduled intervals
Predictive maintenance is the most efficient maintenance management strategy since it increases the machine performance, reduce maintenance cost and more reliable. To achieve predictive maintenance, it is important to monitor the machine usage, energy consumption, vibration level, noise level and frequent fault types to predict the trend of the machine performance over the period, expected faults and Meantime between Failure (MTBF). Advanced data engineering technologies such as Machine Learning and Data Science helps to predict the maintenance frequency more accurately.

What is Smart Factory?
Gartner defines smart factory as a concept used to describe the application of different combinations of technologies to create a hyperflexible, self-adapting manufacturing capability. Smart factories help create new forms of efficiency and flexibility by connecting different processes, information/data streams and stakeholders in a streamlined or orderly manner.
One of the key components of a smart factory is its ability to collect data from factory floor on the people performance, process models and seamlessly monitor machines and assets across the floor and aim to optimize production while minimizing overhead costs.
What is the value of a monitoring machine?
Smart factories are regarded as functional and effective when machines/assets in the production process are being monitored at real-time with minimal manual intervention. Machine monitoring enabled by Industrial IoT identifies critical asset components that significantly automates industries. Machine monitoring identifies;
a) Machine availability – Whether a machine is running or inactive, status of the machine is easily communicated to operators at real-time. This helps smart resource allotment and shrink wastage.
b) Asset condition/health – By tracking multiple parameters such as pressure, vibration, temperature, noise, machine monitoring determines asset health condition. Machine performance metrics is identified and any deterioration / faulty part is immediately reported.
c) Production flow – Machine monitoring indicates exact product state in the production process. Example: whether the product is at the conveyor belts or assembly line. Tracking product status for quick delivery is ensured.
d) Optimized utilization of resources – Machine monitoring tracks the utilization of resources (like fuel, lubricant, power) that enables optimized resource utility and reduces wastage.
e) Precise operations – Computerized numerical controls that are programmed via codes sustain precise machine operability that enhances asset lifespan. In other words, smart manufacturing is made possible.
Why is machine monitoring critical for smart factory?
Automated machine monitoring is the initial step towards achieving smart factory. Machines are interconnected with IoT-enabled, web-based sensors that facilitate machine data extraction at real-time. This network of connected machines further enhances the obtaining of valuable insights on machine performance, ongoing production and serves to analyze estimated versus actual production ratios. Notable benefits of machine monitoring are listed below.
a) Automated real-time data collection – IoT solutions enable machine monitoring to become an automated process as opposed to manual data collection that slips real-time machine updates. Sensor-connected internet-enabled machines are at a higher chance of establishing accurate machine data that expands overall production visibility.
b) Improved shop floor communication – Shop/factory floor communications are simplified and improved with machine monitoring. Manufacturers and operators across the shop floor are informed on machine behaviour through analytics, warnings and other notifications that expands production process visibility that create a catalyst for better awareness and engagement by stakeholders. Machine monitoring is critical in establishing an opportunity for all stakeholders to connect individual independent shop floor operations to account for broader performance and process outcomes that is essential for a smart factory.
c) Production efficiency optimization – The ultimate goal of manufacturing is to be able to deliver faultless/flawless products without comprising on quality. IoT-enabled machine monitoring helps ensure the quality of products whilst contributing to efficient increase in machine capabilities through real-time analysis of asset performance. Overexertion and underpinning machine-related issues are noted ahead of breakdowns that cater to optimize the production efficiency, creating a smart factory.
d) Reduce wastage – Factory resources are recorded and tracked at real-time with IoT solutions. Stakeholders can leverage real-time data on resource utilization to take timely action on reducing resource wastage and contribute to environment care by mitigating pollution. All resources are accounted and responsibly used significantly improves factory floor operations creating a smart factory.
e) Real-time notification – Thresholds for different parameters are set as part of machine monitoring strategies employing IoT solutions. When thresholds are reached or increased, alerts are sent to operators to trigger immediate action. Any variation in asset behaviour is recorded and guidelines are notified to stakeholders. This decreases potential dangers within factory premises.
Thus, machine monitoring is fundamental in creating independent smart manufacturing factories that have reduced manual dependency.
Fogwing Asset+ and Machine monitoring:
Fogwing Asset+ is engineered to facilitate Smart Factories. Knowing well the importance of machine monitoring in creating smart factories, Fogwing Asset+ is built to achieve real-time monitoring of machines and mitigate manual errors in managing shop floor operations.
Fogwing Asset+ is the comprehensive IoT solution that provides Asset Condition Monitoring infrastructure to connect, collect usage, condition and energy consumption data from machines and equipment through sensors. It allows real-time access to these machine functions and supports monitoring and diagnostics. Artificial-Intelligence powered Anomaly detection helps to identify the extreme conditions and take proactive decisions faster. Here are some of the advanced features of Fogwing Asset+ that drives stakeholders to opt for this solution.
Conclusion:
In conclusion, Machine monitoring is critical for smart factories as it remains the first step to digital transformation. Machine monitoring can either make or break an entire factory and its operations. Therefore, conscious and cautious strategies are to be implemented to ensure asset monitoring systems in place.