Before exploring Top 7 SAP ERP Alternatives for Small and Medium Businesses, Let's understand basics. Enterprise Resource Planning (ERP) is an integrated system for business processes and transaction management. ERP offers various business functions that helps organizations operate systematically for day-to-day business operations. The ERP as a software is utilized in large organizations to manage finance, supply chain, operations, reporting, human resource management, risk management, project management, compliance, and manufacturing. The involvement of ERP system in the business process eliminates the data duplication, tracks all aspects of productions, logistics, and finance to provide transparency.
What is SAP ERP?
SAP ERP is a German based Enterprise Resource Planning software introduced in 2004, developed by a German organization called SAP SE. This ERP software was built on the previously known SAP R/3 software. The most recent enhancement package of SAP ERP was released in 2016.
SAP ERP includes various modules like Controlling (CO), Financial Accounting (FI), Asset Accounting (AA), SAP Customer relationship Management (SAP CRM), Sales & Distribution (SD), Plant Management (PM), Material Management (MM), Project systems (PS), Quality Management (QM), Human Resources (HR), Production Planning (PP), and Warehouse Management (WM).
Even though SAP ERP provides several modules and business functions, implementing SAP ERP is a complex and time-consuming process which can be affordable only by large enterprises. However, various small and medium business operators also in need of ERP systems for computerized business operations. There are other ERP alternatives to SAP available in the marketing which can serve the purpose for SMB.
The objective of this article is to go through other various SAP ERP Alternatives.
Top 7 SAP ERP Alternatives
ERP Marketing is older and bigger to compare all solutions available, here is some of the top ERP alternatives to be considered by SMB as alternative to SAP.
Oracle Enterprise Resource Planning (ERP) is a modern cloud-based ERP suites, an SAP ERP alternative that offers various ERP modules similar to SAP. But in addition, Oracle users get advanced innovative capability like Artificial Intelligence (AI) as part of the software offerings. AI helps to automate the manual process involved in the ERP practice that slows down the business operations.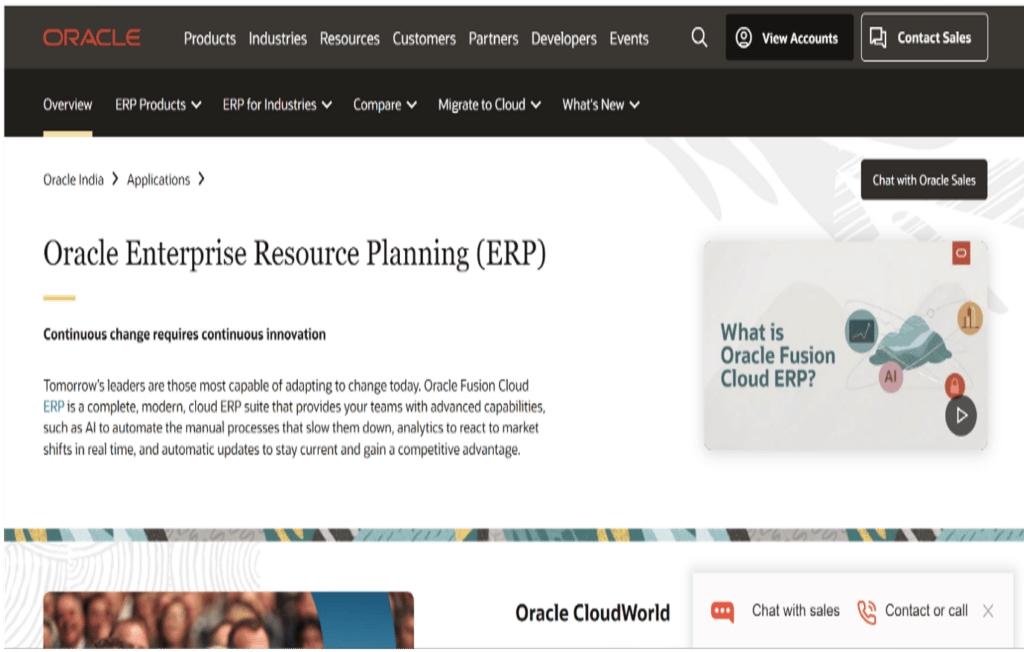 The following are some of the advantages of using Oracle ERP empowered by AI feature.
Predictive Planning and Forecasting
The advanced machine learning technologies present in the Oracle cloud ERP helps business user to utilize broader datasets as it enhances the predictive planning and forecasting, revel hidden bias, and speeds-up the overall response time.
Automate Business Processes
Oracle cloud ERP with AI engine, automates up to 96% of business transactions seamlessly. It also saves time for the strategic related works by automating tedious and time-consuming business process.
Simplify Manual Works
With the AI assistance available in Oracle ERP speeds up and simplifies the everyday business tasks through recommendations. All the essential notifications like automated invoices will be delivered to you proactively so that business can operate faster.
Increased Productivity
With Oracle cloud ERP, launching the new business models has turned out to be simple and faster than before. With the advanced technology involves Oracle cloud ERP as become one of the best alternatives to SAP ERP, which would help business owners to predict and avoid issues before they cause any kind of harm.
ERPNext is an open-source free integrated enterprise resource planning software similar to SAP built by Frappe Technologies. It is one of the best SAP ERP alternatives to distributors, manufactures, and service companies.
ERPNext consist of modules like Sales, CRM, Accounting, Purchasing, Warehouse, Point of Sale, manufacturing, Project Management, E-commerce, Websites, Inventory and Services. Healthcare, Schools, Agriculture, and non-profit organization are the domain specific modules present in the ERP next an ERP alternative.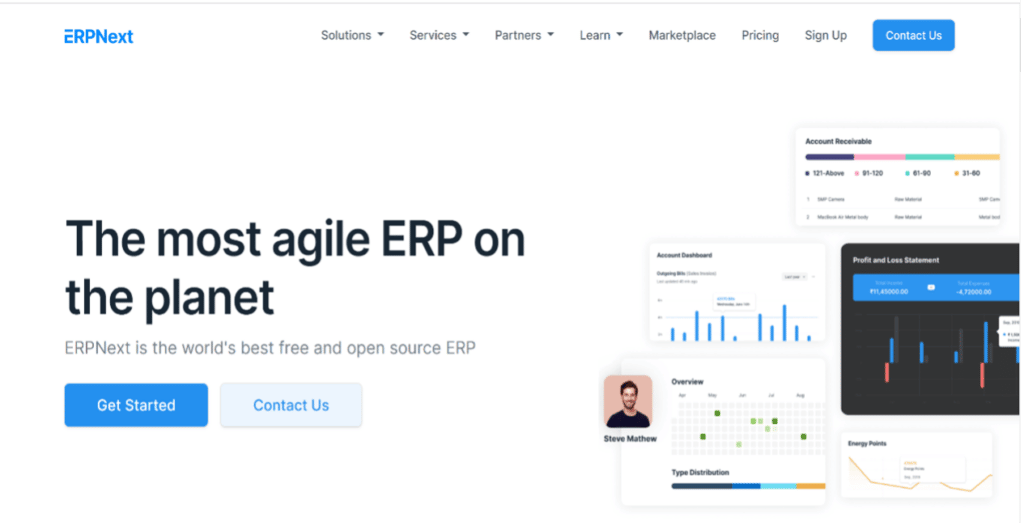 Financial Accounting
ERPNext has a full-fledged accounting module that covers every aspect of bookkeeping it provides users the real-time view of your organization's workflow. The open-source accounting dashboards of ERP Next focuses on all the performance indicator with a glimpse. All the customizable dashboards and configurable accounting dimension of financial accounting helps organizations to finally evaluate every element of your business in one place.
Order Management
The ERPNext an alternative to SAP ERP software for small business boosts the productivity of an organization and reduces the cost by managing sales and purchase cycles. It assists organizations to track inventory levels, manage sales orders, customers, suppliers, deliverables, replenish stock, and many more – all in single open-source sales and Purchase ERP platform.
Manufacturing
ERPNext effectively retains and operates complex bill of materials, job cards, production planning, and inventory.
Asset Management
Managing the asset is very much critical for any organization. ERP next provides the asset management system that maintains and manages every minute detail of an organizations assets. It manages to handle movements, depreciation, and value of asset in an organization.
Odoo is considered as one of the best SAP ERP alternatives, fully integrated applications with simple procedure that helps users to run their business easily. All your business needs are solved with the single cost-efficient modular solution.
Odoo consists of multiple business-related functions, which perfectly blend with each other, enabling users to completely automate their business processes and derive savings and benefits. It provides the users an ability to automate and track their business-related processes anywhere from any devices.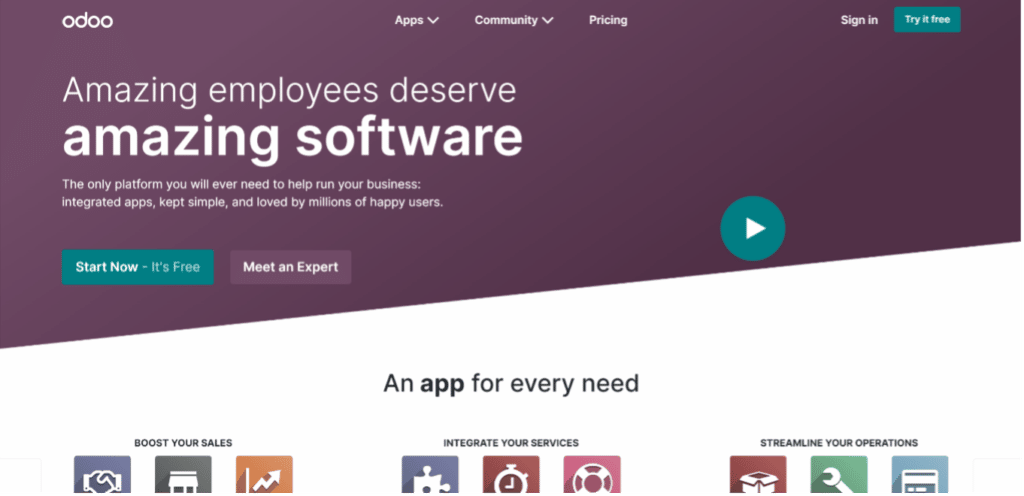 Open-Source Development Model
Odoo's open-source development model empowers users to leverage thousands of developers and business experts available globally to create an ecosystem that consist of fully integrated business applications. With every regular annual release, Odoo evolves much faster than any other ERP solution.
Top-notch Usability
The advanced and elegant technical design in Odoo's framework is unique and top notch. The Odoo's developers offer users the top-notch usability which scales across every application. The usability up-gradation made on Odoo will automatically implemented to all our integrated applications.
IFS known as Industrial and Financial systems is a multinational enterprise software company, headquarter is located at Linkoping Sweden. They develop and delivers ERP software for customers across the globe. IFS's ERP system clients are the organizations that manufacture and distributes goods, maintains assets and handle service-focused operations.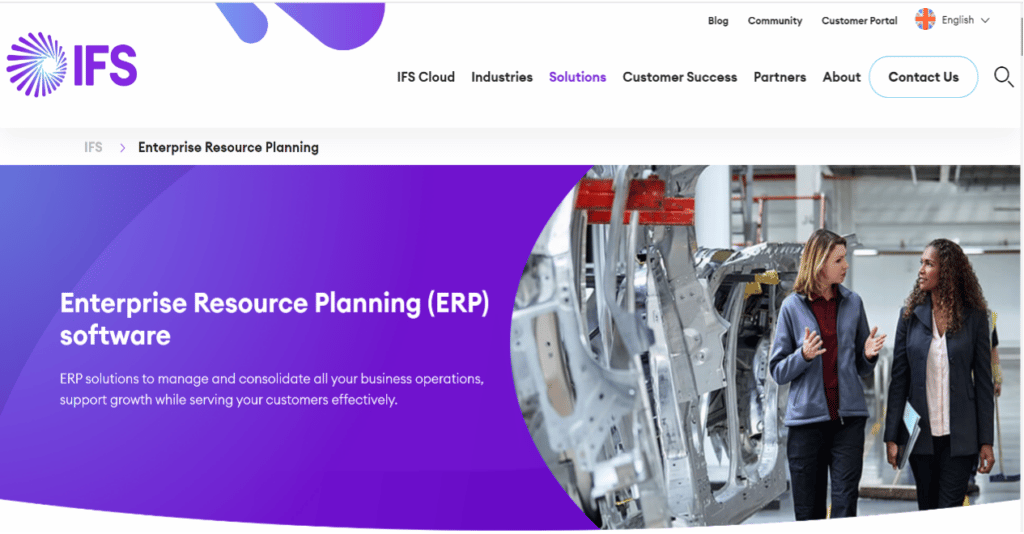 IFS ERP is also a SAP ERP alternatives to manages and consolidates all the business operations and supports the growth of an organization. It capitalizes the changing markets by enhancing the business efficiency, cost savings and insights, everything together in a single centralized platform. Finance, Human Capital Management, commerce, customer Relationship Management, manufacturing, Supply Chain Management, projects, and procurement are facilities available in the IFS. It is considered as an alternative software similar to SAP.
Some of the key highlights of IFS ERP Software listed below.
Strong Customer Service Levels
The IFS build deeper and stronger customer relationships that helps users with their business planning and processes. An ERP alternative to SAP ERP enhance order fulfillment, delivery rates and many more.
Achieve More with Less
With IFS ERP optimize your business processes by driving operational proficiency and automated tasks. Get the unfiltered and clear view of data from CRM to HCM and from procurement to projects. IFS enables the control over your business.
Cost Saving
IFS ERP systems eliminates the need of collection of various systems, each with their separate pricing, integration and many more. IFS integrates all the required functionalities in single platform which delivers industry-required capabilities and cost savings.
Sage X3 or Sage Business Cloud X3 offers its users with the complete access and control of their financial management processes. By offering the real-time data visibility with notifications, analytics, configurable inquires, and alerts.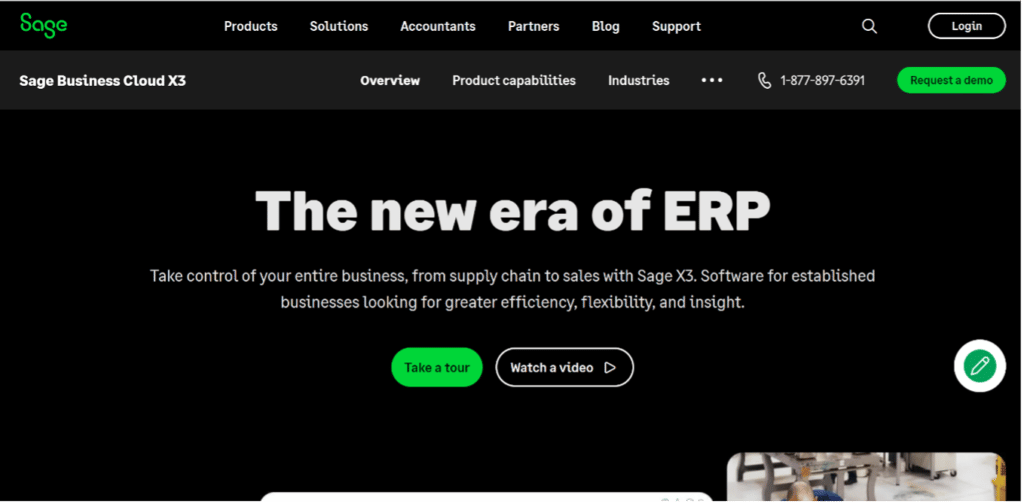 Sage allows organizations to track their assets during their lifecycle with the traceability of capital disbursement. It also supports various other financial management features like bank management, cash flow management, accounts payable, budgets, commitments, cost and analytical accounting, and accounts receivable. Sage X3 is well know industrial software provider considered as SAP ERP alternatives across industrial community.
Microsoft Dynamics is an ERP and CRM software application present in the field of business application developed by the Microsoft Business Solution. Various other Microsoft programs and services like SharePoint, yammer, office 365, Azure, and outlook can be utilized with Microsoft Dynamics.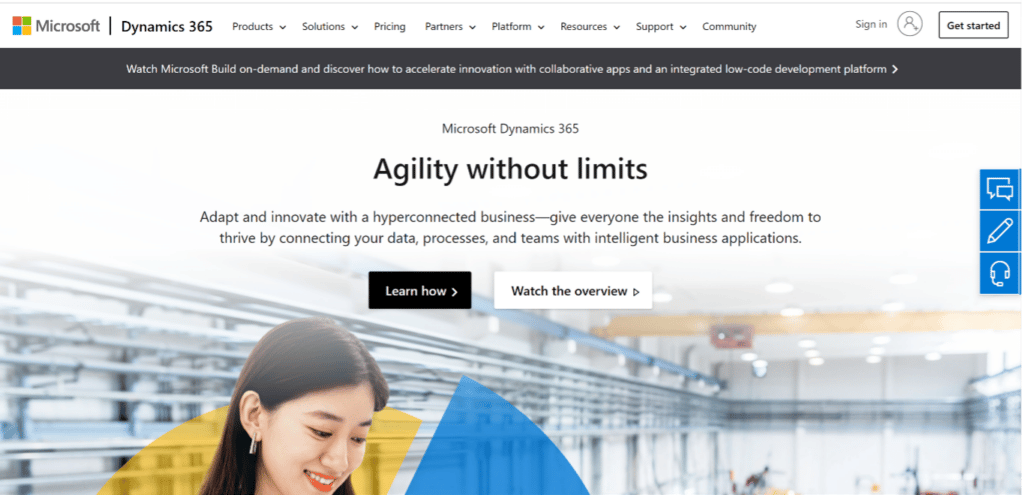 Industries based on retails, services, financial services, manufacturing, and various public sectors utilize Microsoft Dynamics. Most of the small, medium, and large businesses utilize Microsoft dynamics as a SAP ERP alternatives with powered applications. It helps users to generate the word and excel report files rapidly from the data when required.
The visualized data with the dashboard and charts provided by the Microsoft dynamic ERP are easy to configure. And helps users to create automated data process with workflows.
If you are a SMB Manufacturer, looking for ERP solution, you may need MES / MOM solution than just ERP. SFactrix Smart MES / MOM is the alternative for ERP solution.
SFactrix Smart MES/MOM empowers factory users with smart manufacturing solution. SFactrix helps organizations to digitalize their shop floor operations for operational excellence, agility, maximum ROI, and Higher quality compliance. SFactrix MES / MOM is powered by Fogwing Industrial Cloud.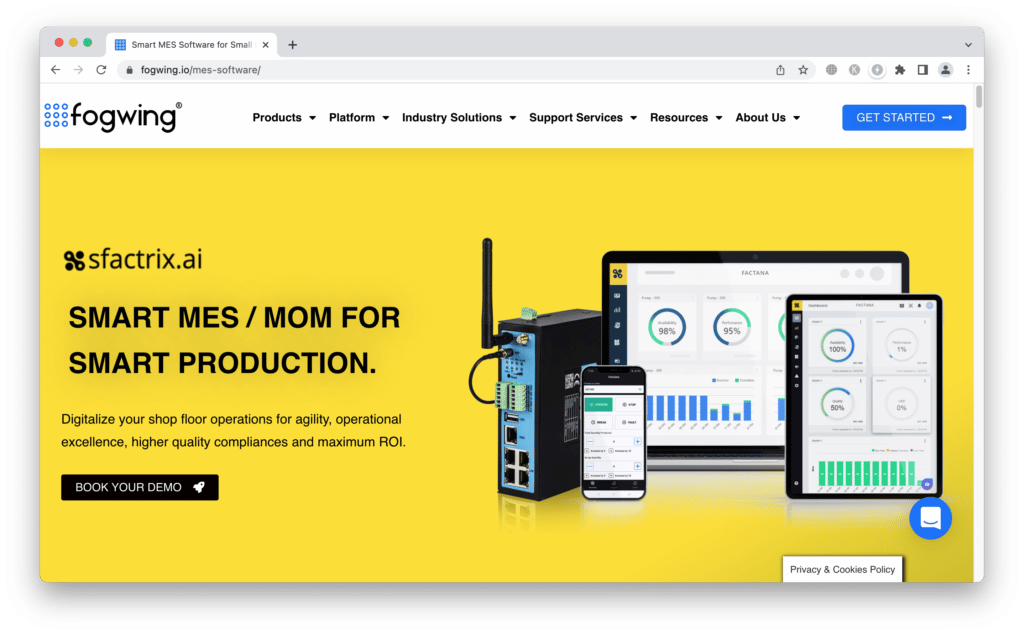 SFactrix digitalize production operations handling like WO management, Parts Management, Asset Management, Job Allocations and monitoring machine OEE, Downtime, Optimization, and Utilization. The AI driven SFactrix will have the control over your quality control and production performance.
SFactrix MES / MOM software offers users with every feature required to operate a lean manufacturing process. It aids in job management, allocation, quantity, capture asset status, quality, rework, and more. It provides valuable insights to users through multiple operational performance metrics like OEE, availability, performance, productivity, lead time, TEEP, maintenance, and more. SFactrix also supports IoT-based OT/IT integration through the Fogwing IIoT Platform.
SFactrix provides everything that is required to run a lean manufacturing operation. With the AI-based manufacturing intelligence module SFactrix offers Downtime alerts, Performance KPIs, Scrap Trends, MTTP, MTBF, Loss based Metric, and many more.
SFactrix MES/MOM consists of shop floor modules like Materials/BOM Management, Products Management, Assets management, Manufacturing Intelligence, Work Order management, Maintenance Management, Product Tracking, and Planning and Scheduling.
Why SFactrix.ai MES is better solution for Manufacturers?
SFactrix offers its users a one stop solution for all their manufacturing requirements. It enables organizations to create manufacturing orders and tracks their production execution.
Creates work order against the customer sales order.
Keeps track of work order status.
Recurring orders can be created by cloning any work orders.
SFactrix.ai Plans, allocates, and works on the production order digitally. It creates jobs against work orders and notifies machine operators to work according to the production plan.
Breakdown the work order into various jobs for operators.
Allocate Operators and Machine based in availability for job execution.
Clone, Allocate, and Track the job progress across Plants and Work Centre.
SFactrix helps organization, optimize manufacturing parts, BOM (Bill of materials) structure, Stock Availability, product cycle time, and Materials for precise production planning and execution.
Create and manage Stock, Production Planning, and Parts Availability.
Defines availability, Raw materials, and Stock updates with a few clicks.
Outline Simple and Complex BOM and processes as a template for rapid job allocations.
SFactrix enables organizations to effectively track production quantity, rejection, and Performance. It performs production works, tracks machine status, and captures quality and rejection counts for real-time tracking of products.
Operators can start production on-time by picking the job according to priority.
Obtain maintenance history for asset and performance prediction.
SFactrix provides the organizations a role-based access and dashboard for supervisors and Plant Manager. It Monitors and tracks the asset performance and production process in a single window.
Simply configure according to your priorities and get alerts relating to production issues.
Set your dashboard by choosing plant, work center or assets.
Effectively track the net runtime and downtime at plant level.
Monitor the progress of assets status and work orders with dashboard.
SFactrix Smart MES Software
The most simplified and integrated Smart Manufacturing Execution System for Industry 4.0 transformation.
Try it for free . No Credit Card Required. 
Conclusion
Every SAP ERP alternatives solution comes with its own abilities to support organizations to execute their process. So, while deciding on the Best SAP ERP alternative product, it is essential for you as a user to understand the requirement of your organizations. Consider the aspects of an ERP systems which is essential to you and would be beneficial to improve your organization's business.
SFactrix MES/MOM solution brings the new feature that empowers users to go through an industry 4.0 journey. It digitalizes your shop floor operations for operational excellence, higher quality compliance, and maximum ROI. What are you waiting for? Contact our team and schedule a demo with our experts now! And work with one of the best SAP ERP alternatives.