The Computerized Maintenance Management System (CMMS) has revolutionized how industries manage and optimize the asset maintenance. The CMMS software simplifies the asset maintenance strategy. It promotes an intelligent way of tracking and managing maintenance operations, scheduling preventive maintenance, monitoring asset performance, generating maintenance reports, managing maintenance-related materials, scheduling maintenance engineers, and many more asset maintenance-related operations, improving overall productivity.
Industry 4.0 technologies such as Industrial IoT and Artificial Intelligence further help to measure the asset performance through sensors and predict the maintenance frequency accurately.
This new world of Smart CMMS will simplify asset maintenance management processes and reduce operational costs. However identifying the most reliable and cost effective CMMS software is crucial for manufacturing industry. Learn our tips on how to choose best CMMS software for your organization.
This blog will walk you through some of the top best CMMS software and its capabilities tailored for smart manufacturing.
List of Best CMMS Software for Manufacturing Industry:
Fogwing Asset+ Smart CMMS
Fogwing Asset+ is an IoT-enabled Smart CMMS solution that provides Maintenance Management and Asset Performance Monitoring through cutting-edge solutions for asset maintenance in factories and facilities worldwide. The AIoT-powered Fogwing Industrial Cloud Platform facilitates Fogwing Asset+ to identify extreme asset performance to prevent unpredictable downtime, making the Fogwing Asset+ one of the best CMMS Software for asset maintenance in manufacturing factories and facilities. Here are some of the critical features of Fogwing Asset+ that make it the top CMMS Software for manufacturers :
The asset Management feature provides everything required to keep track of asset lifecycle management.
WO module eases the creation, assigning, and execution of maintenance Work Orders.
MRO requests and keep track of your asset maintenance work orders to increase maintenance efficiency.
Advanced preventive maintenance helps to automate the repeatable maintenance work order without human intervention.
Schedule Preventive maintenance work orders daily, weekly, monthly, or yearly according to the asset maintenance requirement.
IoT-enabled asset metering helps to automate the asset performance-based maintenance management work orders.
360-degree view of Asset performance monitoring helps to gain complete visibility in asset health and operational data.
The advanced key performance indicators (KPIs) enable organizations to analyze their asset maintenance strategy.
Asset+ provides MTTR, MTBF, meter readings, maintenance effectiveness, and maintenance history of assets.
Create and manage checklist templates for the maintenance engineer's guidance.
Asset+ also provides inbuilt maintenance metrics and custom reporting features, which help to prepare management reports in just a few clicks.
Asset+ Open API programmatically integrates existing enterprise applications with Fogwing Asset+ to automate maintenance requests and operations.
Fogwing Asset+ is one of the ideal solutions for small, medium, and enterprise manufacturing organizations. Its advanced features and cost-effective solutions make it the best CMMS software to streamline asset maintenance operations. The maintenance team can be something other than tech-savvy to use Fogwing Asset+. The user-friendly and straightforward web-based interface makes it easy for the team to figure it out.
Fogwing Asset+ also integrated SFactrix MES, Fogwing Tools and Fogwing IIoT Platform makes it as comprehensive solution best suited for smart manufacturing for digitalization.
The pricing of Fogwing Asset+ is unique compared to other platforms, which start from $3 per user. Fogwing Asset+ offers a range of pricing plans that serve the needs of businesses of all sizes. The Fogwing Asset+ has three pricing plans: Basic, Pro, and Enterprise, as unlimited. The basic pricing model of Asset+ CMMS software is free and is suitable for the micro team.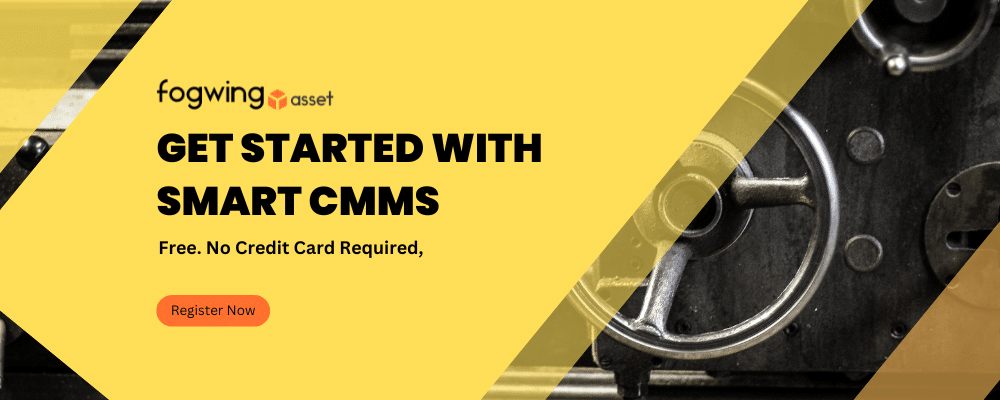 MaintainX
MaintainX is a mobile-first workflow management platform currently one of the recommended CMMS Software highly suitable for general-purpose maintenance services. With its intuitive mobile app and user-friendly interface, MaintainX simplifies the day-to-day maintenance tasks and empowers the frontline teams to maintain their workflow efficiently.
Here are some of the critical features of MaintainX that make it the best CMMS Software :
User-friendly Interface.
Automated workflow.
Robust reporting.
Create a recurring work order for Preventive maintenance.
Reactive work order.
Environmental and training checklist creation.
Searchable work history.
Easy integration with other business systems.
The MaintainX subscription plan comes with its fair share of features and limitations. MaintainX offers four pricing plans: Free, Essential, Premium, and enterprise. The exceptional functionalities and operational excellence make CMMS software more adopted in the SME industry.
Upkeep
Upkeep's unique operational pattern, combined with advanced checklist technologies, makes it one of the best CMMS software for organizations of all types. It combines CMMS and Asset Management solutions for asset maintenance management. It threads together your maintenance engineers, passive and active data, and advanced features and provides complete asset-related information at your fingertips. It acts as a centralized library for the maintenance team to manage maintenance functionality remotely through mobile devices.
Here are some of the critical features of Upkeep that make it the best CMMS Software for manufacturers :
A mobile CMMS Software that can be accessed from anywhere, anytime.
Comprehensive Enterprise asset management (EAM) abilities.
A powerful Preventive maintenance platform.
Centralized work order request system.
Maintenance Checklist.
Effective downtime tracking.
Simplified inventory management for optimized asset utilization.
Analytics and reporting to make data-driven decisions.
Easy creation and assigning of Work orders.
Receive asset health-related notifications on your mobile phones and email.
Upkeep offers three pricing plans: Starter, Professional, and Business Plus, with a 7-day free trial add-on. Upkeep is an asset operational management solution built to provide adequate asset information for the maintenance and reliability team to run operations effectively.
Fiix by Rockwell Automation
Fiix, a Cloud-based Computerized maintenance management system, enables organizations to effectively manage their maintenance process, which involves numerous assets, maintenance work orders, and parts in one place. The robust features and easy-to-use interface of Fixx make it a reliable and efficient CMMS System for organizations for asset maintenance.
Here are some of the critical features of Fiix that make it the best CMMS Software for manufacturers.
Track and optimize the asset performance.
Keeps detailed records of asset maintenance and performance history for better visibility for the maintenance team.
Printable QR code for easy asset tagging.
It enables the organization to create asset hierarchies with drag-and-drop capabilities and clusters similar assets to schedule, assign, and track asset maintenance tasks simultaneously.
Organize users, equipment, inventory, part purchase, and maintenance tasks by shift, area, or site.
Centralized database records enable organizations to predict downtime and work delays.
Fiix's easy-to-use interface and intuitive design make it the best CMMS solution for organizations to conduct asset maintenance operations. Fix provides a flexible pricing model that caters to the maintenance need of businesses of various sizes, ranging from small, large, medium, and large organizations.
Limble CMMS
Limble CMMS software is a maintenance management solution that makes it simpler for organizations to stay organized and respond quickly to maintenance work requests. Scanning a QR code enables anyone with authority to submit a maintenance-related issue to the respective department. The software makes it easy for organizations to track their asset-related information.
Here are some of the critical features of Limble CMMS that make it the best CMMS Software for manufacturers :
Work order creation and management.
Predictive maintenance, to predict asset failures based on specific parameters and factors with the help of IoT sensors.
Preventive Maintenance.
Parts and inventory management.
Vendor management.
Custom reports and dashboards.
Work request and Ticketing.
Limble CMMS has four pricing plans: Starter, professional, business plus, and enterprises. For the enterprise pricing model, you can contact the sales team of Limble CMMS solution.
eMaint CMMS
EMaint is CMMS Software utilized in factories and facilities today. Its flexible and configurable interface is commonly used in education, energy, facilities, oil and gas, pharma/life science, manufacturing, government, services, food and beverage, warehousing, and more for asset maintenance. The robust eMaint CMMS software enables organizations to define and organize layouts, fields, filters, tables, colors, themes, dashboards, workflows, and display records.
Here are some of the critical features of eMaint CMMS that make it the best CMMS Software for manufacturers.
Maintenance scheduling
Work Order management
Reporting
Predictive and preventive maintenance
Parts and Inventory management to effectively manage and track spare parts, purchase orders, and suppliers.
Asset management enables organizations to establish asset hierarchies, prioritize maintenance work, and track maintenance history effectively.
Mobile maintenance empowers maintenance technicians to access their CMMS software through the mobile.
Data visualization to visualize the organization's asset data on the floor plan and site map. Schematic, or another image.
eMaint CMMS has three pricing plans: Team, Professional, and Enterprise. The try-for-free option is available for professional and enterprise pricing plans.
Asset Essentials
Asset Essential is an enterprise asset management system that simplifies maintenance operations and enhances organizational productivity. It enables organizations to reduce maintenance costs and make more intelligent operational decisions. Brightly's Asset Essential is designed to streamline asset management across organizations.
Here are some of the critical features of Asset Essential that make it the best CMMS Software for manufacturers :
Effective streamlining of work orders and tasks
Plan and schedule preventive maintenance.
Optimize resources and communication,
Easy setting and monitoring of asset limits with predictive maintenance.
An advanced mobile application that allows maintenance technicians to capture parts transactions.
Easy tracking of utilized parts in inventory.
GIS mapping integration.
Pre-defined reports, KPIs, and dashboards provide organizations with real-time analytics and asset data.
Advanced API integrations.
The pricing model of Asset Essential is not available online. You will need to contact the Asset Essential team to get started.
Comparison of Top 7 CMMS Software
The following table represents the features and functionalities comparison between the top CMMS software available today
| Key Features | Fogwing Asset+ | MaintainX | Upkeep | Fiix | Limble | eMaint | Asset Essentials |
| --- | --- | --- | --- | --- | --- | --- | --- |
| Asset Management | ✓ | ✓ | ✓ | ✓ | ✓ | ✓ | ✓ |
| Work Order Management | ✓ | ✓ | ✓ | ✓ | ✓ | ✓ | ✓ |
| Preventive Maintenance | ✓ | ✓ | ✓ | ✓ | ✓ | ✓ | ✓ |
| Maintenance Checklist | ✓ | ✓ | ✓ | ✓ | ✓ | ✓ | ✓ |
| Part Inventory Management | ✓ | ✓ | ✓ | ✓ | ✓ | ✓ | ✓ |
| Vendor Management | ✓ | ✓ | ✓ | ✓ | ✓ | ✓ | ✓ |
| Purchase Order | ✓ | ✓ | ✓ | ✓ | ✓ | ✓ | ✓ |
| KPIs and Reporting | ✓ | ✓ | ✓ | ✓ | ✓ | ✓ | ✓ |
| IoT Connected Metering | ✓ | X | ✓ | X | limited | limited | X |
| Mobile App | ✓ | ✓ | ✓ | ✓ | ✓ | ✓ | ✓ |
| Open API Integration | ✓ | Limited | Limited | Limited | X | X | X |
| Subscription Cost | Starts $3 per month | Starts $16 per month | Starts $45 per month | Starts $45 per month | Starts $55 per month | Starts $69 per month | Not Available |
Limited – feature availability with certain limitations (ex: enterprise subscription required or sensors limited to specific vendor)
Conclusion
The CMMS Software market is expected to grow progressively in the coming years, encouraging the utilization of intelligent maintenance management systems across the globe. The best CMMS software enables organizations to enhance their asset maintenance operations by organizing, automating, tracking, and executing asset maintenance operations.
Fogwing Asset+ is the only CMMS software that offers Advanced IoT and AI-based maintenance management solutions for all sizes of companies at a lower cost. At the same time, the features are comparable with other providers. It would be best to try it with Asset+ before investing in other platforms.