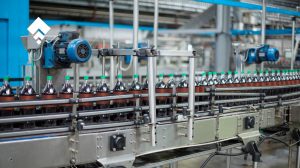 Before discuss about IoT Process Automation, Let us understand the root of it. The manufacturing industry across the globe is a vital unit of production for diverse commodities. It thereby provides for various necessities and luxuries of the population, worldwide. Naturally, in the manufacturing industry, the 'efficient Standard Operating Procedure (SOP)' is significant and remains the nub of the quality of finished product/outcome. As a result, the onus on technology to automate SOP processes within manufacturing industries is of a great deal as it brings promising solutions to practical challenges.
The current epoch brings immense progress in the realm of technological solutions with IoT and Industrial IoT that assures automation. IIoT solutions are a culmination of various technologies from connected devices, wireless communication, cloud data processing, Edge computing, Data Analytics, AI, machine learning and many more. Therefore, IIoT solutions could revolutionize industry by connecting with any machinery and add intelligence to revolutionize Industry 4.0 (also known as the fourth industrial revolution) by which manufacturing processes are automated coupled with advantages of intelligence maintenance under the guise of Smart manufacturing.
What is IoT Process Automation?
In manufacturing, every process is adhered for quality production. These processes differ from the kind of product being produced/manufactured. Traditionally, project-based manual operations of machines, equipment's and tools in manufacturing are practiced. Such practices have caused faltering in machine health analysis, lack of predictive maintenance, unplanned production stoppage, inventory mismanagement, production process instability and so on.
To cater to these practical issues that otherwise traditional process operations cannot, the manufacturing process automation has become a revolution in the modern context. Process automation refers to intelligent process management and controlling SOP based in real-time intelligence generated by procedures. This automation of process in manufacturing is taken to an advanced level by applying IIoT solution for industry 4.0. What's the distinction with IoT solutions provided with IIoT Platforms?
IIoT does not solely depend on existing hardware for its functioning. It can be separated with sets of sensors, actuators and cloud platforms that keep automation an ongoing process.
Advanced Wireless connectivity offered by IoT in Industrial automation of processes enable various units and remote sites of a manufacturing plants to coordinate and operate with centralized HQ or Control room for long term process alignment and efficiency.
How can IoT Process Automation help in efficient manufacturing?
Industrial automation is the advance way of automating manufacturing processes with the help of modern technologies such as Robotics, Bots, Gears, Mechanical Arms and Machines to replace the traditional manual steps which required human efforts. Industrial IoT plays a role in identifying the automation points within the traditional operating process by connecting and collecting data from the manufacturing floor and across plants enabling industry 4.0.
1. Establishing smart manufacturing factories – The growth factor of any firm is a combination of pros and cons of the standard operating procedure followed in the production operations. Though the journey in the manufacturing business is promising, as the business scales up, the challenges get new and unique at every phase, especially in terms of higher wattage and low production optimization.
With IIoT (a sub-specification of IoT), Industrial automation eases the challenges of manufacturing industries and keeps them in the course. Example: When a firm wishes to save resources and optimize product production, internet-enabled sensors and cloud computing of IIoT solutions can capture real-time data and drive accurate decision making. In addition, predictive maintenance of machineries that comes along with IIoT solutions can decrease unplanned downtime and reduce operational costs that could cause huge losses. One such advantage is the automated inventory management and stock transports to workstations with AI and machine learning features that save ample time and requires no manual approval to proceed with the production cycle.
2. Efficient handling of project/assignments – IIoT equips process automation by adhering to change and innovation rather than simply remaining stagnant. As process automation requires no manual efforts in the different phases of manufacturing a commodity, businesses are strong-armed to take up new tasks for innovation.
Example: The digital twin that is enabled by IoT provides firms to replicate existing systems to serves as test-beds for new projects. Projects and assignments can be simplified and made effective before actual deployment with a strong modeled digital twin. This enables the assessment of pros and cons of a certain process changes before application of the same.
3. Wireless connectivity – The traditional wired connection between manufacturing assets required time and efforts to apply the process change monitoring. IIoT brings wireless connectivity of processes in the manufacturing industry. Wireless connectivity simplifies to implement and operate complex controlling systems within the vicinity of the manufacturing factory.
Example: Wired connectivity of gadgets, machines, equipment and tools in remote extensions of manufacturing asset is problematic as it increases connection vulnerability. Whereas, wireless connectivity due to its compatible nature, adjustments supported by mesh networks become a reality. This directly is helpful in process automation.
4. Advanced communication management – Process automation with IIoT is unique as it facilitates real-time data sharing that helps assess machine production cycle, plan service maintenance and optimize process efficiency at any time.
As IIoT digitizes the factory floor, manual monitoring and triggers are no more needed. Example: Floor managers can manage an automated manufacturing factory with their fingertips on the dashboard screen. Settings can be altered and controlled on dashboard screens of IIoT Platforms. Some notable benefits with IIoT are real-time data capturing capacity for production assessments, self-detection of data folly and indicating the same to operators, valuable insights derived with data analysis and cloud computing principles, supports wider network of hardware and software M2M communications for better operational standards and so on.
5. Predictive maintenance – An exclusive feature that comes along with IIoT solutions in process improvement is predictive maintenance. Process improvement not only facilitates automated manufacturing in each phase of the production cycle but also enables machine maintenance routines. Predictive maintenance allows for timely machine services that reduces unplanned downtimes, cuts unscheduled machine breakdowns, keeps a check on machine health and thereby optimizes machine efficiency and production patterns.
Example: With predictive maintenance, manual anticipation of machine health and scheduling maintenance based on assumptions is no more needed. Predictive maintenance tracks insightful information that enables industry managers to operate well-informed.
How does Fogwing IIoT Platform help?
Fogwing IIoT Platform is engineered to support efficient process monitoring in the manufacturing industry. Fogwing IIoT Platform facilitates organized automation procedures with its premier features of data aggregation, data rules-driven alerts, data rules-driven command generation etc.
Fogwing platform's dashboard operations are user-friendly and provide consolidated real-time information of active sensors and machine health along with other valuable insights. Data rules empower automation through threshold setups that operate in sync with the manufacturing process. When threshold limits are nearing/reaching the 'command' feature triggers an action to suit the need of the hour. Graphs and pie charts on the Fogwing Platform depicts manufacturing process efficiency through valuable insights that drive crucial decision-taking for long term benefits.
In other words, Fogwing IIoT Platform offers end-to-end solutions that cater to holistic process automation with advanced features that benefit production optimization.
Conclusion:
In conclusion, Industry 4.0 provides efficient process automation as it lowers manual operations that often create inevitable human errors. Process automation is precise in providing insights that cater to the valuable management of firms.