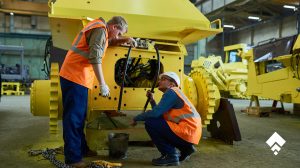 In the recent past, the world has witnessed multiple instances of hazardous blasts/explosions of stored chemicals and fluids due to a lack of industrial equipment monitoring, unseen mismanagement in storage procedures and protocols. The recent incidents that stand out are the two blasts in the capital city of Lebanon, Beirut on the 4th of August 2020. According to Wikipedia, the disaster was caused due to the explosion of 2,750 tons of Ammonium Nitrate that was improperly stored for 6 years after its confiscation from the M.V Rhosus by the Lebanese government. The aftermath of such disasters are devastating and assures no complete recovery for generations to come.
What could serve as an ideal solution?
Usually, the reason for such unexpected explosions that negatively impact wide areas is unmonitored real-time conditions of stored chemicals and industrial equipment in production. Though manual industrial equipment monitoring and management have been a traditional method that most industries and storage facilities employ, it lacks reliability, a real-time data monitoring gap along with human errors that at times inevitable. This puts the entire enterprise and production lines in a vulnerable position leaving room for higher risks. These are crucial reasons why the latest technology, specifically IIoT (Industrial Internet of Things) solutions are deemed as risk-tolerant and reliable automation solutions to enterprises, worldwide.
IIoT solutions are a culmination of various technologies like AI, Robotics, Machine learning, Data analytics, Edge networking, Cloud computing principles, and Wireless M2M communications. The crux of IIoT is that it connects physical devices with wireless networks that become a web of connections for communication. The industrial equipment is affixed with sensors that channel data in real-time. This data is converted to valuable insights under industry-specific parameters with the help of data analytics principles and communicated through alerts to industry managers. This way hazardous disasters can be kept at bay through rigorous monitoring and maintenance methods with IIoT technology. These incentives make IIoT solutions ideal for industry equipment condition monitoring that directly sustains a well operating and safe environment in industry production units.
How does IIoT help with industrial equipment condition monitoring?
In manufacturing industries, the production process plays a vital role in keeping the enterprise business moving forward. In association with the production process, the equipment/assets employed in the production cycle are key to investments, safe manufacturing, optimizing production efficiency, maintaining scheduled downtime, and lower unplanned downtimes/machine breakdowns. Explore how IIoT can help!
Sensor-based monitoring – IIoT strengthens your equipment condition monitoring by turning it into 'Smart equipment'. Equipment is monitored with each movement in real-time with the help of industry equipment specific sensors (pressure, temperature, proximity, vibration, movement detection sensors, and so on).
Example: In an industry that involves equipment for cutting and moulding of metal, vibration or movement detection sensors can be affixed to the equipment. These sensors grasp data with every movement of the machine and keep a constant watch on performance metrics, thereby helping monitor the condition of the equipment. Any glitch will be reported to the managers through alerts.
Predictive maintenance – IIoT empowers equipment condition monitoring in industries with the tool of predictive maintenance. Once real-time data is captured and sent to a cloud, data is filtered and converted from advanced algorithms to readable, essential equipment condition information to managers. Usually, [wpdiscuz-feedback id="lzpfmllntv" question=" By the way. Do you agree with this?" opened="0″]predictive maintenance is achieved with regular updates and alerts [/wpdiscuz-feedback]that help plan and schedule maintenance downtimes, re-work / channel changes in the system of procedures, and kaizen.
Example: In chemical industries, storage of chemicals and monitoring containers are crucial to preventing explosions and ensuring a safe work environment. Constant temperature checks, proximity checks, container/equipment condition, scheduled maintenance, and production optimization is made a reality with the analytics and prediction that IIoT provides. Managers can accordingly be aware of equipment needs from time to time and exercise precaution instead of tackling unseen losses.
Connected equipment and units – IIoT technology knits together AI tools, Robots, bots, and various other automation equipment's within industries. As a result, the entire functioning of the enterprise becomes automated leaving no room for manual maintenance errors that could possibly increase risks and halt processes in various domains of the enterprise.
Example: In any factory/industry, production lines malfunction, and asset management is a nightmare. Opting IIoT solutions will turn assets and equipment into a smart process and operation. Command feature available as part of some IIoT solutions will encourage automated workflow in the vicinity. Automated stock re-filling and management coupled with AI robots to perform a necessary function in case need arises, does not place in onus on manual dependency, making it effective. Managers are strong-armed with data, analytics, and performance metrics that help keep a watch on systems and equipment condition.
Digital twin – Another advantage of IIoT is the digital twin. Digital twin virtually replicates physical devices that can be used for simulations before actual devices and processes are built and modified. This paves way for better planning, monitoring and maintenance regime of industries. This way, equipment work efficiency and maintenance schedules is charted out before any change in the production system of procedures.
Example: Managers no longer have to implement change with the fear of losing equipment condition potentials. Condition monitoring is supported with features like that of the digital twin working in the background.
How can Fogwing IIoT Platform help?
Fogwing Industrial IoT Platform is engineered to cater to the needs of manufacturing industries. It is a smart solution to various practical problems of industries. Equipment condition monitoring is made a reality with advanced features of Fogwing Industrial IoT Platform.
The sensors capture data in real-time and send the same to Fogwing cloud. Advanced digital algorithms are converted to valuable parameters of industry specifics with data analytics that are performed within the Fogwing cloud. It is then transformed to the dashboard of Fogwing Industrial IoT Platform App. Detailed performance metrics pertaining to each industry equipment is displayed. In addition, the command feature in Fogwing enables the triggering of action when needed. Fogwing data rules feature to provide the space for setting thresholds. These become a benchmark for sending alerts when limits are reaching or even prior to it.
Along with these highlighted features, there are many more trivial and unique features of the Fogwing Industrial IoT Platform. Click here to explore more.
Conclusion:
In conclusion, equipment condition monitoring can be holistically achieved with Industrial IoT technology and its distinguished solutions. Customize Industrial IoT Platform operations within your industry to suit its needs and witness greater business prospects.