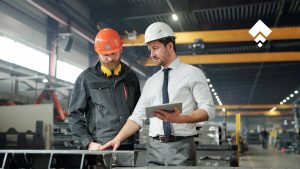 The manufacturing industry is a crucial sector of most economies, worldwide. As stated by the US Bureau of Economic Analysis, the manufacturing industry contributed 11% to the GDP (Gross Domestic Product) of the country in the latter half of 2019. It is said to be the second biggest contributor to the revenue of the country. Similarly, as reported by PRS Legislative Research; in the years 2018 – 2019, India's manufacturing industry's GVA (Gross Value Added) was 29.6% that is expected to increase by 2% in the year 2020, naturally contributing highly to the country's GDP. All of these statistics reflect the importance of manufacturing industry and the growth it requires in operational efficiency for production optimization and increased profitability.
Let's delve in and explore!
What is Industry 4.0?
The transition from traditional manufacturing to industrial automation and the latest smart technology refers as Industry 4.0. Industry 4.0 is the next revolution in the manufacturing industry to transform from Industry 3.0 of mechanical automation to digital automation and the entire procedures of digitalize manufacturing. It is a vast phase of transformation that emphasizes the digitization of the manufacturing sector.
According to Wikipedia, Industry 4.0 primarily focuses on the use of large-scale machine to machine communication (M2M) and Internet of Things (IoT) deployments to provide increased automation, improved communication, and self-monitoring, as well as smart machines that can analyze and diagnose issues without the need for human intervention.
What is Operational Efficiency?
Operational efficiency relates to the costs of production per unit while production refers to the number of units produced. Operational efficiency is defined by Investopedia as the measures of the efficiency of profit earned as a function of operating costs. Higher operational efficiency indicates a higher profitable firm/manufacturing industry.
In other words, operational efficiency refers to the optimized consumption of invested resources for substantial returns of investment with promised quality production. Operational efficiency usually occurs when three of these parameters (Workforce, Processes, and Technology) are strengthened by the manufacturing firm.
What are some of the extant challenges of the Manufacturing Industry?
The current expanding manufacturing industry with global competition is no exception to potential challenges that pose a striking hurdle to the operational efficiency of firms. Some of the major setbacks for manufacturing firms, particularly the small and medium scale firms are listed herewith;
Lack of supply
Lack of operational metrics
Lack of demand forecasting
Reduced workforce
Running cost
Unplanned maintenance
Traditional operations
All of these challenges specifically are categorized under operational management. These challenges can be tackled with industry 4.0 and its variety of exclusive features.
What is the role of Industrial IoT in Operational Efficiency?
Operational efficiency can be improved with Industrial automation through long term, feasible and accountable IoT solutions. By specifically taking up to an IIoT Platform, manufacturing firms can simply connect, collect and analyze data at real-time that leads to efficient operations within the firm.
Industry 4.0 enables the connecting of various existing machines and processes within the manufacturing industry. The connectivity of machines and processes generates real-time data, and process visibility for decision-maker to plan and execute improvements.
The next step that empowers operational efficiency in the manufacturing industry through IIoT Platforms and IoT solutions is the ability to collect. Collect refers to the potential to consolidate real-time data from operational systems according to Industry 4.0. Production run rate, OEE, maintenance prediction and quality checks are all automated. As a result, traditional manual checks, calculations are ceased. Production downtime and machine health are predicted and maintenance schedules can be according allotted to reduce production failure and income losses.
The last and most important step is the capacity to analyze that comes with Industry 4.0 and IoT solutions. Actionable intelligence is identified through analysis of generated real-time data. In addition, necessary actions are triggered when needed.
Therefore, industry 4.0 is all about Connects, Collects and Analyzes manufacturing production and processes that in turn assures excellence in operational efficiency by directly influencing decision making and constructive action enforcement.
How can Industry 4.0 improve Operational Efficiency?
a) Asset utilization – Industry 4.0 through its industrial automation, cloud computing, data analytics principles and predictive maintenance enable assessment in the form of reports of machine/equipment health in the process of manufacturing production. Alert driven IIoT Platforms/systems help identify machine-related risks during production that otherwise traditional manual asset examination would fail to do so. Each asset's actual production cycle is estimated and utilized to its potential production capacity before machine breakdowns. Unplanned downtime risks are lowered.
b) Inventory management – Manufacturers can maintain real-time inventory view and checks with smart shelves, smart pallets, forklifts and other equipment's through IoT based sensors and wireless communications. On the production floor, IoT based sensors affixed on manufacturing machines provide real-time information on production capacity, actual production and inventory consumption. IoT solutions can also be programmed to trigger automated refill / re-ordering of inventory goods. With real-time data made accessible on the inventory section and production floor, demand forecasts are availed and inventory stocks can be managed judiciously, thus, saving unnecessary costs and investment. It also prevents overstocking and understocking of backups.
c) Workforce leadership – Industry 4.0 strong-arms team leaders to encourage and induce behavioural changes among team members/workforce. As industry 4.0 brings work transparency with real-time data, the workforce is now pushed to become efficient in work patterns. Energy consumption can be done more effectively and wasteful habits can be diminished.
d) Advanced supply chain management – Not just the inventory management that is taken care. The automation that industry 4.0 brings is holistic and automates the entire supply chain management through sensors that collect data, wireless networks that provide connection and analytics that provide valuable insights on the supply chain (from raw materials to packaging and distribution) within the manufacturing supply chain. These operational metrics given as real-time output can be directly used to implement a change in process management which drives better business optimization.
e) Process optimization – The entire process of production in the manufacturing sector is optimized with the digitization of processes. The from product designing and raw materials to finished goods packaging and distribution, all processes are connected and therefore leaves no room for communication gaps. Investment costs are indirectly optimized as the processes in manufacturing is optimized and the returns become profits as no commodity is wasted.
These are some of the ways and areas in which Industry 4.0 directly improves the operational efficiency of a manufacturing unit.
How can the Fogwing IIoT Platform help improve Operational Efficiency?
Fogwing IIoT Platform is a masterpiece designed for manufacturing industries. It is constructed with a variety of features to automate the manufacturing industry and improve operational efficiency.
Sensors are affixed on the machine, inventory equipment and supply chain process tools. These sensors are connected via a wireless network. The connected sensors collect data in real-time and with the help of edge computing devices that localize data and further send it to Fogwing cloud. In the Fogwing cloud, advanced digital data is converted to valuable insights with principles of data analytics and predictive maintenance. These insights are grouped under parameters pertaining to the manufacturing industry operations and is accessible by manufacturers on their Fogwing digital dashboard screen.
Alerts through SMS, emails and web links are sent to customers based on data rules configured for better operational standards from time to time. Necessary automated actions can be trigger by setting commands on the Fogwing IIoT Platform. Uninterrupted real-time data is generated that keeps you informed on machinery in the industry and track operational efficiency.
Conclusion:
In conclusion, IIoT Platform is engineered to improve operational efficiency in the manufacturing industry. Fogwing IIoT Platform will easy the opportunity to implement and adopt automation to realize the Industry 4.0 revolution. Reaching echelons of success is a matter of time with Industry 4.0 and its exclusive features.