We bring you an update via Fogwing IIoT release notes June 2022! Fogwing IIoT is a premier Industrial IoT Platform engineered to facilitate developing IoT solutions to Industrial use cases. Fogwing Platform is the unique blend of Cloud, Industrial IoT and Artificial Intelligence stitched together with digital interfaces to help Small and Medium Enterprises achieve the industrial equipment monitoring, performance tracking and process automation. This blog encapsulates Fogwing IIoT release notes June 2022.
With inbuilt Industrial Automation solutions, Fogwing IIoT provides features that easily integrate with industrial equipment's for real-time performance tracking, visibility and process automation with the power of artificial intelligence. Fogwing is the only platform that provides all capabilities required build your Automation Applications to integrate operational technologies (OT) and Information Technology (IT). It is the rapid way to reach Industry 4.0 transformation!
Fogwing IIoT Platform is determined to advance capacities to facilitate enhanced user-experience and offer impeccable IoT platform-as-a-service (PaaS). The advanced features are accessible to existing users and potential users with every new version update. The latest being Fogwing IIoT Platform v2.8, this blog notes the main feature of the new version update.
Key features from Fogwing IIoT release notes June 2022:
There are many updates released but here is the key feature most applicable to all users.
Clone Feature – One that is of a problem-solving approach, aimed at easing user operations, the clone feature is the highlight of the Fogwing IIoT v2.8 release.
What is the Clone feature?
Clone feature enables replicating already existing Edge Devices on Fogwing IIoT Platform. Edge Devices can be cloned along with associated attributes or excluding associated attributes.
Where can you access the Clone feature?
Clone feature is an action item. In the Edge Device page, under the 'actions' column, the clone feature can be accessed by all Fogwing IIoT users.
How to Clone an Edge Device?
i) From the list view of Edge Devices, click the Clone button under the 'actions' column of the Edge Device you wish to replicate.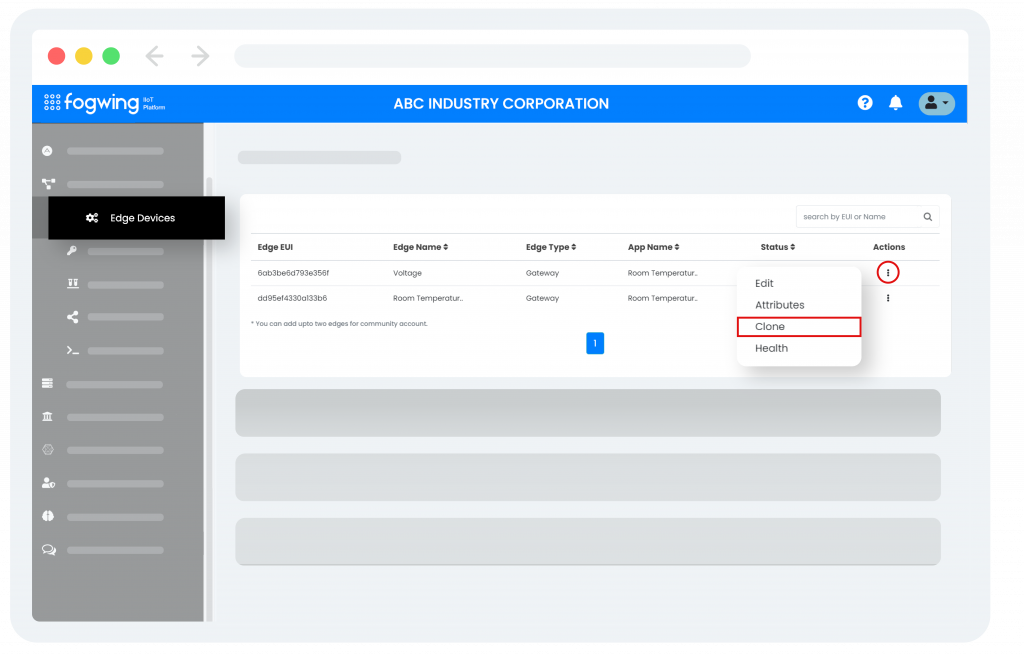 ii) Clone Edge Device Card will display.
iii) You will need to add an 'Edge Name' and generate or add 'EUI ID' for the New Cloned Edge.
iv) You will also be given the option to either check or uncheck the cloning of 'Attribute' associated to the Edge you are working to clone.
v) Click 'Confirm' to clone that specific Edge Device.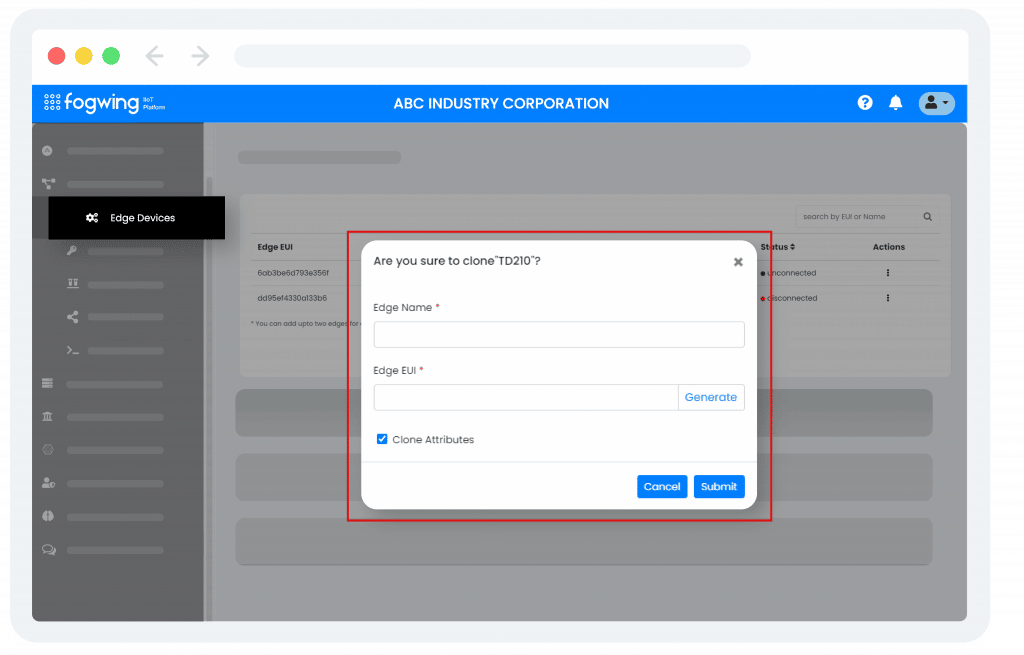 Benefits:
a) Time Saving – Although, adding an Edge Device can seemingly be an easy step, making sure that all associated Attributes are error-proof can be a daunting and time-consuming task for users. To ensure error-proof Attributes associated to each Edge Device and to ease a task that can otherwise be replicated, the clone feature comes to the rescue.
b) Erase Manual Errors – An Edge Device with multiple Attributes can be cloned in no-time instead of spending hours documenting and creating an exact same Edge Device (with a different name) along with Attributes that can be housed with manual errors.
Try the new edge device Clone feature now!
Clone feature is an action item. In the Edge Device page, under the 'actions' column, the clone feature can be accessed by all Fogwing IIoT users. 
Try it for free . No Credit Card Required. 
Conclusion
The Fogwing IIoT v2.8 is a game-changer version for users looking to create Edge Devices with multiple Attributes associated to the Edge Device that they wish to replicate. Once an Edge Device is replicated using the Clone feature, users have flexible options to further edit and delete Edge Device as per the requirements for their Digital enterprise management.