Once gain we are made into G2 Summer 2022 Report. In identifying a value-oriented purchase, peer reviews often play an important role. From product reviews to service reviews, customers prioritize knowing what they are opting ahead of investing their time, money and efforts. As a result, peer review sites are worth considering and are of great importance for an investment in IoT Platforms to facilitate Digital Transformation. One of the globally acclaimed latest software review report is the G2 Summer 2022 report.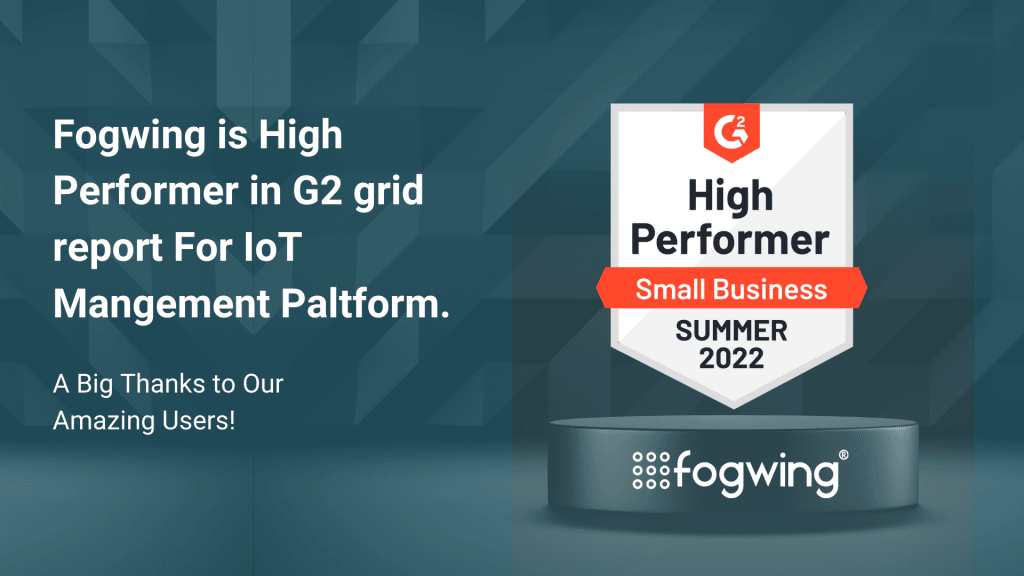 G2 has successfully cumulated reviews from actual users on a wide range of software services, spanning across different categories. In the highly competitive market for IoT software, Fogwing IIoT Platform has been recognized as High Performer under the IoT Management Platform category in the quadrant for Small Business, Summer 2022.
How did Fogwing Achieve High Performer Position in the G2 Summer 2022 Report?
G2 scores software products and services using reviews from their user community as a primary source, along with secondary sources of product data extracted from online resources and social media. The scores by G2 are mapped on their Grid specific to a category to enable customers assess and compare product offerings by different enterprises. The G2 Grid score mapping system allows potential customers to determine which solution best suits their needs based on the experience of peers made available as reviews.
Hence, customer reviews carry real weight as G2 crunches the data to map the Leaders, High Performers, Contenders, and Niche vendors. Fogwing has a 4.6 star review rating with a majority reviews expressing the product to be of excellent stature in facilitating Digital Transformation.
Explore more about Fogwing IIoT Platform here.
Here is an example of a Fogwing Review on G2:
"Fogwing guarantees consistency and precision of information utilized by the labor force in tasks."
What do you like best?
"Simple and intuitive work flow, does not require very detailed technical knowledge to set up any device. Documentation is quite good adjustable, dynamic, visual introductions made accessible in Fogwing applications draw in clients in a savvy, associated climate, permitting them to be more responsive, useful, and versatile. Information is imparted to coordinated outsider applications and innovation answers for share bits of knowledge and improve cooperation across business capacities and geologies.. Device management is made so easy with this platform.
What do you like best?
No dislikes. Every detailing is absolutely overwhelming.
Read a Review, Give a Review:
Head to G2 to read real customer and user reviews of Fogwing IIoT Platform. If you already are part of the Fogwing IIoT user community, do review Fogwing IIoT on G2 to better equip others in their journey of determining a solution for Digital Transformation.
Source: Small-Business Grid® for IoT Management Platforms