Fogwing is a next-gen Industrial IIoT Platform engineered to build IoT solutions for various industrial use cases. This blog explains from the Fogwing IIoT release notes May 2022 (V2.7) about various features and functions provided for all users. Fogwing platform can be used to build Industrial asset condition monitoring, production monitoring, energy monitoring and predictive maintenance. Fogwing IIoT is a one-stop solution to transform your business with digital, data intelligence and accelerate ROI.
Fogwing IIoT Platform is constantly on the go to have enhanced capacities to advance user experience and offer impeccable IoT platform-as-a-service (PaaS). The enhanced of features are accessible to existing users and potential users with every new version update. The latest is Fogwing IIoT Platform v2.7, this blog lists the main features of the new version update.
Key Features from Fogwing IIoT release notes May 2022:
There are many updates released but here are some of the key features most applicable to all users.
i) JSON Editor – This feature has been added to facilitate the user to see all the parameters displayed in a legible format and hence editing is easy. Also, it has a provision to identify duplicate entries or JSON format issue and more.
The JSON editor which will be useful for the users to view the JSON data in a legible format has also been added to Data Storage, Command section of Notification, Add Command and View command pages.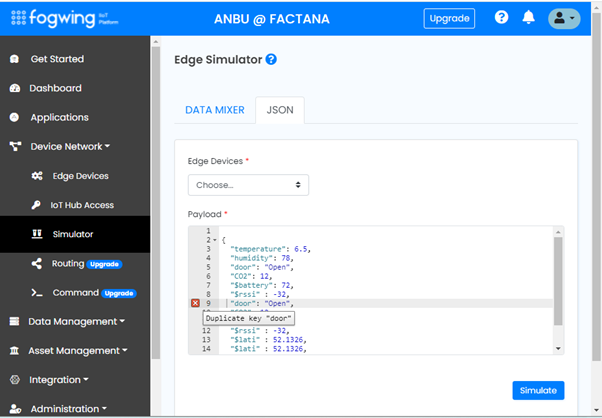 ii) Data Routing – Another important and most demanding features released in 2.7. If you have to deploy gateways and multiple sensor nodes for your IoT solution, routing the data sent by the gateway to specific node data bucket is complex. But now it is resolved for you.
Now, Fogwing supports Content-based Routing between Edges to create clear separation of data according to the edge or application requirements. The routing feature available for all subscribers will allow users to perform condition-based data routing from one Edge device to another within the application group.
If you have deployed LoRAWAN based Gateway and IoT node devices. Your data separation problem is solved. Try it out today.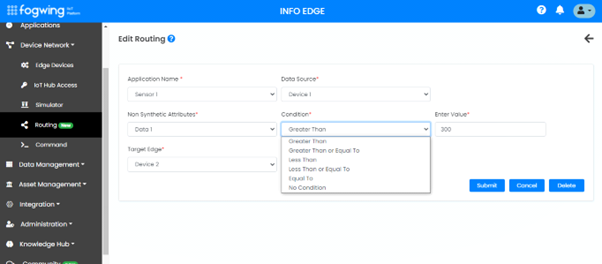 iii) Fogwing Community Forum – Another common request from our community users is a collaboration tool. Without Fogwing community users help and feedback, we would have not reached here today. To make more collaborative, we launched the community portal for all Fogwing users. Now you can access the Fogwing community portal from anywhere, anytime.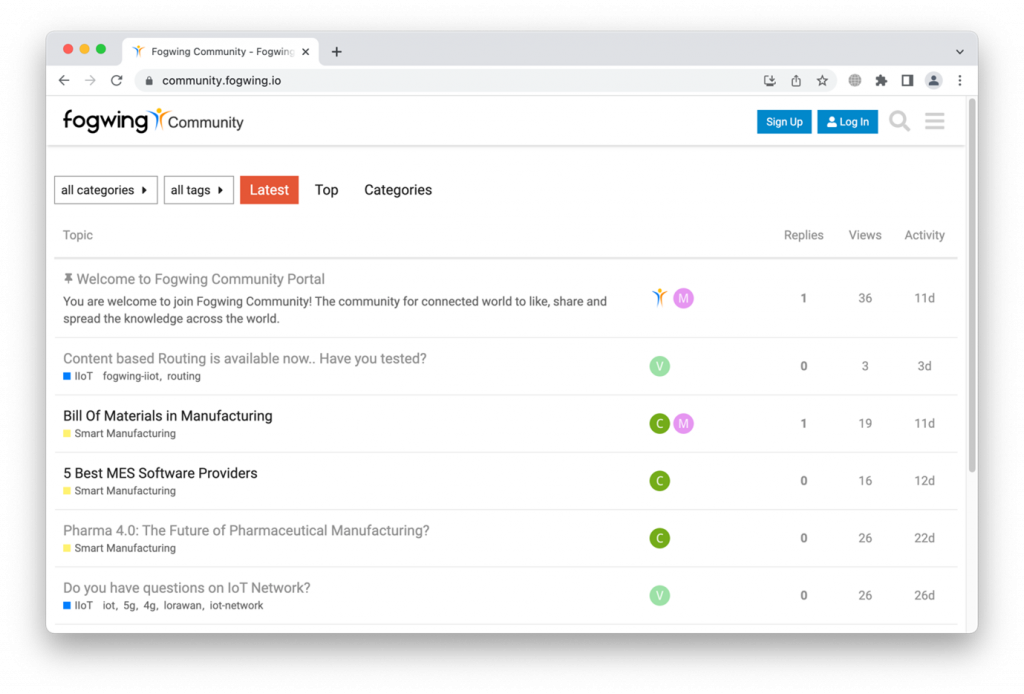 Fogwing IIoT Platform + IoT Analytics Studio
Fogwing Industrial Cloud offering Industrial IoT Platform as a No-Code Device Management Solution for rapid IoT deployment.  Just start your IoT project with no major investment.
Try it for free . No Credit Card Required. 
Conclusion
Fogwing IIoT v2.7 comes with features that empower users to experience unparalleled journey of Industry 4.0. The new Fogwing IIoT V2.7 outperforms the previous versions with three important features; JSON editor, Data Routing and Fogwing Community Forum. All of which have been engineered to offer a wide range of Platform capabilities to facilitate practical applicability to different use cases.
We have not stopped here. Expect tons of advanced features to be released soon.