Introduction
Today's world is dominated by digital technologies, the proliferation of Internet of Things helps in improving the businesses to acquire operational data, identify opportunities to scale organization constantly by strive efficiency in performance, production quality and most importantly business continuity. In order to manager all IoT connectivity, data acquisition and processing required best IoT Platforms for uniformity, scalability and manageability.
What is an IoT Platform?
The IoT platforms creates an opportunity for the IoT developers to build the hardware and software to collect, store, and analyze the data to derive actionable insights. The detailed process is explained below:
i) The data from IoT sensors / IoT devices connected to the machines are collected and transmitted to the cloud through secured gateways. The gateways/telemetry devices convert the data from analog to digital format and transmit the data using cellular/satellite communication depending on the type of available connectivity services.
ii) Once the data is transmitted to the cloud/central repository, data is processed, analyzed, and suitable data metrics is drawn to predict and provide actionable insights.
iii) The IoT Platform acts as a mediator between the physical devices and the world of actionable insights. This enables decision support for machine performance.
In a nutshell, IoT platforms are built as an accelerator that provides everything required to deploy IoT connectivity, secured connectivity management, data acquisition, data storage, data analysis and visualization.
In this era of smart technology adapted in almost all businesses, IoT platform plays a prominent role in our lives by creating an ecosystem of smart devices. Every year, millions of devices are getting connected to IoT Platforms worldwide and the devices communicate with each other through a central system/cloud. The below graph shows the drastic increase in the number of devices connected to IoT over the years.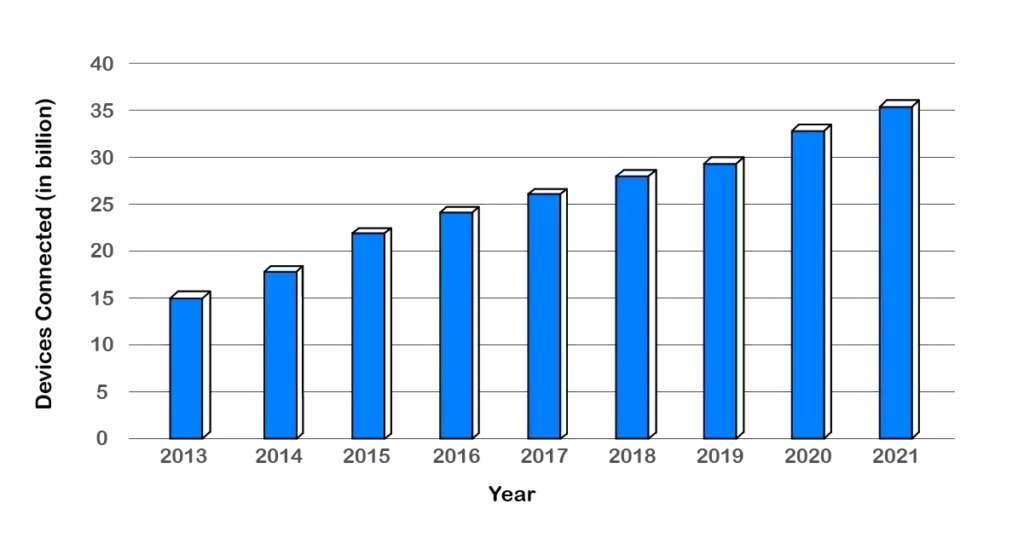 Hence, it becomes essential to have an IoT Platform to create an efficient and successful business model. Therefore, choosing a right IoT platform is a big responsibility, as there are over 100+ IoT Platforms available in the market with diverse features and at various levels of maturity. To ease your job of shortlisting the best IoT platform, here are the top 7 IoT Platforms explored along with their promising features which are affordable by small and medium businesses.
Top 7 Best IoT Platforms:
1. Fogwing IIoT Platform

Fogwing is an Industrial IoT platform loaded with features like Device Management, Data Storage, Data Rules Engine, Formula based synthetic attributes, Simulator with Data Mixer / JSON, Downlink Command Delivery Service, Notification and many more. In addition to technical capabilities, Fogwing also provides self-service analytics and visualization tool for business users. This platform is device agnostic and therefore, any device can connect to the Fogwing IoThub (through MQTT) to send data gathered from sensors. In addition, device can also connect through API key-based connectivity as well.
This platform also supports AI and machine learning processes to analyze large amounts of data for better decision making.
By deploying Fogwing based IoT solutions, SMB may get a better insight into the processes, enhance process improvements, increase automation and digitalization to become agile and efficient.
Fogwing IIoT Platform is worth considering if you are looking out for the below features.
Platform as a Service (PaaS) – Cloud hosted IoT Device Management Software
Built for Industrial Use Cases
No Code Deployment
Subscription based Software as a Service
Inbuilt Secure Network
Data Rules Engine
Alert Notification
Command Center
Device Simulator
Web Portal for administration
Data Analytics
Cloud Integration with AWS, Azure and GCP
Integration with 3000+ apps through Zapier
For more details about Fogwing IIoT Platform, please visit https://www.fogwing.io/industrial-iot-platform/
2. Particle IoT Platform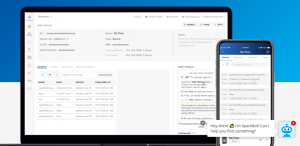 The IoT solutions offered by Particle are fully integrated and it is an easy to use IoT platform with built-in infrastructure. The particle's operating system and the Device OS are the differentiators as it expedites the complex integration between firmware, hardware, and network connectivity on all Particle devices.
With the "Device Management" feature, you can effortlessly manage all your IoT devices with one single interface. Particle's Fleet Health Dashboard and its remote diagnostic functionality provide advanced analytics through IoT based preventive maintenance that can help track your device health. This can be crucial for the successful running of the equipment and avoiding machine downtime.
Manage your IoT device at every stage of development right from registering the device, developing your product to monitoring the device data with Particle IoT Platform. Features that can motivate you to start using Particle are
Event Logs
Webhooks
Asset tracking
Real-time alerts
Device commands
Product Organization
Access Control
For more details about the Particle IoT Platform, please visit https://www.particle.io/what-is-particle/
3. Blynk IoT Platform

Blynk IoT Platform is a full-fledged software which is capable of managing any number of electronic devices connected to it. You can connect your hardware to the cloud and fluently build your no-code iOS, Android, and web applications to collect data from IoT devices, analyze the real-time and historical data to derive the data metrics/insights.
Blynk is a multi-tenant solution with which you can add users and assign permissions to download the app, connect the devices and get access to your data. Blynk also offers a white-label solution enabling you to add your company logo, choose the theme, colors, app icon and publish the app to the App Store and Google Play under your company name. Blynk offers an interface to easily update your devices over-the-air (OTA) and this OTA provisioning works on ESP32, Arduino MKR1010, ESP8266, Arduino Nano 33 IoT, Seeed WiO Terminal, and Texas Instruments CC3220.
Features of the Blynk IoT Platform are:
No-code
Multi-tenant solution
White-label solution
HTTP API
Log Events
Get Notifications
OTA updates on the Air
Customized Dashboard
For more details on the Blynk IoT Platform, please visit https://blynk.io/
4. Ubidots IoT Platform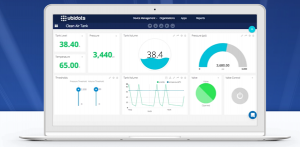 Ubidots provides a no-code, easy to use, self-construct IoT Platform to connect your IoT devices to collect, analyze and visualize the data. The main feature of Ubidots is that it is device agnostic i.e., any device can be connected to the cloud to share data. Ubidots believe that flexibility is the key to build and retain any business and hence caters customizable IoT and cloud solutions according to the customer's requirements.
You can connect any number of hardware devices to the Ubidots cloud over HTTP, TCP, MQTT, or by parsing custom/industrial protocols. You can also analyze the data and ingest any 3rd party protocols or device clouds like mcCloud, Sigfox, NB-IoT, Particle Cloud, TTN and LoRaWan networks.
Some of the best features which you may look for in Ubidots are
3rd party data input / output.
2 years rolling retention.
Anomaly detection
Predictive maintenance
Customized Dashboard
Scheduled Reports
Alert Notifications
For more details on Ubidots IoT Platform, please visit https://ubidots.com/
5. Kaa IoT Platform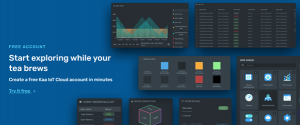 Kaa IoT Platform provides a developer-friendly cloud environment to connect your devices efficiently and securely to the cloud. Kaa is based on flexible microservice architecture i.e., you can customize each Kaa feature separately, add new features, or replace any existing ones with your own third-party tools. Kaa is transport-agnostic that supports any IoT protocol of your choice (including MQTT and HTTP) and adds it to the platform.
Kaa provides an all-inclusive IoT PaaS which performs integration tasks and configures your devices to the cloud in a few simple steps. Along with the Kaa IoT Platform, Kaa's toolbox includes flexible application management tools, flexible user management, a variety of built-in IoT widgets and customizable UI. Hence, there is no prior IoT development experience required to build IoT solutions for small and medium scale businesses.
Classic features of Kaa IoT Platform are
Asset monitoring
360-degree view of the company's assets with a custom dashboard.
Remotely configure and control your devices
Track telemetry, location, and other device data in real-time
Pre-built IoT templates for the general use case.
Set up alerts.
Manage users and access rights
For more details on Kaa IoT Platform, please visit https://www.kaaiot.com/overview
6. ThingsBoard IoT Platform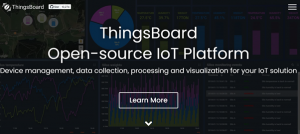 ThingsBoard IoT Platform is an open-source IoT Platform that enables collecting and storing of the telemetry data in a scalable and fault-free approach from various IoT devices, analyzing and processing them and drawing insights on the operations. The data/insights can be visualized with the built-in custom widgets or ThingsBoard's dashboard and allow you to share the dashboard with your customers. These insights help the users take appropriate decisions on the industrial operations.
The platform raises alarms on incoming telemetry events, device inactivity, attribute updates, and user actions with the ThingsBoard Rules Engine. ThingsBoard helps connect the IoT devices through standard IoT protocols namely MQTT, HTTP and CoAP and supports both cloud and on-premises deployments. It allows you to construct your ThingsBoard cluster to get maximum scalability with microservices architecture.
Features that make ThingsBoard stand high from other IoT Platforms are
Fleet Tracking
Real-time IoT Dashboard
IoT Rule Engine
Multi-tenancy
Horizontal scalability
Fault-tolerance
Device Management
Asset Management
Alarms Management
100% open-source
Microservices or Monolithic
SQL, NoSQL, and Hybrid database
For more details on the ThingsBoard IoT Platform, please visit https://thingsboard.io/
7. ThingSpeak IoT Platform

ThingSpeak is an IoT platform that uses channels to store data sent from apps or devices. A special feature of ThingSpeak is that you can create your own channel to collect the analyzed data hence giving a great level of flexibility to the users. You can also collect the data from the public (for example, ThingSpeak channel 12397 – Weather Station) and configure to write into your own channel. And then aggregate the data on-demand from third party sources. Using ThingSpeak, prototype and build your own IoT solution without setting up servers or building the software.
You can share data through the protocols such as MQTT, HTTPS and many more. ThingSpeak is configured to use MATLAB which provides a standard template to analyze and visualize your data based on the live and historic data metrics.
Top features of ThingSpeak are
Collect data in private channels
Event scheduling
Share data with public channels
Alerts
RESTful and MQTT APIs
App integrations
MATLAB® analytics and visualizations
For more details on ThingSpeak IoT Platform, please visit https://thingspeak.com/
Conclusion
Choosing the right IoT platform for your business, amongst the plenty of choices you have in the market, is not an easy task!
Technical capabilities of the IoT platform, its ecosystem, cost implications and industry-specific features are some of the important factors to consider. Talk to your team and list down your preferences/requirements for a successful business setup. Compare them with the above-listed IoT platforms and make the right choice.
You can start your IoT journey with the free trial offered by the Fogwing IIoT platform and explore the cool features. It helps in making the right decision. It is undoubtedly one of the best platforms for small and medium businesses.
Discuss your business requirements with our team. Our development team has in-depth knowledge in building customized IoT solutions based on your needs. You can also write to us at [email protected] and we would be more than happy to help!