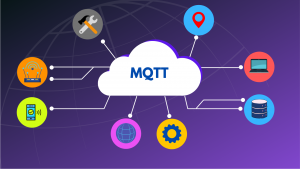 What is MQTT Protocol?
Before we get into Top MQTT Service Providers, Let's understand the MQTT. MQTT stands for Message Queuing Telemetry Transport. MQTT is defined as a protocol used to transport messages between devices and server. It is designed as a lightweight messaging protocol that uses publish/subscribe (similar to a message queue) operations to exchange data between the publisher and the receivers.
Furthermore, MQTT messages are smaller in nature, minimized data packets, low power usage and ease of implementation makes the protocol ideal for the "machine-to-machine" or "Internet of Things" world.
In MQTT protocol, communication happens between "MQTT Broker" and MQTT Clients" as shown in the below picture.
Let us explore furthermore about MQTT Broker, MQTT Clients and publish/subscribe are:
MQTT Client
MQTT client is a message publisher or receiver which connects to the MQTT broker (message hub) over the internet which runs on the MQTT library. MQTT Client may publish a message to an MQTT broker as a publisher and other MQTT clients subscribed to messages that it wants to receive. To initiate a connection, the client sends a "CONNECT" message to the broker to establish a communicational channel.
MQTT Broker
MQTT broker is the central communication point or hub which collects published messages from the client and dispatches the message channel to the subscribing MQTT clients. In simple terms, the broker receives the messages from the client, filters the messages, authenticates which client is subscribed to each message and then delivers the message to the subscribing clients.
An MQTT message contains a category of the channel called "topic" that MQTT clients subscribe to and MQTT brokers use these subscription lists for validating the MQTT clients to accept the message. When a broker receives a CONNECT message, it responds with a CONNACK message to connect to the client.
Publish/Subscribe
Publish is a technical name used when the sender (client or broker) sends the "topic". Subscribe is used when the receiver (subscribed client) receives the "topic". Clients publish, subscribe or do both to a topic. In short, Publish is from the sender and Subscribe is from the receiver.
The MQTT connection is always between client and the broker. Clients never connect to each other directly. Hence, the clients do not have to know each other, they only communicate over the topic. This model enables highly scalable solutions which helps connect millions of devices without dependencies between the data producers and the data consumers.
Let us also learn about QoS (Quality of Service) in MQTT. The QoS plays critical role in handling the message delivery to subscribers on are different scale.
Each connection can specify a quality of service to the broker with an integer value ranging from 0-2.
0 specifies publishing terms at most once, or once and only once. It is often referred to as fire and forget. This does not require an acknowledgement of delivery.
1 specifies at least once. The message is sent multiple times until it receives an acknowledgment. This type is known as acknowledged delivery.
2 specifies exactly once. The receiver and sender clients use a two-level handshake so that only one copy of the message is received. This type is known as guaranteed delivery.
With so many special features, the MQTT protocol has been able to replace all other protocols which were used for device-to-device communication over a decade.
Role of MQTT in IoT Projects
MQTT is a publish-subscribe-based messaging protocol widely used on the Internet of Things (IoT) for device to device or cloud communication. Since It works on TCP/IP protocol and is designed to connect remotely with devices/sensors with a "small code footprint" is required in situations where the network bandwidth is limited (in remote places).
The MQTT Broker acts as a central communication point, passing messages between the IoT Agent and IoT device when necessary. The goal of MQTT in IoT technology is to provide a simple, lightweight and secure protocol, which is bandwidth-efficient, highly scalable connecting millions of devices, integrate into backend systems, easy to monitor, uses little battery power and failure-resistant. MQTT is a widely adopted messaging protocol in IoT that is designed for constrained devices.
MQTT stays online to make the channel always open between the broker "server" and clients and hence live data is always available in the system which is the basic requirement of any IoT device helping the user draw data metrics at any point in time.
It is clear that MQTT is the most viable communication protocol for IoT implementation. But who will provide the brokers and how to adopt this technology is still confusing since there are many MQTT broker providers available. Now let us see the top 5 MQTT Service Providers:
Top 5 MQTT Service Providers
Let's explore the high performing MQTT Service Providers to learn their best offerings.
Cloud MQTT
CloudMQTT is the provider of managed Mosquitto servers in the cloud. Mosquitto MQTT is the open-source provider of MQTT broker. Mosquitto implements MQTT protocol which provides lightweight methods of carrying out messaging using a publish/subscribe message queueing model. It is ideal for the "Internet of Things" world of connected devices. Its minimal design makes it perfect for built-in systems, mobile phones and bandwidth sensitive applications.
Some key features of CloudMQTT are:
Machine-to-machine: MQTT is a lightweight messaging protocol, created with embedded systems, sensors and mobile applications in mind.
Reliable messaging: There are three modes of QoS: most-once, at-least-once and exactly-once. CloudMQTT supports them all.
Websocket: CloudMQTT Websocket client is used to view messages from the user device to the browser or publish messages from the browser to the device.
Amazon Kinesis: Amazon Kinesis allows large data stream processing and real-time analytics. It is easy to integrate Amazon Kinesis with CloudMQTT.
Bridges: Bridges are used when one MQTT broker wants to connect to another MQTT broker. This is a very useful feature and enables the user to setup their own HA "cluster".
Hive MQ
HiveMQ is a MQTT broker which is a messaging platform for fast, efficient and reliable data movement to and from connected IoT devices and enterprise systems.
Features that make Hive MQ unique are:
Connect Any Device: HiveMQ connects any device and backend system in a reliable and secure manner through MQTT protocol.
Fast and Instant Data Delivery: HiveMQ uses push technology designed for IoT applications to quickly send and receive data from connected devices.
Easy and Flexible Integration with Enterprise Systems: HiveMQ has an open API that allows flexible integration of the IoT data into enterprise systems and pre-built extensions for quick integration to other enterprise systems such as Kafka, SQL and NoSQL databases.
Freedom to Run Anywhere: HiveMQ is based on the open IoT standard MQTT. With this companies can get access to a wide variety of MQTT clients from open-source communities like Eclipse Paho, custom built MQTT libraries and libraries direct from HiveMQ.
MyQTTHub
MyQTTHub is an open and scalable Cloud MQTT platform, users get the flexibility to easily create MQTT IoT project with some professional support options.
Some features of MyQttHub.com are:
IoT platform:com provides highly scalable support for MQTT, based on Akka and Scala technology.
Web interface: Separate web panel is used to manage the Cloud MQTT platform. Web panel allows the users to manage the devices, passwords, published messages, to PUBLISH and manage subscriptions.
Stashing support: Stashing is a process that helps store important messages in a durable manner and in the same order as they were received. From this storage, user can resend messages, view and download them.
PUBLISH from panel: The user can publish messages using the web panel (without needing an MQTT client). This publish operation can be done in a general domain way or directed to a certain device. This is very useful to debug and direct testing with certain device.
Adafruit MQTT
Adafruit MQTT is a protocol for device communication that Adafruit IO supports. Using an MQTT library, the user can publish and subscribe to a feed to send and receive feed data. Some of their special features are:
Topics: Adafruit IO's MQTT exposes feed data using special topics. User can publish a new value for a feed to its topic or subscribe to a feed's topic to be notified when the feed has a new value.
Publish QoS Levels: For publishing feed values the Adafruit IO MQTT API supports QoS level 0 (at most once), 1 (at least once) and QoS level 2 (exactly once).
Sending CSV (Comma-Separated Value): User can send location-tagged data to /CSV topics. The format IO expects for location-tagged CSV data is VALUE, LATITUDE, LONGITUDE, ELEVATION.
Sending JSON data through Adafruit IO: Because Adafruit IO supports additional features beyond a basic MQTT brokering service, such as location tagging for data points, the service supports data in the JSON format.
Fogwing IoThub (Part of Fogwing IIoT Platform)
Fogwing is an Industrial IoT platform is the comprehensive IoT platform that provides unique features like MQTT Hub also known as IoT hub, Data Storage, Data Rules Engine, Device Management, Command and Alert notification. Fogwing also provides Cloud Integration in which device data is sent to any cloud service like Azure Blob, AWS S3 and Google Cloud Storage.
Fogwing IoThub is the gateway which helps the user connect the edge devices/sensors to Fogwing platform for communication purpose. Fogwing IoThub collects the data, consolidates it and persevere the MQTT data in Data Storage for cold or hot data processing. Fogwing IoThub provides a secure MQTT channel for data security, data integrity and data aggregation.
The MQTT broker embedded in the Fogwing Platform deployed a highly secure 256K SSL channel for a secure connection between device and cloud, unify the channel by allowing one session per device and each device identified with a unique ID (EUID) to ensure the channels highly secure. Also, IoThub enforces the data in JSON format to prevent any script injection or spam.
Top features of Fogwing IoThub which makes it different from other products are:
Live data at any point: MQTT stays online to make the channel always open between the sensor devices and Fogwing platform. Hence live data is always available on the platform.
Publish Quality of Service Levels: For publishing feed values, the Fogwing IoThub MQTT supports QoS level 0 (at most once), 1 (at least once) and QoS level 2 (exactly once).
Scalable: Fogwing IoThub is designed for scale and reliability. Fogwing IoThub MQTT broker scales up to multiple devices to connect at the same time and uses industry standards to ensure data is not lost. Customers mainly depend on this for business-critical IoT systems.
Secured data: Since MQTT connects the sensors/devices to the Fogwing IoT platform directly and the sensors/devices do not connect to each other, each sensor or the device data is treated separately thereby securing the data received in the cloud.
Single Session: In order to avoid duplication of connection and lateral injection, Fogwing IoThub allows only one session per device to make sure one-to-one bridge between device and cloud channel. Any additional connection will be rejected even though it is an authorized channel.
Data compliance: Through MQTT protocols, sending the data, receiving the data, storing the data in the cloud, publishing the data to the user in particular order becomes easy and more efficient.
Data Format: Fogwing supports JSON format (representing data in numeric value) allowing the devices to communicate with the Fogwing platform in JSON format. Hence, it can show the data as a chart on the Fogwing dashboard.
Conclusion
Although there are many types of protocols available for IoT implementation, the MQTT protocol suits best for the secure IoT implementation because of various advantages which were listed above in this article. MQTT is a simple publish/subscribe protocol that allows sending messages from the devices to the server and from the server back to the subscribed devices. The messages are passed through a centralized message broker. The main feature of the MQTT protocol is that it distributes messages based on topics rather than message content thus keeping the data packets as small as possible.
It is highly recommended that if your project is about implementing IoT Solution then adopting a comprehensive platform such as Fogwing is the most appropriate than just subscribing to MQTT providers.
Fogwing IoThub is the leading brand IoThub provider which is inbuilt with both IoT capabilities as well as MQTT protocol. Data sharing, Data Management, Data storage in the cloud, data visualization has become a lot easier with MQTT protocols.
References
Here is the reference of other MQTT Service Providers:
Cloud MQTT – https://www.cloudmqtt.com/docs/index.html
HiveMQ – https://www.hivemq.com/hivemq/mqtt-broker/
MyQTTHub – https://myqtthub.com/en
Adafruit MQTT – https://io.adafruit.com/api/docs/mqtt.html#mqtt-qos