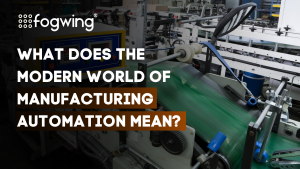 Introduction
Evolving ways of life from generation to generation has caused the world to be dynamic. Technology has impacted this dynamic world significantly. Development in technology has served to become the foundation of adapting automation and virtual engagements over the years. Manufacturing is one of the major sectors that is continuing to benefit from advanced technology to meet the needs of global markets.
It is crucial to define and learn about the Modern World and Manufacturing Automation to understand the relation between the two domains. Therefore, two questions are to be briefly answered.
How is the Modern World perceived?

What is Manufacturing Automation?
How is the Modern World perceived?
The modern world is often identified with sophistication in accomplishing tasks/jobs/projects / assignments or any work in general. Additionally, the Modern world is characterized by an era defining event/invention that has marked the sturdy transformation from the legendary to the new. Emerging technology and the progress in innovation occupies the position of an era defining event / invention. Therefore, the modern world can be perceived as a phase that has witnessed and benefitted from technological advancements.
What is Manufacturing Automation?
The use of equipment to automate production processes or systems is identified as manufacturing automation. The end goal of manufacturing automation is to enhance industry operations efficiency by increasing production capacity, reducing cost and achieving orderly factory maintenance with decreased unplanned downtime. 
Manufacturing automation has become more associated with the use of machines to reduce manual work. Electromechanical systems programmed to perform manufacturing processes are recognized to serve automation in manufacturing.
The trajectory of Manufacturing from Industry 1.0 to 4.0
Though the modern world is well associated with manufacturing automation, it reflects the phase Industry 4.0. Tracing the trajectory of advancement in technology is pivotal in understanding industry 4.0 and manufacturing automation. Explore briefly the phases of technological advancements from industry 1.0 to industry 4.0.
Mechanization

– Industry 1.0, known as the first Industrial revolution, introduced and established machines. These machines / systems were powered by water – steam or fossil fuels. Mechanization of industry 1.0 replaced animal power with machine / engine power.

Mass Production

– Aviation and radio were introduced in the second industrial revolution. Assembly line manufacturing powered by electricity that enabled mass production was the notable achievement of Industry 2.0.

Digitization

– The third industrial revolution or Industry 3.0 was a remarkable milestone as it transformed the methods of achieving productivity. The change was administered with the invention and adoption of computers, internet and information technology (IT).

Cyber Physical Systems and Industrial Internet of Things

– The fourth industrial revolution or the industry 4.0 introduced CPS and IIoT in the manufacturing sector. CPS involves systems, its computer-controlled protocols (integration of networking, computation and physical processes) working together in the automation of manufacturing. IIoT connects things (objects / machines / assets) to the internet and enables communication using real-time between things via internet that facilitates manufacturing automation.
Types of Manufacturing
Automation
Each type of manufacturing automation is designed and engineered to meet requisites of special kind associated with a particular manufacturing industry. Therefore, understanding the types of automation in manufacturing equips decision making in the adoption of the right kind for specific industries. Manufacturing Automation of the Modern World.
Fixed Automation

– This type of automation is associated with a process involving large volume of a single part production. The production process / assembly is usually administered or dictated by commands that are programmed. Accommodating a change in product design is tough in fixed automation.

Programmable Automation

– This type of automation is used in the manufacturing of products as batches. Programmed instructions and commands interpreted by systems facilitate manufacturing operations in the programmable automation. Customization and changing accommodation through the process of manufacturing is possible with programmable automation.

Flexible Automation

– This type of automation is also known as soft automation. In the production of various parts, flexible automation is helpful. It does not cause any downtime due to changeovers. It is specifically related to on-demand / real-time production.
Manufacturing Automation of the Modern World
The modern world is a witness to innovation and invention of advanced technology that is catering well in the automation of processes of manufacturing. The industry has experienced revolutionary change that has defined the production of goods and rendering of services over the years. The modern world manufacturing automation has benefits that are unique to its application in manufacturing.
Reduced Manual Operations
With manufacturing automation of the modern world, specifically of industry 4.0, cyber-physical systems and IIoT technology connect machines, create networks, capture real-time data and enable processes to run without reduced manual operations. Manufacturing automation creates intelligent factories that operate with advanced algorithms interpreting data to facilitate assembly-line operations and other procedures.
Increased Productivity
Automation of manufacturing creates increased scope of productivity. It is the result of data analytics produced by IIoT technology with connected systems that enable prior assessment of asset potential production, planning of asset estimated production with preparedness that enhances actual production through sustained maintenance. Unplanned downtimes are significantly reduced with data acquired by machines and thereby supports increased productivity.
Real-Time Monitoring
One of the predominant features of manufacturing automation of the modern world is its ability to capture data generated by manufacturing equipment / assets to optimize production efficiency, cut costs to factory floor operation, maintain product quality with lessened human intervention. Real-time data by assets involved in manufacturing processes helps keep check of asset health and better equips monitoring with active planned maintenance, lowering the risk of wastage and unaccounted asset failures.
Preventive and Predictive Maintenance
A benefit of real-time monitoring provided by manufacturing automation is preventive and predictive maintenance. Predictive maintenance is critical in facilitating preventive maintenance by offering advance asset and factory operations maintenance with transparent machine metrics provided with real-time equipment data. Predictive maintenance helps establish prior planned and structured maintenance schedule that allows preventive maintenance of factory assets.
Sustained Compliance
Manufacturing automation of the modern world empowers industries to practice sustained compliance to their product manufacturing with networking and internet connected factory assets. In addition, compliance with regulatory authorities becomes much easier with reliable reporting acquired with automation of processes and data transparency.
Accurate Manufacturing Metrics
Calculation of OEE and TEEP becomes a less tedious task with access to real-time data offered by smart systems configured to manufacturing equipment throughout the factory. Reports and stats are generated from time to time with automation and therefore keeps a check of machine capacity, usage, health and other corresponding aspects.
Improved Workplace Safety
Automation in manufacturing using technology of industry 4.0 caters to offer improved workplace safety. Workplace safety is ensured with real-time monitoring of the entire factory besides equipment monitoring that keeps check of possible hazards prior to possible workplace disaster.
SFactrix.ai and its Application in Manufacturing Automation
SFactrix.ai is an intelligent manufacturing software engineered to power-up automation in manufacturing industries. The SFactrix.ai is built to accommodate entire factory floor management in the pursuit of automation. Some of the significant features of SFactrix.ai that transforms traditional factories to smart factories are as follows:
Work order Management

– Digital Tracking management of customer orders to enable real-time monitoring of production progress.

Jobs Tracking

– Assign jobs to workforce and estimate overall delivery guarantee.

Asset Runtime Monitoring

– Monitor machine efficiency at real-time for better productivity.

OEE, OOE and TEEP Metrics Reporting

– Digital real-time performance reporting and analysis that helps drive optimum production.

Preventive maintenance

– Protect asset lifetime and automate maintenance actions.

Downtime Alert Notification

– Set auto detection alerts for assets and receive alerts via SMS Email.

Role Based Dashboard

– Personalized dashboard setups from plant managers to workers.

Maintenance Scheduler

–

Automatically generate maintenance schedule for each asset as proactive act of asset availability.

Activity Log –

Keep track of all user actions and alerts log in single place to generate overall usage reports.
Conclusion
To conclude, the modern world has introduced advanced manufacturing automation to suit the dynamic nature of production sophistication. Manufacturing automation of the modern world serves as a solution to eradicate problems associated with modern manufacturing. SFactrix.ai as an intelligent solution to automation in manufacturing helps industries achieve industry 4.0 and develop business prospects with reliability.