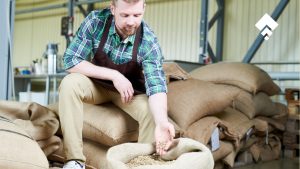 Food processing and distribution business is a sensitive play. More often than not, we do not give thought to the delicate chain of processes behind delicacies of a fine dine. Here is what's important; atmospheric temperature, humidity and air pressure are epicentres within processing, hygienic storage premises and transportation for a healthy-edible food procurement. Explore food storage temperature monitoring with the best technology!
As a perishable good, the shelf life of food is a priority. Raw food materials that are stacked in warehouses, food in the chain of processing units and in the phase of distribution are prone to the risk of spoilage due to varying climate conditions such as temperature, humidity and air pressure levels. Therefore, carefully monitoring climate condition of food process and distribution chain that assures stability in the mentioned parameters is to be availed.
Why climate controlled storage critical in food storage and processing?
From farms to tables, food is exposed to different air temperatures, humidity levels and pressure zones. In all of these phases (purchasing, processing, storage and distribution) food is at a high risk of various climate change that could go unnoticed with manual monitoring. In some cases certain foods are to be cold stored in prescribed temperatures to sustain its organic & health materials. As a result, end to end of food chain climate monitoring and maintenance becomes essential. Climate control / temperature control in food storage and processing is a pretext for food quality and edibility. With accurate climate monitoring in each phase of food procurement, estimated food production is met along with returns on investment, higher shelf life of food and optimized consumption through planned distribution. Stable suggested food storage temperatures are keys to successful food procurement that can feed thousands.
According to FAO of UN (Food and Agriculture Organization of the United Nations), improper food processing is leading to huge amounts of food wastage resulting in carbon emissions. Global food loss and waste generate annually 4.4 GtCO2 eq, or about 8% of total anthropogenic GHG emissions (5). This means that the contribution of food wastage emissions to global warming is almost equivalent to (87%) of global road transport emissions.
According to the below chart, the majority of food wastage are related to vegetables and Meat- food processing and effective management.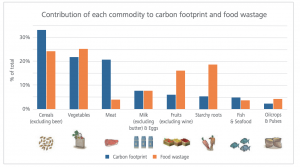 Courtesy: FAO Food wastage footprint assessment report 2015
Manual monitoring v/s Automated monitoring:
Traditionally we follow manual reading methods using mechanical or electrical temperature controllers. Manual temperature monitoring within food storage spaces, processing units and distribution trucks is a time-consuming task that includes greater risks of misreading and misreporting of climate levels. It requires separate human resources and special training that again is a tedious task given the risks it carries. Manual climate maintenance is performed as intermittent checks that are paper check listed. Spot checking and recording data from different phases cloud the clarity of statistics causing food maintenance failure as a result of manual monitoring.
However, automated monitoring solves all of these issues and tackles temperature-controlled storage with better accuracy. The latest developments like wireless technologies and the Internet of things (IoT) enabled automated monitoring carries efficiency in acquiring real-time data through continuous checks. In addition, automated monitoring solutions could send data to cloud storage over wireless communication for historic data analysis and reporting. IoT based temperature monitoring offers centralized data reports with e-check listing features. Automated monitoring turns climate-controlled monitoring into a smart monitoring system.
How can Fogwing eco App help with automated smart monitoring?
Fogwing eco App is a smart monitoring system. It is engineering as an IoT based mechanism that offers an array of automation options to solve your challenges concerning air temperature, humidity and pressure control maintenance within food storage spaces and processing units. A solution crafted to establish accuracy, digital data monitoring, efficiency and centralized control system with temperature monitoring in different phases of food procurement. Here are some of the notable features of Fogwing eco App: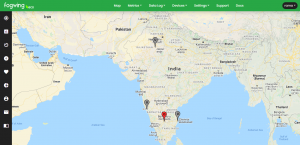 Know your device location on Fogwing eco App with google mapper.
1. Smart kit feature – Fogwing eco App is a holistic solution. In line with this, it offers its own smart kit apart from the environment App. The smart kit is a blend of temperature, humidity, and pressure sensors in accordance to your environmental monitoring needs. It is designed as a global condition for each customer to suit their workload for better results. The smart kit is an exclusive feature as it omits the struggle of hunting for these sensors. Smart kit + food storage and processing = smart food procurement.
2. Auto alerts mechanism – Set your own threshold limits for temperature, humidity and pressure in Fogwing eco App, which will trigger alerts upon threshold limits nearing and being reached. It prevents constant intermittent checks as it continuously monitors and keeps you updated on climate levels in food storage areas and processing centers. With Fogwing eco App, you need not worry of leaving your food storage areas for a while. You can still stay connected and be informed.
3. Track climate history – As owners and managers of food storage and services, your primary and most important concern is to keep track and record of indoor temperature, humidity, and pressure history for business compliance reporting. These are probably required to be submitted to concerned food accreditation agencies from time to time for various approvals. Fogwing eco App brings to you the best solution with its analytics feature. This feature helps you keep track of climate conditions on a weekly, monthly, or yearly basis, likewise, it enables you to get climate reports in any of the three-time intervals you wish. Manual recording is not needed at all, Fogwing eco App makes e-recording / e-reporting a reality.
4. Bridge communication gaps – Fogwing eco App as an IoT based temperature monitoring solution solves communication gaps that exist with manual monitoring and spot-checking. Fogwing eco App supports centralized monitoring that avoids confusion and miscommunications during the collaboration of climate statistics of different storage and processing locations. It empowers clarity through its real-time temperature monitoring and alerts mechanisms. Manual errors are omitted with Fogwing eco App automation services.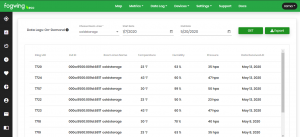 Avail not just weekly, monthly and yearly data but On-demand data as well.
Is Fogwing eco App a suitable investment for climate monitoring for food storage service providers?
Undoubtedly, with the kind of automation in climate-controlled monitoring that Fogwing eco App as a smart monitoring system brings, it's a gift. Fogwing eco App ensures accurate climate monitoring within your food storage and processing enclosures in the best possible advanced technological method. As opposed to manual monitoring, automated monitoring with Fogwing eco App enforces work transparency, establishes real-time temperature e-recording, avoids food spoilage to maximum rates, and conquers risks of manual monitoring methods. Fogwing eco App is constructed in a manner that customizes needs for each of its customers. It is perfectly designed to aid and ease your challenges.
Conclusion:
Fogwing eco App serves as a premier IoT based Software as a Service (SaaS) that holistically caters to eradicate challenges of the food storage and service providers. It is a one-time investment solution that guarantees results with regard to climate monitoring within food storage and processing units. Services of Fogwing eco App can even be availed for climate monitoring in polyhouses / greenhouses, wineries, pharmaceutical labs, chemical labs, cement storage facilities, manufacturing units, forensic labs, and so on.
For further details, you may explore here:
Reference: https://staging-fogwingio.kinsta.cloud/fogwing-eco-app/
http://www.fao.org/documents/card/en/c/7338e109-45e8-42da-92f3-ceb8d92002b0/