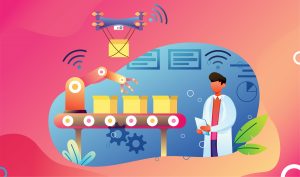 Turning a manual factory into a smart factory is required to be a well-thought investment as the transition involves adopting new technologies. To help perceive the pros and cons of the Smart factory, Digital twin plays a crucial role. Having mentioned that digital twin plays a vital role in assessing a technology prior to adoption, it can be observed and stated that digital twin helps achieve smart factory.
In order to pursue how impactful digital twin can become in the process of achieving smart factory, it is necessary to answer two important questions whilst perceiving the concepts.
•  What is Digital twin?
•  What is Smart factory?
What is Digital twin?
The digital twin is taken to be defined as the creation of a virtual model of high complexity that is the counterpart/twin of a physical thing. The digital twin can also be understood as a virtual replica of a potential device Digital twin utilizes actual data to create simulations that further predict the capacities of a process or a product. Integration of AI (artificial intelligence), IoT (Internet of Things), IoT analytics and other software operations is a prominent need of Digital twin. Primarily, 4 types of Digital twinning are identified;
Parts twinning – Twinning of robust parts is the very bedrock of Digital twinning. Parts twinning refers to the virtual representation of specific individual elements of a product. Parts twinning helps engineers / developers better understand the mechanical, physical and intelligent characteristics of the specific part in the whole product.
Product twinning – At this level, twinning of the parts as they work or the interoperability twinning facilitates product twinning. It is a level up of individual twinning of elements. In other words, Product twinning is an outcome of all parts virtually represented and put together in its functional manner.
System twinning – System twinning occurs at a higher level. System twinning refers to the entire virtual representation of a system/structure that functions to achieve a specialized goal in the process. System twinning empowers engineers/developers to operate and maintain entire fleets of contrasting or different products that sync and work together in achieving an outcome in the system.
Process twinning – The benefits of Digital twinning extend to process and workflow twinning; it does not limit to physical twinning alone. Process twinning refers to a virtual replica of a whole process involved in the acquiring of a finished good / service. Process twinning facilitates optimization of all operations in the refining of raw materials for production of finished goods / services.
What is Smart factory?
The smart factory is a step up from the traditional factory and its manual operations. A factory that possesses capabilities of automation that digitalizes processes and procedures of manufacturing is regarded as a Smart factory. Smart factories are digitally enabled to conduct processes and operations in an automated manner. Smart factories are capable of data integration from physical, human and operational assets to accelerate manufacturing performance/productivity, predict and conduct maintenance along with inventory tracking and management at real-time. Data integration of the smart factories are usually an outcome of IIoT (Industrial Internet of Things) technology.
Smart factory and the role of Digital twin:
In the transition from a traditional factory to a Smart factory, the Digital twin plays a critical role. Explore the major facets of Digital twin that helps achieve a Smart factory.
• Learn and evaluate the performance of the product
Digital twin being a virtual replica of a physical thing prior to the potential creation of a device/thing is of great help in the learning and evaluation of a product via its performance. With advanced algorithms and software programs, the Digital twin captures and uses data from the real world and simulates it to generate valuable insights into a product that is in the making. It is an ideal tool for engineers and developers to evaluate the potential of a product ahead of an actual investment.
• Perceive the present while predicting the future
One of the key features of a smart factory is its ability to grip firm on the present conditions of factory floor engagements while predicting and preventing asset failures/downtimes and low production. Digital twin through its virtual flexibility facilitates machine monitoring and inventory tracking through internet-enabled connectivity, sensors that capture real-time data and computations that further provide analytics. These analytics are helpful in understanding the manufacturing machine conditions while educating on the future condition of existing machinery.
• Construct digital threads and improve / advance traceability
The digital twin as a virtual representation of a potential product or process inevitably mandates the maintenance of the trajectory of all actions within the asset capacities. Digital threads create and improve the traceability and all transactions of the product/process throughout its lifespan. Initially, the application of digital twin extends the easy construction of digital threads that advance the accessibility of product/process status and potential.
• Improved OEE with reduced downtime
Digital twin enables connectivity of the entire factory floor operations prior to actual deployment of physical assets of the IIoT technology. This facility enables data capturing at real-time that further is filtered and produced as analytics to customers. Analytics data can be used to develop strategic production time, schedule downtime and improve maintenance. The data accuracy provided with digital twin will facility operational and production potential to its optimum levels and thereby enable assessment for future implementation of advanced technology for a fully developed smart factory.
• Reduced unplanned downtime risks
With digital twin as a lead towards achieving smart factory, unplanned downtime risks can be significantly reduced. As machine monitoring in the manufacturing onsite is constant with digital twins of the relevant IIoT technology, automated digital checks of assets strongarm the strategic usage and downtime schedule for maintenance. With strategic maintenance and continuous machine monitoring in practice, there remains no scope for unplanned downtime risks.
• Improved productivity
In addition to reduced unplanned downtime, digital twin helps in the utilization of asset to their full potential capacity. This is a result of a digital twin that builds the foundation for monitoring and evaluation of machine performance. Digital twin improves productivity with machine production analytics that facilitates planned maintenance and root cause analysis (RCA) of machines and assets thereby building constructive models for running machines.
• Better supply chain management
Logistics and supply chain management is crucial in the manufacturing sector, the digital twin offers tracking of logistics that enables accurate supply chain management with operational transparency. As supply chain data is assessed with a digital twin, planned inventory management and supply chain can become successful.
• Increased business value/profits
As a crucial tool to evaluate the implementation of smart factory technology, digital twin helps in the process of transition from traditional factory to the smart factory. It, therefore, serves as an ideal method in adding business value and stabilizing profits. All operations from factory onsite to transportation and supply chain are monitored in real-time leaving no scope for uninformed failures that lead to losses.
Significance of sfactrix.ai in achieving Smart factory
The sfactrix.ai is instrumental in achieving a smart factory. Sfactrix.ai is engineered to implement IIoT technology in traditional factories that will digitalize and automate all operations. The simulation feature, empowers customers to initially simulate data and evaluate the automation process prior to deployment and investment. Some of the advanced features of sfactrix.ai are listed below;
Work order Management – Digital Tracking management of customer orders to enable real-time monitoring of production progress.
Jobs Tracking – Assign jobs to the workforce and estimate overall delivery guarantee.
Asset Runtime Monitoring – Monitor machine efficiency in real-time for better productivity.
OEE, OOE and TEEP Metrics Reporting – Digital real-time performance reporting and analysis that helps drive optimum production.
Preventive maintenance – Protect asset lifetime and automate maintenance actions.
Downtime Alert Notification – Set auto-detection alerts for assets and receives alerts via SMS Email.
Role-Based Dashboard – Personalized dashboard setups from plant managers to workers.
Maintenance Scheduler – Automatically generate maintenance schedule for each asset as a proactive act of asset availability.
Activity Log – Keep track of all user actions and alerts log in a single place to generate overall usage reports.
Conclusion
In conclusion, the digital twin facilitates the achieving of the smart factory. In line with the digital twin, sfactrix.ai propels easy and accurate transformation of the traditional factory to the smart factory.