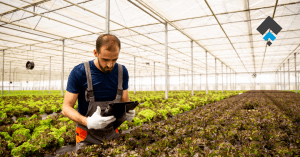 Monitoring and controlling greenhouse environment is a critical task that directly impacts the trajectory of greenhouse plant health. The idea that goes behind setting up a greenhouse itself is to achieve business goals of producing the best in large amounts with a lower cost of investment. To do so, maintaining and monitoring greenhouse environment conditions are essential for sustaining the purpose of greenhouse farms. In other words, the greenhouse climate control system must be strong enough to serve as a cornerstone.
The whole greenhouse farming idea stands on the foundation of exercising greenhouse environment control for better produce. As in line with this crucial task, often temperature reading devices that operate with manual assistance does not serve to offer suitable climate condition monitoring in enclosed spaces of a greenhouse. There has to be an alternative, let's discover!
Is there a need to monitor the environment climate in greenhouses?
Environment climate refers to air temperature, humidity and pressure within closed greenhouse rooms/shelters. The primary distinguishing feature of greenhouses is to facilitate controlled environment climate conditions suitable for plant health and crop product. Failing to monitor environment control in greenhouses can result in crop failures that hinder production and investment which ruins the purpose of greenhouse establishments. It can also become a harmful breeding center for bacteria and fungi due to disproportionate chemical mixtures of sprayed fertilizers under un-monitored climate conditions causing fatal threats to many. Therefore, the regulation of environment climate status within greenhouses are inevitable and essential for crop procurement's.
Is automation an ideal solution to maintaining controlled environments within greenhouses?
As observed, environment monitoring within greenhouses are foundational stones to successful crop / plant produce. To ensure a healthy harvest, air temperature, humidity and pressure are continuously needed to be monitored. Existing climate reading and monitoring mechanisms are often not completely automated and require manual efforts for its functioning. It does not omit the risks of manual labor with climate monitoring and maintenance that directly impacts complete greenhouse management.
On the contrary, current automation that is made available with IoT facilitates automation and uninterrupted climate reading along with sending updates to concerned managers / owners who can in turn regulate controlled environments for greenhouse crop growth and produce. Automation through IoT is an ideal solution to sustain greenhouse environment conditions, it turns a greenhouse into a smart greenhouse. IoT automation driven solutions capture real-time temperature status, analysis complex algorithms through data engineering structures, convert them to readable formats and alerts customers during emergencies (fluctuating climate conditions) along with general updates from stipulated time intervals. Greenhouse automation empowers greenhouse managers to act accordingly and provide accurate temperature levels for healthy crop / plant life.
Fogwing eco App as an environment climate-controlling solution for greenhouses:
Fogwing eco App is a product based on IoT innovation standards. It provides automation with its advanced features that engage continuous environment monitoring in greenhouses. It turns greenhouse management into a smart greenhouse management system. Fogwing eco App enables the creation of an IoT based smart greenhouse. Here are some of Fogwing eco App's features that will ease greenhouse environment control and ensure stable climate in greenhouses.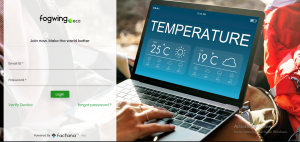 Unlock your journey to a smart greenhouse climate control system with Fogwing eco App.
1. Receive temperature updates – Fogwing eco App provides real-time greenhouse temperature updates that are crucial to management of greenhouses. Fogwing eco App enables sending of alerts during emergencies, it empowers crucial actions to be taken at the right time. All you need to do is set temperature, humidity and pressure thresholds to trigger alerts when limits are exceeding / reaching.
2. Own a suitable smart kit – As a holistic IoT based solution, Fogwing eco App hands a smart kit suitable to fulfill requirements of your greenhouse. It's custom made for each customer to match their greenhouse land area and other specific parameters. The smart kit is a combination of climate monitoring sensors that bridges a technical chain of events to ensure IoT automation in environment control of your greenhouse.
3. Greenhouse environment climate records – The greenhouse environment is monitored continuously without interruptions with smart sensors and updates are sent to customers on Fogwing eco App that are easily accessible. All climate updates are kept track of in the Fogwing eco App, where it can be looked back and forth whenever needed. The App facilitates to generate reports and make copies of the same thereby turning e-reporting and maintaining e-records a reality with Fogwing smart technology.
4. Cut labor costs – Fogwing eco App directly helps cut investment on a separate labor force for checking and keeping track of environment history within greenhouse enclosures. This is primarily as a result of Fogwing eco App's IoT based automation features that seek to transform greenhouse environment monitoring to smart greenhouse environment monitoring. Fogwing eco App is a one-time investment that assures profitable returns with its accuracy in greenhouse environment monitoring.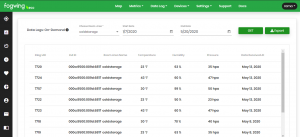 Stay updated on greenhouse climate with Fogwing eco App Data logs.
Can Fogwing eco App be a reliable automated solution to greenhouse owners and managers?
Fogwing eco App designed and engineered with unique features qualify and specialize in monitoring greenhouse environmental conditions. It harbors the latest technology with user-friendly operations. These features are constructed to establish transparency, accountability and accuracy in greenhouse climate monitoring. Fogwing eco App gives you the option to fire and forget with regard to climate monitoring in greenhouses with continuous data acquiring, analyzing, alerting, and updating from time to time. It leaves no room for inaccuracy that could harm the management of the greenhouse environment. Therefore, it's a feasible investment for greenhouse owners and managers.
Conclusion:
Fogwing eco App is one that excels in greenhouse environment monitoring. It extends its facilities to not just the greenhouse climate monitoring but also to the cement storage, food storage, chemical labs, forensic labs, pharmaceutical labs and so on. Fogwing eco App smartly solves climate monitoring issues that otherwise manual monitoring cannot.